Category archive:

Florida State Seminoles
April, 19, 2010
04/19/10
10:41
AM ET
Here are five teams that had an impact in NCAA softball last week.
[+] Enlarge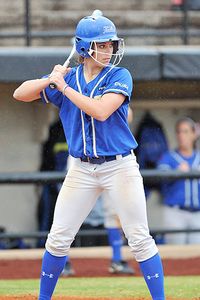 Walt Beazley/The University of TulsaTulsa's Samantha Cobb has 12 homeruns thus far this season.
Tulsa: The Golden Hurricanes lost a chance for a marquee midweek win in a 3-1 defeat at home against Oklahoma State, but got the wins they truly needed Saturday. Down 3-0 after one inning in the series opener against Houston, Tulsa rallied for an 8-4 win in that game and claimed a 7-1 win in the nightcap (Sunday's finale was rained out).
Tulsa opened last week No. 68 in the RPI and in the middle of the pack in Conference USA. It woke up Monday second in the conference heading into a road trip to fourth-place Central Florida, and it makes a strong case for at-large consideration for the NCAA tournament.
Despite the loss against Oklahoma State on Wednesday, Tulsa is 8-5 against RPI top-50 teams, including an earlier win against the Cowgirls in Stillwater.
The wins against Houston even came largely without the services of de facto ace Jackie Lawrence, who coach John Bargfeldt told announcers during Saturday's game had been hit in the head during batting practice. She didn't pitch again after three up-and-down innings in the first game, but freshman Kalynn Schrock came on in relief in both games and walked just three in 8.2 innings (she has a great strikeout rate but had walked 32 in 70.2 innings entering the series).
Shortstop Samantha Cobb, another freshman, had the big hit with a grand slam in the bottom of the sixth in the first game to break a 4-4 tie. With 12 home runs on the season, she's providing good protection for All-America hopeful Lauren Lindsay.
[+] Enlarge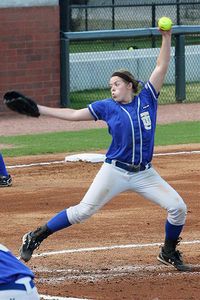 Walt Beazley for ESPN.comFreshman Kalynn Schrock came on in relief for Tulsa in both weekend victories against Houston.
Virginia: The only women's team at Virginia that has never advanced to an NCAA tournament, the Cavaliers bounced back from a bruising trip to Georgia Tech the previous week with four wins, including two to clinch a weekend series at home against fellow postseason hopeful NC State.
Freshman ace Melanie Mitchell went the distance in Saturday's 4-1 win in 10 innings and again in Sunday's 1-0 clincher in regulation. Mitchell is now 21-13 with 235 strikeouts in 214.1 innings. She may be a work in progress, but she gives Virginia the commodity every program needs to turn the corner: a workhorse ace in the circle.
"She's good now, but I don't even think she's really even -- she's going to be so much better in another year or two years, when she gets in the weight room, gets stronger and gets smarter," Virginia coach Eileen Schmidt said during last week's Georgia Tech series in which Mitchell started all three games. "She didn't really come in as high-profile as some of the other [freshmen pitchers] around the country, but she's worked her tail off. She's an engineering major; she's a smart kid."
If the Cavaliers can avoid a disaster at Boston College on Saturday and Sunday, they should be in the NCAA tournament; they already have wins against Michigan, Arizona and Louisiana-Lafayette, plus a top-30 RPI.
[+] Enlarge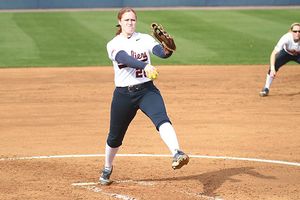 Virginia Athletics Virginia's Melanie Mitchell is a workhorse ace in the circle.
Cal Poly: By the close of business Sunday, not a single team in the Big West was more than a game above .500, the product of brutal early schedules across the board and balanced competition within the league. But even if there's a lot of the regular season left to play without a conference tournament to eat up the final week, Cal Poly helped its cause immensely with three wins against Cal State Fullerton.
The Broncos -- who went 0-10 out of conference against Arizona, Arizona State, Oregon, Stanford and Oregon, and are now 18-7 against everyone else -- claimed sole possession of first place with the sweep. First baseman Krysten Cary, outfielder Dana Perez and catcher Stephanie Correia each had at least one hit in all three games, and freshman pitcher Rebecca Patton won two starts to continue a recent hot streak.
The defending conference champions aren't even halfway home in the league yet, but despite five new starters in the lineup this season, the results look familiar.
Oregon: Hopefully I'll have more on Oregon later this week or soon thereafter, but coming off a sweep of Cal over the weekend, the Ducks defended their home turf as well as any team can reasonably hope to with one win in three starts against Washington's Danielle Lawrie.
It doesn't get any easier, with road trips looming to Arizona State, UCLA and Stanford, as well as a home series against Arizona, but even a hard-earned 4-8 record in those games would give the Ducks double-digit conference wins. First-year coach Mike White has to rank near the top of the list for coach-of-the-year honors for the turnaround he's engineered with a young roster. Freshman Jessica Moore closed out the win against Washington and remains fantastic, but full credit goes to sophomore Samantha Skillingstad for five shutout innings to start that game.
Florida State: Sometimes you move the needle in the wrong direction. Already on the fringes of the debate for an NCAA tournament seed, Florida State dropped two of three games at Virginia Tech and needed Sunday's 3-1 win to snap a five-game losing skid.
The Seminoles scored 14 runs in three games against the Hokies, their most in an ACC series not involving Boston College. But the generally stellar pitching duo of Sarah Hamilton and Terese Gober faltered during a week that also included a pair of losses at home against Florida. Opportunities remain with a home series against Georgia Tech and a trip to Virginia, in addition to the ACC tournament, but it looks more and more like Florida State will have to go the unseeded route in the NCAA tournament, possibly through an SEC landing spot like Gainesville, Fla. or Tuscaloosa, Ala.
Graham Hays covers softball for ESPN.com. E-mail him at Graham.Hays@espn3.com.
February, 11, 2010
02/11/10
12:49
PM ET
1. Is the Pac-10 stronger than ever?
When Florida and Alabama opened last season atop the polls, the question of the moment was whether the SEC had caught the Pac-10 as the sport's pre-eminent power base.
By the time Washington finished celebrating its first national championship on the field at ASA Hall of Fame Stadium, it was clear the softball arms race -- ironically in one of the kindest seasons to batters in recent memory -- was nowhere near such a neat and tidy resolution.
The SEC and others are moving ahead full steam, but they're chasing a moving target.
Washington opens this season poised to defend its title and ranked No. 1. The first Pac-10 team other than Arizona or UCLA to win a national championship when it did so in 2002, Cal appears back in position to challenge for a spot in the World Series and possibly even a second title. Stanford keeps adding talent and can make a strong case as the best team not to reach the World Series in the past five years. A season after making do without Katie Burkhart well enough to reach Oklahoma City, Arizona State must repeat the process without Katie Cochran. But the Sun Devils have more than enough talent to avoid falling off the pace set by their 2008 title team.
And those are just the contenders that didn't win 19 of the first 24 NCAA championships, loot divvied up between UCLA (10 titles and one vacated title) and Arizona (eight titles).
[+] Enlarge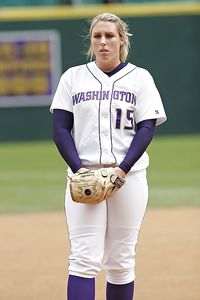 University of Washington Athletic Department If Washington makes it back to the WCWS, Danielle Lawrie will be a threat.
Is the rest of the country catching up to Arizona and UCLA? With as much talent as there is this season in Tucson and Westwood, it's undoubtedly so. It's just that to a greater degree than ever before, despite the Pac-10's long history of large World Series contingents, the rest of the country includes places like Tempe, Ariz.; Berkeley and Palo Alto, Calif.; and Seattle.
2. Is Washington the team to beat?
Even if you don't subscribe to the theory that the champions deserve that label until it's taken from them, the Huskies qualify strictly on the merits of the here and now.
That isn't to say coach Heather Tarr's team is unquestionably better than last season's version. It lost a huge tangible piece in All-American second baseman Ashley Charters and perhaps an equally noteworthy intangible piece in catcher Alicia Blake, Danielle Lawrie's catcher for three seasons. But the pieces the Huskies return -- and there are a lot -- should be better. Sophomores Kimi Pohlman and Niki Williams have a year of success to build on, while junior third baseman Morgan Stuart has a year of work at the hot corner to build on after shifting from shortstop. And senior Jennifer Salling, whose midseason arrival necessitated Stuart's shift, won't have to jump in midstream.
And there is, of course, Lawrie. After pitching through a stress fracture in her pitching arm for much of last season, she's healthy and without peer in the college ranks now that former Florida ace Stacey Nelson has moved on. Last year, Lawrie pitched through two road trips in regionals and super regionals, plus a long elimination day against Georgia in the World Series; in so doing, she proved she can overwhelm opponents when she's at her best and blink past when she's not.
3. Which player could alter the college softball landscape?
[+] Enlarge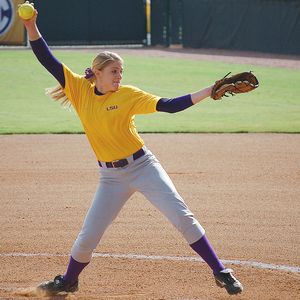 Matt Dunaway/LSU Athletics LSU's Rachele Fico has the potential to set herself apart from the crowd.
How's that for a buildup? But when you threw perfect games by the dozens in high school in Connecticut, helped a Florida travel ball team upset the softball establishment in knocking off the California powers to win the prestigious ASA Gold title, pitched against Team USA after your junior year in high school and earned space on "SportsCenter" and in The New York Times, lofty expectations get packed for school right along with the notebooks and clothes.
LSU freshman Rachele Fico is just one of several highly touted freshman pitchers dotting big-time rosters around the country, but she has the potential to set herself apart from the crowd.
All the accomplishments and experiences predating her arrival in Baton Rouge help, as does her place in a program with perhaps the richest softball tradition in the SEC but that, like the rest of the conference, is still looking for its first national championship. It also doesn't hurt that Fico has both the ability to blow pitches past batters and a sense of spin and control beyond her 18 years.
She even sounds like a seasoned vet in passing credit to her defense -- a defense that isn't likely to get a lot of work on days when she's on top of her game.
"I'm extremely comfortable with my team; I know I have a great defense behind me," Fico said a few days before her debut. "So I'm not scared to throw pitches and I know if they do get put into play my teammates are going to make the plays behind me."
The sport is also evolving to give freshman pitchers a greater shot at success. While Connecticut high schoolers still throw from 40 feet, Fico's experience in travel ball and pitching for the elite Stratford Brakettes amateur team (alongside players like former LSU catcher Killian Roessner) means pitching from a consistent 43 feet in college is actually something of a relief, rather than a challenge to overcome.
"My biggest adjustment to 43 feet with pitching was probably my changeup," Fico said. "When I switched to 43 feet, I had to work on getting the ball to get there a little bit more. But it's really nice to have those extra three feet because it gives us so much time to make the ball spin and get a little bit more break on it."
4. Which team could make a surprise trip to Oklahoma City?
There is almost always at least one team that sneaks up on fans and pundits. Two seasons ago, Louisiana-Lafayette went from No. 20 in the preseason Top 25 to the World Series. Last season Missouri and Georgia rose from Nos. 23 and 19, respectively, to Oklahoma City.
Now it's about time No. 19 Florida State ends its World Series hiatus.
The Seminoles will need more consistent run production this season, no small task considering they lost their best hitter, Kaleigh Rafter. A team that slugged an anemic .366 in 2009 has some work to do, but senior outfielder Carly Wynn (.530 slugging, .409 on-base percentage) is a good place to begin building a lineup. The Seminoles should once again get a boost from the transfer market -- like they did with Rafter -- with the arrivals of Jen Lapicki from Tennessee and Tory Haddad from Ohio State, patient hitters with the ability to add to the team's extra-base hit totals.
The good news is Florida State doesn't need to set scoring records as long as Sarah Hamilton and Terese Gober are splitting innings in the circle. The two combined to go 44-16 with 519 strikeouts and just 87 walks in 421 1/3 innings, reminiscent in some ways of Northwestern's duo of Eileen Canney and Courtnay Foster in that program's breakout 2006 campaign.
5. Who are three players who deserve a brighter spotlight?
Carly Normandin, OF, Massachusetts The Minutewomen might have been one of the best teams in the country last season. They just had the misfortune to play 22 innings against Danielle Lawrie on the final day of regionals. Ace Brandice Balschmiter is gone, which will make a repeat performance difficult, but Normandin was one of the toughest omissions from this season's ESPN.com All-America team. Her bat is streaky, but the end product (.727 slugging, .457 on-base percentage) is indisputably great. And what never wavers is her defense. It's tough to make declarative defensive statements without more widely available video and statistics, but I know this: I've never seen a better outfielder.
Kylie Reynolds, P, Kent State All she's done for the past three years is strike out batter and win games. A season ago, she finished sixth nationally in strikeouts per seven innings -- and it was the first season in which she didn't win MAC Pitcher of the Year honors (Ball State's Elizabeth Milian ended her run). In 236 innings, Reynolds struck out 345 batters and limited opponents to a .190 batting average. And Reynolds isn't just a MAC phenomenon. Last season alone, she struck out 11 in a loss at Arizona State, didn't allow an earned run in 7 2/3 innings in a loss against Iowa and shut out a good Texas State team for an upset win.
Melissa Roth, C, Louisville The Big East may not be the Pac-10 or SEC -- it may not even be the Big Ten or ACC -- but if you hit .444 with an .870 slugging percentage and .566 on-base percentage, you can get it done in any uniform. That includes the Team USA uniform Roth wore in the Pan American Games. Her only problem is she's caught, pun intended, at what's surprisingly one of the deepest positions when it comes to elite hitters, joining the likes of Sam Marder, Chelsea Bramlett and Stacie Chambers in fighting for recognition behind the plate.
Graham Hays covers softball for ESPN.com. E-mail him at Graham.Hays@espn3.com.
November, 22, 2009
11/22/09
6:09
PM ET
Stanford and Boston College played little more than a year ago, with the Cardinal coming out on top of a 3-0 decision in Palo Alto. Remarkably, that qualifies as ancient history when it comes to this year's quarterfinals in the NCAA tournament. UCLA and Portland meet for the fourth time in five years in the postseason. Florida State and Notre Dame meet for the fourth consecutive season. And North Carolina and Wake Forest meet for the second time this season.
In a tournament with few surprising results to date, no team will have the element of surprise on its side in the quarters.
No. 1 STANFORD vs. No. 2 BOSTON COLLEGE
Stanford profile: The Cardinal have the best front line in the country, although it overshadows a solid lineup from back to front. Senior forward Kelley O'Hara has emerged this season as the Hermann Trophy front-runner, but opponents find it hard to key on her with Christen Press and Lindsay Taylor alongside. When the midfield gets itself involved consistently, which isn't always the case, the Cardinal are almost impossible to defend.
Boston College profile: Likewise, an attacking third loaded with recognizable names overshadows a strong, composed back line and an athletic keeper. Freshmen Kristen Mewis and Victoria DiMartino might be the two most talented players, but there is plenty of experienced skill, including senior playmaker Gina DiMartino, Victoria's sister. Outside back Hannah Cerrone is valuable going forward and will need to balance that against measuring the Cardinal forwards.
No. 1 UCLA vs. No. 2 PORTLAND
UCLA profile: The Bruins have quietly been steamrolling opponents of late. In their past eight games, including three NCAA tournament games and four other games against NCAA tournament teams, they've put together a 29-4 edge on the scoreboard. A case could be made that forward Sydney Leroux has been the nation's best player over the past month.
Portland profile: You don't lose a Hermann contender like Michelle Enyeart -- injured in the final game of the regular season -- and continue without skipping a beat, but Portland has come close in putting up 10 goals through the first three rounds. There is speed all over the field, particularly on the flanks with players such as Kendra Chandhoke, and forward Danielle Foxhoven is as technical and polished a finisher as there is in the tournament.
No. 1 NORTH CAROLINA vs. No. 3 WAKE FOREST
North Carolina profile: The defending champion obliterated UCLA and Notre Dame 7-2 and 6-0, respectively, but had it share of ups and downs. Without injured speedster Nikki Washington, Tobin Heath and Casey Nogueira remain the most dangerous playmakers. Since allowing four goals in back-to-back losses at Florida State and Miami, a defense keyed by Whitney Engen, Rachel Givan and Kristi Eveland has posted eight consecutive clean sheets.
Wake Forest profile: Outscored 8-7 in their last five games before the NCAA tournament, the Demon Deacons have regained their defensive touch and found the luck any team needs in the postseason (advancing past South Carolina on a last-second header in the third round). Junior keeper Amanda Barasha has been solid since taking over the starting role following the team's 4-0 loss at North Carolina in late September.
No. 1 FLORIDA STATE vs. No. 2 NOTRE DAME
Florida State profile: Goal scorers always get the lion's share of attention, but Tiffany McCarty and Jessica Price deserve every bit of it. And a midfield that includes Amanda DeCosta and Becky Edwards can hold its own on any field. It's a young back line, regularly starting two freshmen and two sophomores, but it's a group with experience at both the college and international level.
Notre Dame profile: Moving Lauren Fowlkes up top proved the move that brought Randy Waldrum's lineup together after a slow start to the season. A less high-profile development, having Haley Ford available (she played 90 minutes in the third-round win against Oregon State after battling injuries for much of the past month) further solidifies an improving defense.
November, 15, 2009
11/15/09
10:00
PM ET
Two rounds are in the books in the women's soccer NCAA tournament, and 12 seeded teams survived to play another week. Here's a quick ranking of those teams and the four surprises.
1. Stanford


The tournament's top overall seed going into the first weekend lived up to the billing. The Cardinal piled up chance after chance in a 2-0 first-round win against Northern Arizona that could easily have produced crooked numbers on the scoreboard.
Third round: vs. 4-seed Santa Clara
2. Florida State


A 3-0 win over California in the second round was the kind of statement that at least momentarily separates the Seminoles from the teams to follow below. Cal matched the Seminoles shot for shot, but that only provided keeper Erin McNulty with a chance to show Florida State has all parts of the field covered.
Third round: vs. Texas A&M
3. Portland


The Pilots demolished Denver in the first round, no small feat against a better team than most of the high seeds faced, but needed a late Halley Kremenski goal (her second of the game) to get by Washington in the second round. Unlike the first meeting between the Pilots and Huskies this season, the WCC champs held a dominant edge on shots (23-3) and corner kicks (10-3), suggesting the offense still has kick without Michelle Enyeart.
Third round: vs. 3-seed Virginia Tech
4. North Carolina


A 1-0 first-round win against High Point raised eyebrows, but a 4-0 win against Georgia on Sunday returned them to their normal resting places.
Third round: vs. 4-seed Maryland
5. UCLA


First, the bad news: UCLA fell behind early in its first NCAA tournament game this postseason. Of course, the good news is it scored the next 12 goals in a pair of romps against Boise State and San Diego State.
Third round: vs. Virginia
6. Notre Dame


Perhaps the beneficiary of the lone notable first-round upset, with Central Michigan knocking off Purdue, Notre Dame rolled past IUPUI and Central Michigan by an 11-1 margin. Melissa Henderson scored a mere six times.
Third round: vs. Oregon State

7. Boston College


The Eagles won the unofficial New England derby, knocking off Harvard and Connecticut to advance to the Sweet 16. But it's getting past the next round that has the attention of a team that has made the third round in five of the past six seasons.
Third round: vs. Wisconsin (location TBD)
8. South Carolina


South Carolina's defense is back, adding a pair of shutouts to a run that began with strong showing the SEC tournament semifinal and final. It's good to have a hot hand at keeper in the postseason, and Mollie Patton's mittens are sizzling at the moment.
Third round: vs. 3-seed Wake Forest
9. Wake Forest


It was an uneventful weekend for the Demon Deacons, exactly what they needed to reach the Sweet 16 for the first time since 1999. Junior Casey Luckhurst scored three times -- the first three goals of her Wake Forest career.
Third round: at 2-seed South Carolina
10. Virginia


The Cavs may not be higher than No. 10, but no team did anything more impressive than Virginia in putting up six goals in 20 minutes to erase a 2-0 deficit in a second-round game against Penn State in State College, Pa.
Third round: at 1-seed UCLA
11. Santa Clara


The Broncos needed three overtime periods and a penalty shootout to get past Michigan State and Oklahoma State, but they're back in the Sweet 16 for the first time since 2005. They've scored one or fewer goals in eight of their past 10 games, but they're officially 6-2-2 in that stretch.
Third round: 1-seed Stanford
12. Texas A&M


The Aggies have just one clean sheet in their past five games, but they proved resilient in the NCAA tournament, scoring twice early to take control against Memphis in the first round and outlasting LSU in penalty kicks (with four conversions in four attempts) in Baton Rouge in the second round.
Third round: at 1-seed Florida State
13. Oregon State


Beat Ohio State on its home field in the first round and No. 3 seed Florida in overtime in the second round. Not too shabby for a virtual NCAA tournament neophyte.
Third round: at 2-seed Notre Dame
14. Maryland


The Terrapins did no wrong in the first two rounds, routing Monmouth and shutting out Washington State 1-0 in the second round. So is this too ranking low? Perhaps, but that three-game losing streak to enter the NCAA tournament is hard to forget.
Third round: at 1-seed North Carolina
15. Virginia Tech


The offense re-awakened against Murray State and Dayton. A 3-1 win against the Flyers in Dayton was especially impressive for a team that is 3-3 in true road games.
Third round: at 2-seed Portland
16. Wisconsin


Not a team that's going to be uncomfortable in low-scoring games. Wisconsin outlasted Arizona State in penalty kicks and protected a first-half goal for a long time in a 1-0 second-round win against Central Florida.
Third round: vs. 2-seed Boston College (location TBD)
October, 4, 2009
10/04/09
11:22
PM ET
NEWTON, Mass. -- I've seen a few strange things unfold on a soccer field. North Carolina coach Anson Dorrance has seen far more. So perhaps his take on Thursday's showdown between No. 1 North Carolina and No. 6 Boston College is the place to begin.
"One of the most bizarre games I've ever been a part of in 33 years of coaching," Dorrance said.
The Tar Heels remained undefeated on the season (although for only about 72 hours, after a 1-0 loss at Virginia Tech on Sunday) by virtue of a 2-1 win that included two second-half penalty kicks off Boston College handballs. Both whistles appeared questionable, bordering on dubious, but it's always easy to armchair-quarterback a referee. And in this case, while the result is important in the race for eventual NCAA tournament seeding, it may not be as telling as the game.
Back-to-back, one-goal losses against Florida State and North Carolina notwithstanding, Boston College is a legitimate threat to make the trip to Texas for the College Cup.
"Two great teams, and in my opinion, maybe two top-four teams, battling it out in a very exciting game," Dorrance said. "The other thing I really respect about BC is they attack. Most teams we play bunker back and try and keep the score low. But they had no compunction but to go forward at every opportunity, and they're very dangerous going forward. They have talent all over the field, and I have a lot of respect for them and the way they played against us."
Two years ago, North Carolina escaped a trip to Massachusetts with a 2-1 overtime win on a cross from Meghan Klingenberg that fortune guided into the back of the net. But far more than was the case that night, the Eagles seized opportunities Thursday night to take the game to the opponent, something they can do because of a front five every bit the equal of North Carolina, Stanford, Portland and any other team you want to throw in the mix.
In Gina DeMartino, who missed parts of last season because of obligations to the Under-20 national team, sophomore Julia Bouchelle and senior Brooke Knowlton, the Eagles had a base of offensive talent returning this fall. But the addition of freshmen Victoria DiMartino (Gina's sister) and Kristen Mewis took things to a level that made Thursday's game so compelling.
"Both of them, obviously, have played in a lot of big games, both coming off the U-17 World Cup as two of the top scorers for the U.S. team," Boston College coach Alison Kulik said of her freshmen a week and a half before the North Carolina game. "And they're as proficient as two finishers that I've ever seen and that we've ever had in the program. That certainly has added to our attack. They're two of the reasons why you've seen -- because they're great servers of the ball, too -- why you've seen us score so many multiple-goal games."
Nobody flusters North Carolina's back line of Whitney Engen, Kristi Eveland and Rachel Givan, but Boston College isolated and pushed them to the edge repeatedly Thursday night.
September, 21, 2009
09/21/09
7:20
AM ET
Just as the frost on the windshield Sunday morning in Connecticut offered a reminder of what's ahead, the schedule shows that soccer season is already at its first major fork in the road.
The Pac-10 and West Coast Conference, demonstrating that coast's admirable ability to take life at a more leisurely pace, don't start conference play for another couple of weeks. But putting those two leagues aside for the moment, how do things look elsewhere?
Sadly, Neil Patrick Harris wasn't available to host, so you're stuck with me.
ACC
Early test: Boston College at Florida State, Sunday
Is North Carolina vulnerable after Sunday's 0-0 tie against Auburn? Don't bet on it -- the only two goals the Tar Heels have allowed all season came opening night at the end of a 7-2 rout against UCLA on a sloppy field. But this game in Tallahassee will be a showdown of perhaps the two teams best equipped to challenge the defending champs. After seeing the Eagles on Sunday, I'd put a midfield of Gina DiMartino, Julia Bouchelle and Kristen Mewis up against any group out there.
September surprise: Easily Maryland, which has a 1-0 win against Santa Clara to validate an 8-0-0 start. The Terrapins actually get first crack at the Seminoles, as they'll visit Tallahassee on Thursday.
Big 12
Early test: Kansas at Oklahoma State, Sunday
The Jayhawks got off to a fast start last season but finished under .500 in conference play, including a 1-3-1 record away from Lawrence. Oklahoma State is the defending conference champion but dropped its conference opener against Colorado (the lone Big 12 game played thus far). Texas A&M still seems like the class of the league, especially after beating Portland 3-1 this past weekend, but Sunday's game in Stillwater is a chance for the Jayhawks to show they're a real challenger and the Cowgirls to show they're not ready to be deposed.
September surprise: At this point, we know more about most Big 12 teams' ability to schedule advantageously than their ability to play great soccer, but Nebraska's prolific offense -- paced by freshman Morgan Marlborough's 13 goals -- is worth noting.
Big East
Early test: Rutgers at Georgetown, Friday
Georgetown produced the most emphatic result of the first Big East weekend, drubbing Villanova 4-0 (although the Hoyas then tied Penn 3-3 on Sunday). Like Santa Clara's Jordan Angeli, Georgetown's Sara Jordan returned for a sixth year after an injury-plagued career and has helped in tangible (four goals, four assists) and intangible ways.
September surprise: Minus a lost weekend in Philadelphia (defeats to Drexel and Penn), Pitt has enjoyed a banner September, capped by a win at Ohio State and a tie against West Virginia this past weekend in Morgantown, always a tough stop for Big East teams.
Big Ten
Early test: Penn State at Michigan State, Sunday
The Spartans were 7-0-1 entering Sunday's 1-1 draw at Eastern Michigan, but the result raises questions, given the caliber of opponent in many of those wins. The good news is they get a shot at instant credibility against Penn State. The Nittany Lions took the opposite route early, persevering through six consecutive one-goal games, including four losses, against likely NCAA tournament teams before breezing past Boston University and James Madison.
September surprise: Indiana reached the Sweet 16 two years ago, so surprise is a little strong, but the Hoosiers, at 8-1-0, including a win against Florida, are perhaps ahead of schedule.
SEC
Early test: Georgia at LSU, Friday
Two familiar conference contenders in recent seasons open this year's conference slate. After a disappointing opening loss at home against Memphis, the Tigers have shown a lot of fight, including a 1-0 loss against North Carolina and 2-2 tie against Duke this past weekend. Georgia has played a good schedule, albeit one short on ranked opponents, and will look to return the favor after LSU beat it in Athens last season. (The Bulldogs are 14-4-0 since that loss.)
September surprise: South Carolina is the undefeated SEC team with championship aspirations, but forget the quality of the schedule and give Mississippi State full marks for an 8-0-0 start. That's more wins than in any of the past four full seasons.