Category archive:

Hawaii Warriors
January, 28, 2011
01/28/11
8:54
AM ET
Editor's note: Graham Hays is counting down to the start of the 2011 college softball season with a look at each of the teams in his top 20. Check back daily for updates.

No. 11 Hawaii
Last season: 50-16, lost in Women's College World Series
Who returns: Kelly Majam returns after leading the NCAA in home runs, ranking as one of five players to slug better than .900 and in the top 30 in on-base percentage as a redshirt freshman. And none of those numbers have much to do with why her return is perhaps the preseason's best story. Shortly after Hawaii exited the Women's College World Series, Majam was diagnosed with thyroid cancer. Coach Bob Coolen estimated she's at about 75 percent at the moment, having undergone her most recent radiation therapy on Dec. 27, but 75 percent of Majam the hitter is a big deal. And seeing Majam the person back in spikes is an even bigger deal.
The Rainbow Wahine return their five most productive hitters from last season, including Majam. Third baseman Melissa Gonzalez (1.265 OPS) and shortstop Jessica Iwata (1.153 OPS) form one of the best left sides of the infield in all of college softball, while Jenna Rodriguez (1.118 OPS) and Alexandra Aguirre (.979 OPS) will flank Majam in the outfield. There's also plenty of experience in the circle, where Stephanie Ricketts and Kaia Parnaby return. Another in a line of Australians at Hawaii, Parnaby quietly ranked 14th among freshman pitchers in strikeouts per seven innings.
Who departs: They weren't the statistical leaders, but last season's seniors advanced to a super regional as freshmen and the World Series as seniors, so there was clearly something there. Catcher Katie Grimes, second baseman Traci Yoshikawa, outfielder Kanani Pu'u-Warren and first baseman Amanda Tauali'i all contributed to last season's memorable run.
Who arrives: A lot of the openings will be filled by returning players in new roles, but freshman Sharla Kliebenstein looks to be the favorite to replace Grimes behind the plate, while Jazmine Zamora and Kaile Nakao are fighting for time at second base with junior Dara Pagaduan.
Statistically speaking: For a team that hit 158 home runs last season, one hit in 15 at-bats over two seasons might seem odd numbers to single out. But Coolen suggested junior Sarah Robinson, younger sister of former Hawaii star Kate Robinson, is ready for the same sort of breakthrough third season her sister enjoyed.
Preseason question: Will Hawaii dwell on a season to remember?
Given the amount of time the team spent on the road in May, the quality of the opponent in top-seeded Alabama and the nature of the walk-off home run against the Tide in Tuscaloosa, Hawaii did indeed score one of the most memorable upsets in NCAA tournament history to advance to the World Series.
That is not the same as saying it was one of the biggest upsets.
The Rainbow Wahine, after all, were seeded No. 16 in last season's bracket, beat Stanford and Cal in the regular season, won the WAC by a wide margin, broke the NCAA single-season home run record and then beat the Cardinal again on the Pac-10 team's field in a regional. Hawaii was a World Series-caliber team all along; it just followed an unforgettable route to Oklahoma City.
And with so much talent returning, this season should unfold with the program right back in the middle of the race to the World Series -- as long as this team doesn't spend too much time thinking it's last season's team. Coolen said he was embarrassed with himself when, after winning the WAC in 2003, the 2004 team with many of the same faces fell flat on its face. So when this season's team convened for the first time last fall, he asked the returnees to reminisce and share their stories of an ESPY-winning season with the newcomers.
It was a one-time only invitation.
"After that meeting, I said, 'It's over; it's now over. We are now focused on a new year,'" Coolen recalled. "We have a whole new set of expectations. We have a whole new set of lineup possibilities. We have a whole new set of equipment that we're using. So all the pictures, all the reminders, everything is now over after that first meeting, which is something I had to do because I did not want to live in the past."
June, 4, 2010
06/04/10
11:44
PM ET
OKLAHOMA CITY -- What did we learn Friday? Maybe you can beat Megan Langenfeld, but you're going to have to work for it.
Hawaii did all it could, from epic at-bats to spectacular defense, but none of it proved enough to avert a 5-2 win for the Bruins.
If you're in the mood for souvenirs -- or in the mood to be the target in target practice -- sit down the third-base line when Langenfeld pitches. Time and again against a Hawaii team that smashed the NCAA single-season record for home runs, the UCLA senior put her pitches so far in on the hands of hitters that the grandstand down the left-field line was the only landing spot physics allowed.
[+] Enlarge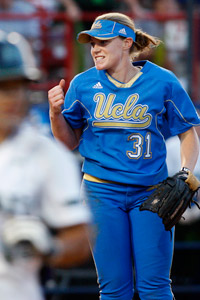 AP Photo/Sue OgrockiMegan Langenfeld was tough as nails on the mound Friday night.
By my admittedly unofficial count, Hawaii hitters fouled off 62 of Langenfeld's 132 pitches. When the balls did end up in fair territory, what the Rainbow Wahine didn't beat into the ground, they popped up to the infield, six in all, to go with seven groundouts and six strikeouts.
"She does bring the jam job a lot," UCLA catcher Kaila Shull said the day before. "I know I'm ready for a few more popups that may be closer to my range, and the left side of the field is always ready."
It took one of the more memorable at-bats in recent World Series history for Hawaii to get on the board. After falling behind 1-2 in the count in the bottom of the fourth, Hawaii's Alexandra Aguirre fouled off 13 consecutive pitches, almost all in on her hands and flirting with the strike zone. Finally, after Langenfeld left a pitch a few inches over the plate, Aguirre hit a two-run home run to cut UCLA's lead to 4-2.
"It was long," Aguirre said of the at-bat. "It's one of those things where I knew she was coming inside every single pitch, so I just had to focus on seeing the ball out in front and getting my hands around on it. And then she threw in a couple of changeups that kind of threw me off."
Hawaii followed with back-to-back hits, only to see the rally end on, what else, an infield popup.
Friday's game was the first postseason start for Langenfeld, who has been limited by her coach to playing the field and making occasional relief appearances. As UCLA looks for its first back-to-back wins to open a World Series since 2005, there wasn't much doubt in coach Kelly Inouye-Perez's mind about who would get the start.
"We wanted her to be at her best when we needed her to be at her best. ... And it's time," Inouye-Perez said. "So I literally met with her last night and asked how she was doing and she said, 'I want the ball coach.' So it was very simple."
Saturday Spotlight: Arizona vs. Washington (ESPN2, 2:30 p.m.)
Arizona's Mike Candrea went on the offensive against illegal pitches after his team's loss to Tennessee. But the coach also sounded almost defensive when it came to his team's bats going silent yet again in Oklahoma City. (Arizona was shut out by Florida and Alabama in last year's event.)
"I think one of the things you have to have here is short-term memory," Candrea said. "I think the big thing is you've got to keep doing what you're doing and things will turn around. We're a decent hitting team but we have had our struggles. But I think the more you talk about it the worse it gets. It's over with."
Facing Danielle Lawrie, particularly with the two-time reigning national player of the year coming off a rare hittable performance, doesn't shape up as much of an elixir.
Arizona didn't draw a single walk against Tennessee's Ivy Renfroe, a freshman pitcher making her first World Series start. But the 18 Wildcats who went to the plate saw 88 pitches -- 4.9 pitches per plate appearance. That's significantly better than in any of their four World Series losses in 2008 and 2009 and perhaps a more accurate reflection of a team that posted a better on-base percentage this season than in its record-breaking power display last season.
But Lawrie has gone from great to all-time great during her career in part by making opponents hit her to beat her. As much attention as Kenzie Fowler's feet will draw, whoever wins the battle of pitch selection Saturday holds the edge.
Graham Hays covers women's college softball for ESPN.com. E-mail him at Graham.Hays@espn3.com. Follow him on Twitter: @grahamhays.
June, 4, 2010
06/04/10
12:08
AM ET
OKLAHOMA CITY, Okla. -- Softball wasn't spared from a conversation about officiating supplanting what should have been a showcase.
Just don't expect any apologies from the umpires, coaches or pitchers in this debate.
[+] Enlarge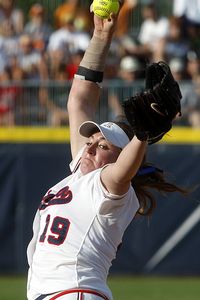 AP Photo/Sue OgrockiArizona's Kenzie Fowler was called for eight illegal pitches on Thursday.
From the 2010-11 rules, section 1.28 (definitions).
Crow hop: "An illegal act in which the pitcher's pivot foot leaves the pitcher's plate and re-contacts the ground before the release of the pitch."
And from section 10.4.5 (pitching rules).
"No crow hopping is allowed. The pitcher may not replant, gain a second starting point and push off her pivot foot. Once having lost contact with the pitcher's plate, the pivot foot may trail on the ground but may not bear weight again until the pitch is released."
Forget a scorecard; you needed a copy of the rule book to follow the action in the middle two games of Thursday's opening day at the Women's College World Series.
Florida pitcher Stephanie Brombacher was called for four illegal pitches in the first three innings of her team's game against UCLA and was eventually pulled after allowing five runs in what turned into a 16-3 rout.
Gators coach Tim Walton, who said he didn't want to incur any SEC penalties, instead offered an oblique reference to the previous night's big story in response to a question about the illegal pitches called on Brombacher and freshman replacement Ensley Gammel.
"I think that kid [Armando] Galarraga threw one heck of a game yesterday for Detroit," Walton said.
Read what you will between the lines on that one.
That only proved the opening act for Arizona freshman Kenzie Fowler, who was called for eight illegal pitches against Tennessee before exiting. Brombacher has had an on-again, off-again battle with illegal pitches this season, but while illegal pitch data isn't readily available, an Arizona spokesperson said Fowler had been called for only six with runners on base in more than 200 innings before Thursday's game.
"It kind of set the tone for the game," Mike Candrea said. "Illegal or not illegal, I think one of the big things that is confusing to us as coaches, and I'll try to be politically correct about this, but you play all year to get to here and what they were calling tonight has never been called, No. 1. So how does the kid fix it if she doesn't think she's doing anything wrong?"
In neither collective case did the illegal pitches decide the game, a point Walton especially made in crediting UCLA's strong performances. And in every individual case I could see watching the replays, the pitches were, in fact, illegal.
So were a lot of pitches that weren't called this season. To be clear, Thursday didn't come out of nowhere -- ask Creighton's Tara Oltman, Michigan's Jordan Taylor or dozens of other pitchers notably flagged at times this season as illegal pitches were made a point of emphasis for umpires.
But the sport's biggest stage isn't the place to make a point about a rule many umpires have shown only only a sporadic spine to enforce from February through May.
Either call them all or get out of the way of the game.
The shame is that instead of talking about Tennessee's Ivy Renfroe throwing the first World Series shutout by a freshman since UCLA's Anjelica Selden in 2005, Andrea Harrison hitting two three-run home runs for the Bruins or Traci Yoshikawa's big blast in Hawaii's comeback win, we're talking illegal pitches.
"I've been here for a few years," Candrea said. "I've never seen an umpire's judgement take over the complexion of a game. And tonight he did."
Graham Hays covers women's college softball for ESPN.com. E-mail him at Graham.Hays@espn3.com. Follow him on Twitter: @grahamhays.
May, 30, 2010
05/30/10
10:13
PM ET
For the first time since the NCAA tournament reconfigured its format to include super regionals in 2005, the top two overall seeds will not be in the Women's College World Series. 
[+] Enlarge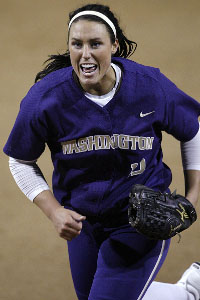 AP Photo/Elaine ThompsonDanielle Lawrie and Washington rebounded from a Game 1 loss to beat Oklahoma and advance to WCWS.
The defending champs needed an effort for the ages from the player expected to repeat as USA Softball Player of the Year to avoid making it the top three seeds. 
Yet there wasn't a heck of a lot of super regional drama to be found.
If that equation doesn't make much sense, well, welcome to a perplexing postseason. 
Even with the drama in the Tuscaloosa Super Regional, where No. 16 Hawaii recorded a pair of one-run wins to eliminate No. 1 Alabama in three games, there were only five super regional games decided by two or fewer runs. That's the fewest since the advent of the extra postseason round six seasons ago. Only two series went the full three games, matching last season for the fewest in the super regional era. 
All of that on top of a regional round in which all 16 teams advanced without a loss. 
Hawaii's win has been covered elsewhere, but here's a quick look at the other seven super regionals. 
Ann Arbor: No. 15 Tennessee defeats No. 2 Michigan (2-0)
Freshman pitcher Ivy Renfroe continued a hot second half of the season and emerged as a budding star for the Lady Vols. She came within two outs of a no-hitter while pitching a shutout in the opener and quelled a Michigan rally in relief in the clincher. Tennessee made its chances count, stranding just six runners on base in two games. 
Athens: No. 6 Georgia defeats No. 11 California (2-0)
Perhaps the most impressive performance by any team in the round, Georgia outscored Cal 17-1 in the sweep. We knew the Bulldogs could hit -- Megan Wiggins took the leading role in this instance with six RBIs -- but Sarah McCloud allowed just seven hits in 12 innings in the circle (although she did walk 10 batters and hit two more). 
Columbia: No. 9 Missouri defeats Oregon (2-0)
In the non-Canadian division, Kristin Nottelmann might have been the most valuable pitcher of the round. Missouri's ace (and she's earned that label) allowed just one earned run in a pair of complete game wins. She has all five wins for Missouri this postseason, including four in games decided by two runs or less -- best in the field. 
Gainesville: No. 4 Florida defeats No. 13 Arizona State (2-0)
For the third season in a row, Florida disposed of a Pac-10 team in minimum games. Kelsey Bruder bats in front of Francesca Enea and exists somewhat in her teammate's shadow, but she led the way with two home runs, two doubles and six RBIs. Ace Stephanie Brombacher is rolling, with five wins and just five walks this postseason. 
Los Angeles: No. 5 UCLA defeats Louisiana-Lafayette (2-0)
The Bruins got a lot hits (23) and a lot of runs (20) from a lot of people in blitzing Louisiana-Lafayette in a pair of run-rule wins, but there's no mistaking that they're back in the World Series with a healthy Samantha Camuso (2 HR, 7 RBIs vs. ULL) after missing the World Series last season without an injured Camuso. 
Seattle: No. 3 Washington defeats No. 14 Oklahoma (2-1)
If you watched Washington's back-to-back wins Friday to stave off the upset, you saw Danielle Lawrie pitch the way Mike Singletary used to play linebacker -- complete with the crazy eyes. 
Tucson: No. 10 Arizona defeats BYU (2-0)
On the eve of the NCAA tournament, it was all about freshman ace Kenzie Fowler's hurting right arm. On the eve of the Women's College World Series, well, it's still about Fowler's arm. She dominated BYU in the opener, striking out 10, but left the clincher without recording an out after taking a line drive to her right arm. 
Graham Hays covers women's college softball for ESPN.com. E-mail him at Graham.Hays@espn3.com. Follow him on Twitter: @grahamhays.
May, 29, 2010
05/29/10
7:49
PM ET
TUSCALOOSA, Ala. -- The road is where the greatest acts grind out a path to stardom. Day after day, buses, hotels and gigs blend together in a gumbo of hotel keycards, complimentary coffee and unwashed laundry. And all in pursuit of bigger stages and overdue recognition.
[+] Enlarge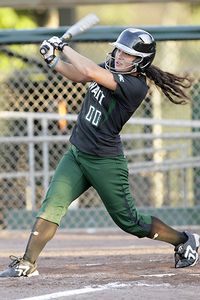 UH Sports Media Relations Kelly Majam has set the tone for the Hawaii all season.
Well, whenever the tour she's currently headlining ends, be it as soon as Sunday afternoon or a week and a half from now in Oklahoma City, Hawaii redshirt freshman Kelly Majam will head home having gone from the softball equivalent of a hip indie act to mainstream star.
"I knew Kelly was a special player," Hawaii coach Bob Coolen said. "She was recruited by a lot of high-powered SEC, Big 12, the BCS programs, and she chose Hawaii."
From the WAC tournament in Las Cruces, N.M., to an NCAA regional in Palo Alto, Calif., and now a super regional in Tuscaloosa, Majam and the Rainbow Wahine have reprised their roles of softball's traveling road show, just as they did at this time of year three years ago.
During the ongoing three-week trip, Majam is hitting .500 (13-of-26) with five home runs, giving her 30 for the season, good enough to take over the national home run lead from Georgia Tech's Jen Yee. No wonder "Mele Kalikimaka" wasn't exactly the sentiment that crossed Coolen's mind when Majam tore her ACL in November 2008 and had to sit out what would have been her true freshman season the following spring.
"It killed me; it was like my Christmas present was gone," Coolen said of the injury.
"I knew she was going to be my table-setter. I knew she was going to make the lineup. … I was relying a lot on Kelly Majam to sort of set the table and show how good we could be. And it didn't happen her freshman -- her true freshman year. So we sort of went through a year where we had eight seniors graduate and everyone expected us this year to not be where we are right now."
Where they are is a win away from the program's first trip to the Women's College World Series. Sparked by a home run and a double from Majam, No. 16 Hawaii rallied from an 8-0 run-rule loss against No. 1 Alabama in the opening game of the Tuscaloosa Super Regional and evened the best-of-three series with an 8-7 win.
For a couple of hours Saturday, Hawaii appeared on the verge of falling well short of the moment. Alabama ace Kelsi Dunne shut them out in the first game, allowing just two hits in five innings. And when Alabama scored a run in the top of the first inning of the second game. travel plans for Oklahoma City seemed the order of the day for the home team. But after going hitless with a strikeout in two at-bats in the first game, Majam led off the bottom of the first inning of the second game a home run to tie things at 1-1.
An inning later, with runners on second and third, Alabama coach Patrick Murphy understandably elected to intentionally walk Majam, only to see true freshman Jessica Iwata, Majam's protection in the No. 2 hole for the last 49 games, deliver a grand slam. And after Alabama brought a record crowd of 3,218 to the peak of frenzy with a six-run sixth inning that tied the game at 7-7, Majam answered with the double that set up Iwata's sac fly to drive n the eventual winning run.
"I think the first game there was a little bit of maybe [being] star-struck, just from the crowd and the TV and stuff like that,' Majam said of her team. "And we settled down. We didn't play the way that we usually play the first game. That's not how we usually play. And we came out the second game hitting and playing better defense."
A night earlier, Washington ace Danielle Lawrie offered one of the more impressive all-time displays of an individual taking over a game when she shut out Oklahoma in back-to-back games. What Majam did in the second game in Tuscaloosa wasn't on that level, but it did feel a lot like one player steadying an entire team.
"As the leadoff batter, it's my job to get our whole team going," Majam said. "And usually when I get a good hit, my whole team is behind me, so that's how we have been playing all year. It's contagious; our hitting is contagious. So just getting on base is my goal, and hitting home runs, even better."
Coolen made waves this week in suggesting he didn't know much about Dunne, one of the nation's best-known pitchers, and didn't want to know much in advance. By contrast, Murphy would happily scour tape or scouting reports, but try as he might, he said he could find little in the way of useful reports and even less video to better understand Majam's strengths.
After Saturday, Majam has gone mainstream.
• Alabama hardly has reason to despair. Disappointment of the loss aside, the Crimson Tide did score 15 runs in just 11 innings at the plate Saturday. Most notably, Jennifer Fenton (4-of-6) led the bottom four hitters in the batting order in contributing nine hits and four RBIs. And if you're really an Alabama fan looking for good omens, consider that in becoming just the second No. 1 seed to lose a super regional game (they only date to 2005), the Crimson Tide join a club that previously only included Michigan. And all the Wolverines did after dropping the second game of a 2005 super regional against Washington was go on to win the national title.
Graham Hays covers women's college softball for ESPN.com. E-mail him at Graham.Hays@espn3.com. Follow him on Twitter: @grahamhays.
April, 26, 2009
04/26/09
8:36
PM ET
Thoughts on five key results from the weekend.
UCLA 10, Arizona State 4
Gathering the Pac-10's top four teams in the desert for six games seemed like a great way to create anticipation but an even better way to produce mixed results. The former was there in abundance, but the latter was decidedly absent after UCLA's loud statement.
The Bruins swept all three of their games, winning once at Arizona and twice at Arizona State, by holding the two most prolific offenses in the country to six runs. Megan Langenfeld earned all three wins, and there's more to come on her unique roles with this team later this week.
UCLA piled up 21 runs (including a pair of home runs from Langenfeld when she wasn't busy pitching). Compare that to the first time the Bruins played the Arizona schools, when they managed 21 hits and five runs in losing two of three games at home.
Now, 21 hits in three games is far from anemic, but the onslaught that produced 31 hits away from home this weekend may corroborate something both Langenfeld and coach Kelly Inouye-Perez talked about Thursday before heading out on the road. The Bruins are loaded with pure talent, but the focus this season is on the mental approach, making adjustments and knowing what to expect from the opposing pitcher ahead of time.
"There's no question on whether this group can hit," Inouye-Perez said Thursday. "They could hit before they got here, and they're even better, I believe, for working with [UCLA assistant] Lisa Fernandez. But when you talk about attention to detail, it gives you an edge as a hitter. So if there's something you can take, if there's a tendency you can notice, if there's a placement in the box that can help give you an advantage, then those are the things that can only help your game.
"So early in a ballgame, that's one of our goals. One of our goals is to be able to expose the weakness of our opponent so that we can score early and often."
With only one road game remaining, at Washington this Wednesday, and a series still to come at home against seventh-place Oregon State and last-place Oregon, the conference title -- and likely the No. 2 overall seed in the NCAA tournament -- is UCLA's to lose.
Hawaii 11, New Mexico State 3
This isn't shaping up as a year of major drama on the NCAA tournament bubble, but there is one glaring exception looming out in the Pacific Ocean. With an RPI buried in triple digits entering the weekend, Hawaii is fighting an uphill battle. But it shouldn't be.
Consider what the Rainbow Wahine have working in their favor.
Quality neutral-site wins out of conference against Oklahoma, Ohio State and fellow potential bubble candidate Oregon State (if the Beavers get to .500).
A 3-3 record against the top two teams in conference, Nevada and Fresno State, including a pair of road wins at Fresno State.
A strong closing kick that stands at 11-2 in the past 13 games, with only a home series against Boise State, in its first season of softball, remaining before the WAC tournament.
Quality losses are the evidence that the jury is instructed to ignore -- they don't count but there's no use pretending they don't exist. And if you're trying to do the eyeball test on Hawaii, one-run losses against Alabama and Tennessee help establish a team's pedigree.
If Hawaii takes care of its business against Boise State and avoids going two-and-out at the conference tournament, it deserves to be in the NCAA tournament. And if RPI is the best argument someone has to counter that, they need to find a better argument.
Georgia Tech 3, North Carolina 2
Jen Yee's walk-off blast against North Carolina on Sunday gave Georgia Tech a sweep of the weekend's three-game series (and they had the broom to prove it in the postgame celebration). From an ACC perspective, the sweep gives the Yellow Jackets control of the regular-season race; they need just two wins next weekend at Maryland.
But perhaps of equal importance in the long run, the wins represented an impressive turnaround for a team that took a beating in two midweek home games against Alabama.
Given that reality of the losses against Alabama, it's impressive that Sharon Perkins' team maintained its focus and not only swept a North Carolina team riding a 23-game winning streak but did it by overcoming a late game-tying home run by the Tar Heels in Sunday's finale.
UNLV 7, Colorado State 6
Will Ashli Holland's grand slam go down as the blast that saved UNLV's season?
Losers of eight of their past 10 entering a weekend trip to Colorado State and New Mexico, the Rebels found themselves trailing 6-1 entering the sixth inning of the opener against the Rams. A loss would have dropped them to 2-7 in the Mountain West, and even with a strong RPI and early wins against Cal Poly, Georgia Tech, Notre Dame and Long Beach State, that would have been a pretty glaring demerit against postseason play.
Holland's blast and two more wins against New Mexico eased those concerns.
Alabama 6, Auburn 0
And surprisingly enough, that score is not because of the no-hit, 14-strikeout gem thrown by Alabama's Kelsi Dunne. (Although, is there a better advertisement for the upcoming SEC tournament than Dunne and Florida's Stacey Nelson throwing no-hitters on the same afternoon?)
With three games left for each, Auburn has a one-game lead on Mississippi for eighth place in the SEC. Only the top eight teams go to Knoxville for the conference tournament. So would Auburn, with an RPI of 29 entering the Alabama series, receive an at-large bid to the NCAA tournament, even if it misses the SEC tournament?
April, 19, 2009
04/19/09
10:00
PM ET
Five results that matter from the weekend that was.
Ohio State 6, Wisconsin 5 (11 innings)
The Buckeyes rolled to a 10-0 run-rule win in the opener of Saturday's doubleheader on the road, but they trailed 5-1 in the top of the seventh of the nightcap. Then Courtney Pruner's two-run home run cut the deficit to 5-3, and after hits from Rebecca Schultz and Leah Ledford, a two-out wild pitch eventually brought home the tying run.
Aside from good drama, the win, which came via another RBI from Schultz, set the running order as the Big Ten makes the turn for home. The Buckeyes aren't free and clear on the rail, beginning a tough closing stretch with a doubleheader at home against Purdue on Wednesday before trips to Northwestern and Michigan, but they control their own fate. Sweep Purdue and Penn State at home and split with the preseason favorites on the road, and the worst that could happen would be a tie atop the standings at 17-3.
Washington 7, Oregon State 1
Despite going 3-for-3 on the road against Oregon and Oregon State, the most important win of the weekend from Washington's perspective probably came just up the road from Corvallis and Eugene in Portland. But we'll get to that in a minute.
This result mattered because it capped off a winless weekend for the Beavers and dropped them to 22-22 overall with 11 games to play. Given the relatively soft state of the NCAA tournament bubble this season, Oregon State probably can count on an at-large bid if it comes up with a 28-27 record. But even if it gets two wins at UC Davis in Thursday's doubleheader -- no given -- that still would necessitate getting four more wins against the top six teams in the Pac-10. A task that got tougher with this weekend's lost homestand.
Portland State 4, Sacramento State 2
The third win of the weekend at home against Sacramento State, combined with Loyola Marymount's rough weekend against San Diego, put Portland State a game in front of the Lions in the Pacific Coast Softball Conference race. That's great news in Portland (perhaps not good enough to erase the sting of Yao Ming against the Trail Blazers), but it's also good news for folks a few hours north on Interstate 5.
If Portland State makes the NCAA tournament, it puts a non-Pac-10 team in the field that's within driving range of the University of Washington. And assuming the Huskies submit a bid to host regionals, that makes it far more likely they could advance to Oklahoma City without leaving Seattle to do it.
Hawaii 6, San Jose State 5
After dropping the opener of a three-game series at San Jose State, the visiting Rainbow Wahine held on for a one-run win in the second game and clinched the series with an 11-4 win in the finale. The weekend leaves Hawaii tied with Fresno State for second in the WAC, half a game behind league leader Nevada, and able to close out the conference regular season with six games at home. At 22-21 and with a chance to earn the top seed in the conference tournament, it's a big climb for a team that opened the season 3-11.
Watching Bob Coolen's team beat Ohio State and push Alabama to the wire at the Cathedral City Classic, it was easy to come away impressed in spite of the rough early record. Even now, there are a handful of numbers that jump out -- mostly Amanda Tauali'i's .770 slugging percentage and freshman Stephanie Ricketts' 1.99 ERA -- but this remains a team whose accomplishments are more than the sum of its numbers.
Hofstra 6, Georgia State 1
Sunday's win gave the Pride the best-of-three series against Georgia State and sole possession of first place in the Colonial Athletic Association. With just two three-game series remaining for each of the league's teams, that puts the Pride in position to potentially host the conference tournament as the No. 1 seed (they travel to Drexel next weekend and host Delaware to close the regular season).
That's a big deal for a team that has owned this conference over the years but has been pushed by new arrival Georgia State in recent years. Hofstra is 91-9 in its past 100 home games against conference teams. There's also some relevance in the present to accompany that historical dominance; senior ace Kayleigh Lotti is 38-1 in her past 39 starts against Colonial opponents. The one loss? Georgia State last year, of course.
File the Panthers and Pride rivalry under "to be continued." But if it turns out that it's continued on Long Island instead of in Georgia, it's advantage Hofstra.
Seeing Crimson
You know you had a good weekend when you threw seven innings of four-hit ball, striking out nine without allowing a walk or an earned run, and it's not the eye-catching part of your series line. Alabama's Charlotte Morgan put up that effort Saturday against Arkansas, earning win No. 11 in the circle (she got No. 12 Sunday in relief), but it was what she did to pitchers that might earn her national player of the week accolades. Morgan hit a pair of home runs in three games against the Razorbacks and finished the series 7-for-9 with seven RBIs.
The only catch, no pun intended, is Morgan might get a challenge from teammate Ashley Holcombe on a weekend in which Alabama's bats came alive. Always worth the price of admission for her defense behind the plate, Holcombe added eight RBIs on six hits.
February, 27, 2009
02/27/09
10:54
AM ET
As positive as the vibes were last weekend at the Cathedral City Classic, from the number of top teams on the field to the number of fans streaming through the gates, news regarding a team not in attendance put a damper on the start of softball season. The University of Vermont's recent decision to eliminate its softball program, in addition to its baseball program, is one warning sign as to how the struggling economy might affect the sport at the college level.
Making softball work in Burlington was always going to be a challenge. Massachusetts and certain Big Ten northerly outposts get past weather issues by playing away from home until late March or early April, but it doesn't make it easy to attract either the recruits who will generate wins and community interest or the fans who will generate at least some sort of positive revenue contribution. But in the end, it wasn't the cold and snow that did in Vermont as much as the nationwide cooling economy. The program fell as part of schoolwide cutbacks designed to save more than $10 million.
And that has repercussions well beyond the Green Mountain State, which became clear talking to Hawaii coach Bob Coolen at the Cathedral City Classic in California. The architect of a tremendous story two seasons ago when he led the Rainbow Wahine solidly into the Top 25 and within a game of the Women's College World Series, Coolen arrived in Cathedral City this spring with a struggling team and a stripped-down traveling party, all thanks to budget cutbacks.
"It's killing us," Coolen said of the economy.
Coolen is no longer able to bring key staff on the road, including volunteer coach John Nakamura (the team's hitting coach and someone who has been associated with the team in various capacities for more than two decades, including as head coach), as well as the team's manager and sports information director. He has also been told no additional expenses for this season will be approved for the program after March, and even now, he's spending extra time working with travel agents to find last-minute deals for the team's travel.
On one hand, new and revamped facilities at schools throughout the Big Ten, SEC, ACC and elsewhere offer an optimistic outlook for the college game's continued growth (although it's difficult to envision too many more major projects gaining approval in the short term). But when Hawaii, a well-coached program that earned its respect on the field, finds itself checking the proverbial couch cushions for change, it makes it easy to wonder whether what happened at Vermont is just the first domino.
February, 24, 2009
02/24/09
3:43
PM ET
More notes from the Cathedral City Classic, which featured eight of last week's top 10 teams and 13 of the top 20.
• The more time passes, the more Florida's Tiffany DeFelice's 23-pitch at-bat at the Women's College World Series last spring seems like one of the most impressive athletic feats I've been fortunate enough to see in person. But at the same time, the more you watch the Gators, the more it seems almost par for the course.
No single Gator quite reached 20 pitches in an at-bat in Cathedral City, but they collectively made the most of their stay in the batter's box in the desert. Whether pushing Fresno State's Morgan Melloh to about 50 pitches in an inning at one point or drawing five walks against Washington's Danielle Lawrie, coach Tim Walton's team showed off a remarkable ability to work counts and wait for mistake pitches.
"We strike out a little bit too much, but we walk a lot," Walton said. "We make pitchers pitch. We make pitchers make mistakes and we punish them when they do make mistakes. I think we're just very selective. I think we have a lot of kids with a high visual recognition. … They're patient. They're not going to go up there and chase a whole lot of bad pitches."
And it's not as if opposing pitchers can hope to wait until the soft part of the Florida order rolls around. Sophomore shortstop Megan Bush had a fantastic weekend in the span of an inning against Arizona State, leading off the bottom of the fifth with a home run and coming around again to hit a grand slam. And Bush was the No. 8 hitter in that game, one spot higher than she had been when she hit a home run against Fresno State earlier in the day.
Hard to believe this was a team for which run production was a question mark entering last season.
"It's just a phenomenal thing to have the ability to hit one through nine, like the Arizonas, the Arizona States, the UCLAs," Walton said. "I think that just says a lot for where we're at as a program and having the ability -- I look at our bench, and there are just so many great players sitting there waiting for their turn. It was nice to see Megan jump up there and get after it."
• There was fantastic defense played all weekend at the Big League Dreams complex, none better than by both teams in Friday's Washington-Florida classic. Florida second baseman Aja Paculba had a couple of dazzling plays, and Washington's win had almost as much to do with the defense behind Lawrie as the pitcher's dominance in the circle. After playing Ashley Charters at shortstop and Morgan Stuart at third base for much of Campbell-Cartier Classic the previous weekend, the Huskies shifted Charters to second base and Stuart to shortstop in Cathedral City. Both came up with key plays with runners on base late, including an over-the-shoulder diving catch in short center by Stuart.
But for my money, no single play topped Hawaii center fielder Alexandra Aguirre going through the temporary fence in center field to rob Alabama's Kelley Montalvo of a game-winning home run Saturday night. Unfortunately for the Rainbow Wahine, the Tide eventually pulled out a 1-0 win in extra innings, in no small part because of their own continually overlooked defensive prowess.
With the bases loaded and one out for Hawaii in the top of the fourth, Alabama catcher Ashley Holcombe snapped a throw to second to pick off the runner straying too far from the bag. Charlotte Morgan then coaxed a popup and the scoreless draw continued.
What Katie Cochran is to hitting, and what Lawrie is to pitching, Holcombe is to defense behind the plate. In fact, if you happen to find yourself at an Alabama game, don't run to the concession stand when the Tide are warming up in the field between innings; it's worth the price of admission just to watch Holcombe snap off a throw from her knees. She led the SEC in pickoffs last season, throwing out nearly half of the runners unwise enough to try to steal on her, and remains a masked weapon.
"That just keeps the momentum on our side," Montalvo said of Holcombe's pickoff attempts. "Every time she does it, it's kind of like a big buzz kill for them. … It kind of loses their momentum and brings it back on our side. So whenever we can have that, we're begging her to do it."
Holcombe didn't get official credit for a win, or the game-winning RBI, but I wouldn't be surprised to learn she received a "skillet" on the team's unofficial stat sheet when the team made its way back to Tuscaloosa. Alabama coach Pat Murphy is one of college softball's more receptive minds in terms of his use of statistical analysis for the offensive side of the game, but the math he favors on the defensive side is simple arithmetic.
"We always say there are nine on defense and one, two, three or four on offense. The nine should always win. It's just like an attitude, a feeling, whatever you want to call it, that we try to bring to the team on the defensive part of it."
Hence the skillet, an award handed out regularly for outstanding defensive plays -- not just brilliant reaction stops, but heady plays like a shortstop faking a throw on a ground ball deep in the hole to entice a runner on second to stray too far off the base.