Category archive:

Northwestern Wildcats
January, 20, 2011
01/20/11
12:35
PM ET
Editor's note: Graham Hays is counting down to the start of the 2011 college softball season with a look at each of the teams in his top 20. Check back daily for updates.

No. 17 Northwestern
Last season: 25-23, missed NCAA tournament

Who returns: Senior Michelle Batts and junior Adrienne Monka each topped 1.000 in OPS last season. Monka walked 22 more times than during an All-American freshman season, an indication that opposing pitchers were all too happy to pitch around her with Tammy Williams no longer around. Speed also returns in the sophomore tandem of Emily Allard and Kristin Scharkey, presumably a year wiser and no less swift. A mainstay at third, Robin Thompson also returns with speed.
Who departs: In many ways, Lauren Delaney defined both the ups and downs of the past two seasons for the Wildcats. Beyond the circle, few teams got as much power out of second base as the Wildcats did from Nicole Pauly (53 career home runs). And for the first time since the 2006 season, Northwestern will take the field for a game without Kelly Dyer in the starting lineup.
Who arrives: Illinois might have picked up a congressional seat had the census taken place after the softball team's newest class took up residence in Evanston. At seven players, the freshman class offers plenty of quantity and potentially quite a bit of quality. Among the contenders for immediate playing time, Marisa Bast and Mari Majam (younger sister of Hawaii All-American Kelly Majam) will compete with Allard for spots in the middle infield, with all three likely to play between those two positions and outfield. Pitchers Sammy Albanese, a veteran of high-level Gold competition with a lot of movement on her pitches, and Jenny Tyler, a hard-thrower and veteran of competition beyond her years from Arizona, join a four-pitcher staff.
Statistically speaking: The WIldcats finished last season with their worst team batting average since the 2004 campaign, although they still nearly cracked the top 50 nationally in slugging percentage.
Preseason question: Will the new energy translate to a recharged ranking?
More than half the players on Northwestern's roster have never played in the NCAA tournament. Only the five seniors have even experienced a postseason win. That's a brave new world for a program that made back-to-back World Series appearances in 2006 and 2007 and appeared to have a lease with an option to buy on lakefront property in the USA Softball/ESPN.com Top 25.
But after a 2010 season that fell short of the program's own standards, the new arrivals bring more than just an infusion of talent. Last season's record notwithstanding, the Wildcats still had enough of that to merit top-20 consideration. It's the naive inexperience that can often be a liability that could make the freshman class such a potentially joyful asset for Northwestern.
"On Sept. 15, when seven new freshmen arrived, it was an immediate spark," coach Kate Drohan said. "Their excitement, their enthusiasm and their skill set had a tremendous impact on our team right from day one. They've learned a lot along the way, they've learned very quickly. And our returners, our veteran players, have done an outstanding job of celebrating the personality that they bring to the table -- in other words, there's room for them."
It doesn't hurt that most of them have been there so recently. It's difficult to imagine many more taxing freshman seasons than the one Scharkey endured -- and not just as a Californian adjusting to Windy City winters. She was twice felled by injuries, the first a broken hand suffered when she was hit by a pitch in her first college game and then later in the season by a concussion. But that adversity, like the team's season in general, set the stage. The returning Wildcats know both what it's like to be a freshman and what it's like to have a long season. They can help the newcomers with the former, and perhaps the newcomers can help with the latter in return.
"I will say I probably got lost about eight times my first week of classes," Scharkey admitted. "My team was so helpful in getting me to where I needed to be and letting me know what was going on and where things were, and so I really appreciated that from them. Once you fall into the routine, I think it's pretty simple."
So it seemed for Northwestern when it fell into the routine of competing for trips to Oklahoma City, a routine new faces may rediscover.
May, 1, 2009
05/01/09
3:37
PM ET
When I played softball at Northwestern ('07), there was nothing like Big Ten competition. Sure, I loved playing the Pac-10 and SEC teams, but when it came time to play league ball, that was when we got down to business.
The Big Ten now has changed the format of its schedule, playing doubleheaders on Wednesdays (yes, Wednesdays … don't even get me started on that travesty) three or four times in a season and one game on Saturdays and Sundays. Because of this change, the Big Ten has eliminated the conference tournament.
Economic factors usually are the excuse for getting rid of these postseason tournaments, but it doesn't seem like the economy was a main factor in the Big Ten's decision. Illinois coach Terri Sullivan told IlliniHQ.com in November that the decision was not monetary: "The main reason we dropped it was to make what we feel is a better overall conference schedule for the student-athletes."
The Big Ten changed the format to extend the season and so teams could focus more on the next opponent, since teams wouldn't be playing as many games per week and travel would be easier. With that said, I'm still not sure about the purpose or whether there was something wrong with the old format, in which games were played Fridays and Saturdays with a doubleheader on Sundays.
Those were the good ol' days -- simple, intense and competitive. All the coaches' concerns -- being tired, getting rundown and missing class -- are not the things I remember most from my time in the Big Ten. The Big Ten tournaments, however, I remember vividly.
What a shame it is that the Big Ten, Pac-10 and Big West, to name a few, have decided to forgo conference tournaments. Conference tournament games are the best games of the season. How anticlimactic Big Ten league play must be now. Who doesn't want another shot at beating rivals such as Michigan or Ohio State?
I know I did.
The Big Ten tournament also was our last hoorah before NCAA regionals because otherwise, many teams would not have played tournament games since the preseason. And the tournament made for higher stakes, just like in the playoffs -- if you lose, you're in trouble. We needed the games to stay competitive.
Look at the SEC right now. Alabama has played 51 games and Florida 52. The ACC's North Carolina played 54. Northwestern has played 40 games, Michigan 45 and Ohio State 47. Because Big 10 teams play fewer games during the regular season, it would make sense to have a tournament to gain some additional experience going into the playoffs.
The league tournament also gave teams an opportunity to make the postseason when they otherwise might not have. One such case was in 2004, when Michigan State was the No. 8 seed going into the tournament. The Spartans won the whole thing and earned a berth to regionals.
I have never played in this new format, so maybe without the tournament, these teams will be just as prepared for regionals. But I know one thing for sure: None of these players will be wearing a Big Ten tournament ring.
April, 2, 2009
04/02/09
2:07
PM ET
The Big Ten turned in a surprisingly strong run in the NCAA women's basketball tournament. Compared less than favorably to the Mountain West by some (all right, me), the conference sent three teams to the Sweet 16 and watched Purdue come within a few breaks of possibly knocking off Oklahoma in the Oklahoma City Regional final.
It will be less surprising if a Big Ten representative is among the eight teams in the capital of the Sooner State for the Women's College World Series in May. In fact, with the way Michigan and Northwestern have been playing, it won't be much of a surprise if a quarter of the field in Oklahoma City is composed of Big Ten material.
I caught Northwestern's stop at the University of Maryland last week, a 7-2 Northwestern win which turned out to be the start of a streak of four consecutive games in which the Wildcats hit three home runs. That streak continued in a 9-1 run-rule win at Michigan State on Wednesday. And it says something about how well the team's offense is clicking right now that the subsequent 11-2 run-rule win in the nightcap against the Spartans actually snapped an offensive streak for the Wildcats, who managed just a single home run as they improved to 20-7.
The timing of the games against Michigan State is of special interest, along with doubleheader sweeps Wednesday for Michigan at Penn State and Iowa at home against Illinois. This season the conference did away with the monster four-game weekend sets in which half its teams were playing single road games Friday and Saturday and then traveling to another site for a Sunday doubleheader (an especially onerous scheduling quirk on the weekends when teams had to trek to Penn State).
Ohio State stepped out of conference Wednesday, sweeping a pair of easy wins from Ball State at Buckeye Field in Columbus after splitting a pair of games over the weekend against Iowa. But with a trip to Minnesota coming this weekend and then a midweek trip to Indiana on Wednesday, longtime coach Linda Kalafatis was readying for her team's first taste of a new system aimed at reducing the travails of life on the road.
"We're getting ready to go on the road for the first time and then come back for a day or two and go on the road again for midweek, which we're not accustomed to doing," Kalafatis said after the Ball State wins. "But it's so much less of a toll on the weekend, and that's what we were really after.
"I mean, we're Big Ten schools, so we've got to travel all preseason anyway. And then when we start Big Ten, half the time you're traveling -- and then you've got to travel to a site, then just travel to another site. And then there's the Big Ten tournament, [at a site] we don't know until late, so then you're hurrying up to make travel arrangements, usually, because all but one is traveling. And then there's regionals, with the possibility of traveling again."
Up until this year, the conference tournament had been hosted by the regular-season champion. But as a result of the extra days needed to make the new schedule work, the tournament was eliminated. And that's not necessarily a bad thing for the league's hopes of sending not just familiar names to Oklahoma City but getting three or four teams in super regional play.
When it comes to conference tournament, I'm firmly entrenched in the camp of hypocrisy. Any chance to watch three or four games in a day is a good thing from the perspective of fans in the stands. If you're there, they're fun. But in the long run, conference tournaments do more to dilute than enhance a league's product.
Upsets hurt seeding earned over the course of the regular season; extra-inning games and rain-condensed schedules tire out pitching; and travel adds to general fatigue.
Most of the Big Ten's premier programs set a high standard for scheduling early in the season. Michigan and Northwestern routinely play two, three and four ranked teams in a weekend at some of the biggest tournaments. Ohio State is another regular participant in places such as Palm Springs, Calif., and this year alone played LSU, Texas A&M, Washington, Nevada and Louisville early and then squeezed in a trip to play North Carolina between early conference dates. Purdue opened the season at UCLA. And the list goes on.
The result is that the conference opened April with five of the RPI top 25, a strong enough base to keep from sinking as teams begin to play primarily each other. With everything riding on the regular-season standings, every series means more. And the teams that hold up best to that pressure over the long haul -- rather than a few days in early May -- should have a good shot at a seed and possibly a chance to host during regionals.
Like in the Pac-10, the regular season means something now in the Big Ten. And that may help teams like Ohio State, with a blossoming power game and two quality pitchers in Kim Reeder and Lindsay Bodeker, once the NCAA tournament arrives.
March, 19, 2009
03/19/09
1:41
PM ET
Five and a half weeks after they played their first game of the season, the Northwestern Wildcats finally got to practice outside in Evanston, Ill., on Tuesday.
Cast as softball vagabonds, Northwestern spends essentially the first month and a half of every season shuttling to and from Chicago O'Hare International Airport every weekend. For All-America shortstop Tammy Williams this season, that works out to 33 hits, 20 games, five states and a bunch of flight attendant "buh-byes" before the back of her glove first surfed the dirt at Sharon J. Drysdale Field.
[+] Enlarge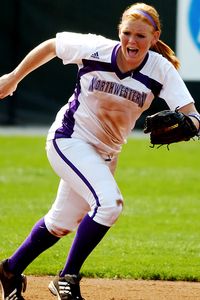 Stephen J. Carrera Tammy Williams has shined away from home this season, but is ready to get back to Evanston.
"Definitely by the end of preseason, you're not really ready to get back on that plane three days after you get off," Williams admitted. "I think our team has done a really good job this year of just coming out and knowing that you're going to get back on that plane, just go play a few games and then you're going to come right back. I think this has probably been the best we've done since I've been here at Northwestern.
"But it's good to be home."
That's where the Wildcats will open the Big Ten season this weekend, weather permitting, of course. And it's not just any series that will ring in the league. Big Ten football has Michigan-Ohio State and basketball has Indiana-Purdue (or at least used to in a meaningful form), but softball is all about Northwestern-Michigan. Last year was the first time in four years that neither made it to the Women's College World Series, and since the event went to a best-of-three final series in 2005, it's the Big Ten -- not the SEC or Big 12 -- that's second to the Pac-10 in both appearances (2) and national championships (1). All thanks to its two heavyweights.
Northwestern and Michigan are the only two programs with winning records in the Big Ten tournament, and they've split first and second place in the regular season three of the past four years.
"I think my freshman year, I knew Michigan was a rival, [but] didn't really understand -- you can't really understand until you're actually there playing against them," Williams said as she readied for her final regular-season rivalry renewal. "And I think every year, they're a great team and it's always a good game. So it's fun to come out and know that you're not just going to blow anyone out of the water."
The Wolverines can count on seeing a heavy dose of Lauren Delaney, Northwestern's junior ace, who has thrown all but 10 of the team's 134.2 innings this season. But Williams and the rest of the Wildcats are preparing for arguably the best one-two punch in the country in Jordan Taylor and Nikki Nemitz. Both Michigan pitchers have terrific strikeout rates and impeccable control, but as might be expected of a 5-foot-7 southpaw from just north of Detroit (Nemitz) and a 6-1 right-hander from just north of Los Angeles (Taylor), they go about earning those numbers in different ways.
"They throw two different styles, and you just have to kind of come in not knowing which one you're going to face because they're both good pitchers," Williams said. "So we're just kind of working this week, knowing we could face both, and maybe we face both. So [it's] just kind of getting in there, getting comfortable and really going for your pitch."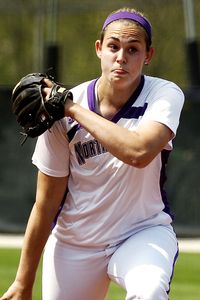 Courtesy of Northwestern Athletics Lauren Delaney has plenty of experience under her belt going into the Michigan matchup.
Williams, whose .493 batting average and 1.323 OPS will surely rank at or near the top of the charts when the NCAA releases the first official statistical leaders next week, is always a key to Northwestern's generating runs. But it's getting tougher to pitch around her. Batting in the No. 2 hole immediately after Williams, sophomore Robin Thompson went 5-for-11 with four runs and a stolen base as Northwestern took three of four against Oklahoma and Tennessee in its last action two weeks ago.
"RT is incredible; she's an incredible athlete. As much as I hate to admit it, she is faster than me," Williams said with a laugh of her partner at the top of the order and on the left side of the infield. "I mean, she has incredible speed. So just adding that to the top of the lineup, just putting that extra pressure on the defense is something that has really elevated our team to the next level this year."
It hasn't been the steadiest season for Northwestern, with wins such as those against Tennessee, Oklahoma and Arizona balanced against surprising losses to Kansas and Long Island, but back on familiar turf against a familiar foe, it's time to start fresh.
• Elsewhere in the Big Ten, likely contender Iowa spends one more weekend out of conference, while Purdue hosts Wisconsin and Minnesota visits Indiana. But if early scheduling is one reason Michigan-Northwestern won't definitively decide the conference race, another reason is down in Columbus, where Ohio State debuts a renovated Buckeye Field in its home opener against Michigan State.
Ohio State coach Linda Kalafatis earned career win No. 700 last week, and this year's team needed just 23 games to reach 20 wins, the quickest ever to that benchmark.
Kim Reeder and Lindsay Bodeker are splitting the load in the circle with equally impressive strikeout-to-walk ratio (combined 30 walks in 121.2 innings), but one big difference this season is the power at the plate. Sam Marder is up to her usual tricks, but it's going to be more difficult for league opponents to call for intentional walks this time around. Last season, Marder had 23 of her team's 67 extra-base hits. This season, her teammates already have 47 extra-base hits, paced by Courtney Pruner (.656 slugging percentage) and Tory Haddad (.673 slugging percentage).
Washington's Ashley Charters got all the ink for coming back from hip surgery, but Pruner's return from the surgery that kept her out of action last season has been equally instrumental in her team's success.
March, 12, 2009
03/12/09
5:36
PM ET
By
ESPN Statistics
and
Analysis
ESPN's Statistics and Analysis team compiled quick notes about some of
Thursday's college sports action
from various schools' sports information departments.
Softball
Pacific versus Nebraska, 8:30 p.m.
Five runs against Pacific on Thursday would give Nebraska its 100th run of the season and a new school record. If the Cornhuskers score five runs, they will have scored 100 runs in a season by their 16th game, faster than any softball squad in school history. The 1978 and 2006 teams each hit the 100-run mark in the 17th game. Nebraska also could break another school record. The Huskers have scored at least eight runs in their past four games to tie the program's longest streak of games with at least eight runs. Scoring eight runs against Pacific would give them a record-setting five straight games.
Women's lacrosse
Hofstra at No. 1 Northwestern, 7 p.m.
Northwestern seeks its 45th consecutive win at home when it plays Hofstra on Thursday. The Wildcats' 44 consecutive home wins surpassed Maryland's home winning streak from 1997 to 2001 (41 games). Nine of the games in Northwestern's streak were NCAA tournament games, and the last time the Wildcats lost on home turf was a 10-9 overtime loss to Vanderbilt on May 6, 2004.
Baseball
San Diego at No. 10 Rice, 7:30 p.m.
Rice coach Wayne Graham looks to earn his 796th victory when the Owls face San Diego. Graham is 795-303 at Rice with a school-record .724 winning percentage -- the equivalent of a major league ballclub's winning 117 games in one season.
March, 8, 2009
03/08/09
8:51
PM ET
What happens when a game of chess breaks out at a softball tournament? Witness the Easton Challenge in Tuscaloosa, Ala., where No. 1 Washington and No. 3 Alabama split a pair of games with identical 6-0 scores that resolved little in the race to the Women's College World Series.
Other than, perhaps, showing that the SEC may be one group of Bulldogs deeper than anticipated.
Washington's Danielle Lawrie and Alabama's Kelsi Dunne both pitched shutouts against the other's team, which means, of course, they didn't get a chance to throw against each other in two games between the Huskies and Crimson Tide. Even against a lineup like Alabama's, Lawrie's four-hit shutout isn't entirely surprising. So perhaps the slight edge in "statements" goes to Dunne, who beat the Huskies with a two-hitter Friday and looks increasingly like a title-caliber ace.
Then again, should the teams meet again in a few months, Dunne will have to figure out what to do with Jenn Salling, who it turns out will be eligible for the Huskies shortly.
Salling's bat may be a welcome addition for Washington, whose offense this season falls closer to timely than prolific. I'd work out exactly how much closer, but the Huskies have disappointingly joined Oklahoma in going behind the veil of secrecy when it comes to posting statistics on their Web site. Suffice to say, take out some offensive explosions against lower-tier teams in Utah State, Portland State and Seattle University, and the Huskies are averaging 4.3 runs per game. That's still championship material, no mistake about it, but it's not quite the run-scoring juggernaut we saw with Arizona State last season (the Sun Devils topped that average in Pac-10 play alone last season).
Meanwhile, while Lawrie held serve in her turn against the Tide, she suffered her first loss of the season in a 2-0 setback against Georgia. That was the Bulldogs' second win against a dominant pitcher, as they handed Baylor freshman Whitney Canion a 9-0 run-rule loss (Canion lasted less than an inning) just a day after Canion battled Lawrie into extra innings in a 1-0 Washington win.
Since TideSports.com executive sports editor Tommy Deas was on hand in Tuscaloosa, check out what one of the best softball voices in the game had to report from his vantage point at the park for the entire event. There is also video available for all of Alabama's games in the event.
• At ASA Hall of Fame Stadium, the venue every team hopes to inhabit at the end of May, Northwestern, Oklahoma and Tennessee offered an early dress rehearsal.
Northwestern had the best weekend, and probably needed it the most, picking up a pair of wins against Tennessee and splitting a pair against Oklahoma. The Lady Vols couldn't solve the Wildcats but had no such trouble taking two from the Sooners, including one in Norman. As the math plays out, that means it wasn't a great weekend for the Big 12 favorite playing on or near its home turf.
More than the results, what stands out about the games in Oklahoma are the scores. Only once, in Northwestern's 1-0 win against Oklahoma on Sunday, did any of the teams register a shutout. The losing teams combined to score 15 runs in six games.
And it's not just those three teams. It seems that when college softball reconvenes at ASA Hall of Fame Stadium, offense may matter more than ever.
Conference play kicked off in a number of leagues around the country, at least for those teams not otherwise engaged in tournaments.
Conference USA There's conversation every season about whether or not Oklahoma will make the short trip from Norman to Oklahoma City for the Women's College World Series, but how about an intrastate showdown at the college game's signature event? All right, we're a long way from penciling in Tulsa for a trip to the final eight, but the Golden Hurricane cemented a strong start to the season by sweeping three from Central Florida.
An at-large entrant in last season's NCAA tournament (they were swept out of a regional in Norman by Oregon and Arkansas), Tulsa returned both primary pitchers and seven of the nine players in its batting order during that postseason run. Sophomore Jordan Kinard starred Saturday, striking out 13 against just one walk in a 7-2 win. Perseverance might be the better description of junior Jackie Lawrence (an Indiana native, in what will be a theme this week) earning the win in an 11-inning 7-6 win to open the three-game series, but she's a proven workhorse in the circle.
And as the run totals suggest, it's not as if the Golden Hurricane need shutouts. The team totaled just 33 home runs in 58 games last season, 15 of which came off the bat of Lauren Lindsay. She's at it again with five this season, but her teammates have tacked on nine more through 21 games, halfway to their total in support of the slugger last season.
SEC Kentucky dropped its three-game series at LSU but did earn a road win Saturday. The Wildcats won only three conference games all of last season, and while all three came away from Lexington, taking a game in Baton Rouge is a notable way to continue a campaign that has already featured wins against Oregon, Hawaii, UNLV and San Diego State.
Freshman Chanda Bell earned the win in relief against LSU after she took the loss in the first game of the day's doubleheader despite 10 strikeouts. Home runs from Rachel Mitchell and Ashley Langoni provided all of LSU's runs in that opening 3-2 win, as homers have been a bugaboo for Bell (nine allowed in 59.1 innings). But with 79 strikeouts and a .182 batting-average against entering Sunday's finale, the native Hoosier seems to be further proof that Fresno State's Morgan Melloh isn't the only quality pitching export the state of Indiana has provided recently.
February, 20, 2009
02/20/09
11:16
AM ET
By
ESPN Statistics
and
Analysis
There's
plenty on the plate
this weekend in college sports. ESPN's Statistics and Analysis team compiled quick notes about some of this weekend's action from various schools' sports information departments.
Women's lacrosse
No. 1 Northwestern at No. 11 Notre Dame -- Friday, 7 p.m.
[+] Enlarge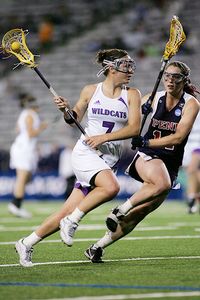 Todd Andrew LoveHannah Nielsen is coming off a record-setting performance.
Northwestern begins a four-game road trip against ranked opponents Friday with a contest against No. 11 Notre Dame in South Bend, Ind. This follows a win over Duquesne on Tuesday in which Hannah Nielsen became the first player in NCAA history to tally double-digit assists with 10. The new NCAA single-game record beat out the nine from Mercyhurst's Amy Perry in 1999.
Northwestern senior Hilary Bowen looks to continue her run of at least one goal in 42 consecutive games, the fourth-longest streak in NCAA history. Bowen has scored at least two goals in 37 of those 42 games, including a career-best six goals three times. Both Bowen and Nielsen have each tallied at least one point in 46 straight games.
Women's swimming/diving
Summit League Championships -- Feb. 19-21
The South Dakota State University women's swimming and diving team set school records in four of the five events that took place Thursday during the opening day of competition at the Summit League Championships.
Senior Mallory Onisk had a hand in three of the records. The Bear, Del., native eclipsed her own standard in the 200-yard individual medley in Thursday night's finals, clocking a runner-up time of 2 minutes, 6.62 seconds -- more than two seconds faster than the mark she previously set at the league championships in 2006. Three other Jackrabbits swam in the consolation final: Katie Budahl, 11th, 2:09.91; Kayleigh Boucher, 14th, 2:12.52; and Rachel Musser, 15th, 2:13.57.
Onisk also was a part of a pair of record-setting relays. She swam the anchor leg on the Jackrabbits' 200 freestyle relay, teaming with Ashley Valdez, Sara Olenich and Jessica Ferley for a fourth-place time of 1:38.29 in the first event of the evening session. The previous record of 1:39.61 was set at last year's league meet. The 400 medley relay quartet of Ferley, Budahl, Onisk and Christina Gerometta closed the night with a third-place finish, setting a new Jackrabbit record with a time of 3:54.40. That also broke a record of 3:57.67 set the previous year.
Gerometta put up a new record in the 500 freestyle in preliminary competition Thursday morning, shaving more than six seconds off her previous mark with a time of 5:06.39. She nearly matched that in the evening session with a time of 5:06.60, good for a fourth-place finish.
Men's hockey
No. 2 Northeastern at No. 1 Boston University -- 7 p.m.
[+] Enlarge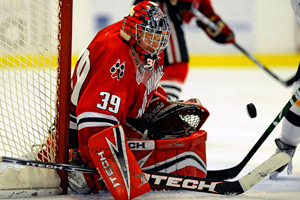 Ed Wolfstein/Icon SMIBrad Thiessen continues to move up in Northeastern's record books.
Northeastern goalie Brad Thiessen's 30 saves and two assists last Friday against UMass made him just the second Husky to win 20 games in a season, behind only Marc Robitaille (21-15-3 record in 1997-98). The win against the Minutemen marked the 47th of Thiessen's career, pushing him into second on Northeastern's all-time wins list. (Bruce Racine leads with 57 from 1984 to 1988.)
Saturday also marked the 100th career game for Thiessen, who is now the third-ever Husky to hit 100 games. The Hobey Baker Award candidate is already Northeastern's career leader in goals-against average (2.47) and save percentage (.921). Thiessen (20-8-2) ranks second nationally with 889 saves and seventh in save percentage (.929).
January, 30, 2009
01/30/09
10:08
AM ET
And then there were five in the preseason top 20, like the number of rings in the Olympic symbol (spoiler alert: foreshadowing).
5. Northwestern
Last season: 40-16 (Lost to Arizona State in the Tempe Super Regional)
Preseason talking point: There are all sorts of starting points when it comes to Northwestern this season. I could talk about the fact that the Wildcats return 1,297 of the 1,424 at-bats recorded last season -- more continuity than any of the 12 teams that finished with a better slugging percentage last season. The conversation could center on senior shortstop Tammy Williams, quite possibly the best hitter in the college game not named Kaitlin Cochran. Or there is ace Lauren Delaney, who owns the fourth-best strikeout rate of any returning pitcher in the country.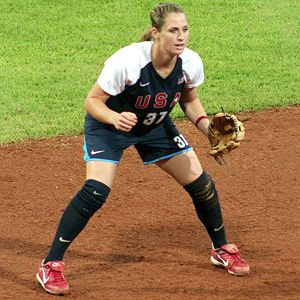 USA Softball Lauren Lappin brings with her to Northwestern experiences from Stanford and the Beijing Olympics.
But why talk about that when you can put new volunteer assistant coach Lauren Lappin, fresh off the 2008 Olympics, on the hot seat from chilly Evanston, Ill.?
Lappin was hit by a bout of bronchitis this week, making it difficult for her to talk over the phone. But since my typically stellar time-management skills left little wiggle room, she was a good enough sport to go the e-mail route.
Q: How did a kid from Southern California and a Stanford University graduate end up at cold, snowy, windy Northwestern?
A: This is a question I get A LOT! Trust me, I love California and I love Stanford even more. But I have always had a lot of respect for the Drohans [Northwestern coach Kate and twin sister and associate coach Caryl], and when I met them at the NFCA Coaches convention last year, I quickly learned why they have propelled Northwestern into the top of the college softball ranks. I wanted to find a situation in which I could get quality coaching experience and still be able to fulfill my commitments in the months following the Olympics. I also wanted to try something new; experience four seasons and the city life. It's been a great all-around experience.
Q: Is coaching something you always saw yourself gravitating toward, or is this an experiment of sorts to see if it's something you'd like to pursue?
A: Coaching is in my blood. My dad, uncle and brother are all high school coaches. I grew up being exposed to the coach's perspective and a solid understanding of what it takes to be a good coach. I definitely want to continue coaching, and Northwestern softball is giving me the wonderful opportunity to coach while I continue to compete as an athlete as well.
Q: What are your primary duties as a volunteer assistant?
A: My duties as the volunteer assistant include helping with the organization of camps/clinics as well as helping coach the slappers, catchers and middle infielders.
Q: To the extent that you've had time to get out of the office, what have you been able to sample or enjoy in the Chicago area?
A: My favorite things about Chicago have been the food, the live music, the snow and the high level of excitement around the development of youth softball.
Q: As someone who spent a lot of time at catcher and shortstop, what are your early impressions of Tammy Williams and Erin Dyer and their role as seniors?
[+] Enlarge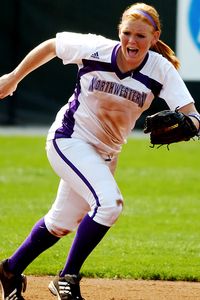 Stephen J. Carrera Tammy Williams will give the Wildcats a boost at the plate.
A: Tammy and Erin have been instrumental in helping our team build a solid foundation throughout this fall and winter. Their experience and success speak for themselves and I know that they are going to have amazing senior seasons. Since the day that I stepped on the field with these two athletes, they have been very open to continuing to become better players. That has been the case with the entire team, which makes our job as coaches so incredibly enjoyable!
Q: What did you take away from the Olympic experience and the chance to compete in Beijing?
A: The Olympic experience has added so much to my life as an athlete and person. Playing the sport that I love with USA across my chest with those fourteen other women was the experience of a lifetime. Although we wanted the gold more than anything, getting the silver medal definitely puts things in perspective and is an honor that I will cherish for the rest of my life. I really hope that softball is put back on the Olympic agenda so young female softball players all over the world can continue to dream of representing their country on the Olympic stage.
Q: As best I could tell, it looks like you played four games against Northwestern while at Stanford. And in the last game [during the 2006 season], your double keyed a late rally that enabled the Cardinal to come away with a win. Has anyone brought this up, and if not, how long until you play that card?
A: HAHAHA … I love this question! I think it goes without saying that there is a healthy rivalry between Northwestern and Stanford given the obvious similarities of the institutions. Well, I have to admit that I have played that card a few times in response to some banter about previous game results between the two schools. But, it is all in good fun!