Category archive:

Arizona State Sun Devils
June, 7, 2011
06/07/11
1:48
AM ET
Arizona State senior Kaylyn Castillo talks about her team's 14-4 win against Florida in Game 1 of the Women's College World Series final, as well as freshman pitcher Dallas Esobedo and matching up with Florida's offense.
June, 4, 2011
06/04/11
2:47
AM ET
OKLAHOMA CITY -- As what could reasonably be described as the 2011 Women's College World Series' first classic game unfolded, it came down to Arizona State's ability to wait.
Patience, opportunism and discipline are not words people often write songs about or affix as mottos on super heroes. Those honors go to action, the glory to the bold. On Friday night, the glory went to Arizona State's Annie Lockwood, the junior cleanup hitter for the Sun Devils who drove home the winning run in a 6-5 victory with a walk-off single, after having tied the score four innings earlier with a momentum-shifting home run.
"Once the count got to 2-2, I knew she was probably going to move the ball around and make me swing at something she wanted me to hit," Lockwood said of the final at-bat against Florida pitcher Hannah Rogers. "But I think the team realized the umpire wasn't calling those outside pitches, and I realized she was probably going to try to go in. My philosophy al year has been staying inside the ball, and I got an inside pitch and I tried my best to stay inside it."
If the first two days of the Women's College World Series showed anything, it's that this remains a good time of year to be the best at something. Alabama pitched better than anyone in winning its first two games. But against a Florida lineup that made a strong case for top offensive honors in both its first game and at times during Friday's game, Arizona State showed both a depth and patience at the plate that will be tough to match this weekend.
It's not that the Sun Devils wow you to quite the same degree as the Gators, who even after retooling their offense after losing their preferred bats during the season, remain capable of waiting out very good pitchers and hitting the ball a very long way. It's just that, with a lineup that is balanced with hitter who aren't going to strike out, the Sun Devils never let up.
Arizona State entered the World Series with just 187 strikeouts in 61 games. One of the nation's best hitting teams under the tutelage of one of its best offensive minds, Florida entered with 330 strikeouts, by way of comparison.
"Our philosophy is 21 tough outs and every at-bat is a quality at-bat," Arizona State coach Clint Myers said after Friday's win. "Quality at-bats don't mean that you're going to be successful. It just means you've got quality at-bats -- and the more quality at-bats you have, the more chance you have of being successful.
"Patience and good swing paths and squaring balls up clearly are part of that quality at-bat."
After replacing an ineffective Stephanie Brombacher in the second inning, Rogers held up well against her freshman counterpart, Arizona State's Dallas Escobedo. The Sun Devils had jumped out to a 4-0 lead, but Rogers kept her team in the game and gave the Gators the opportunity they seized in taking a 5-4 lead in the fourth inning. Yet time and again, the Sun Devils worked deep into counts and gave themselves scoring opportunities, collecting five hits and eight walks while striking out just three times in 5.2 innings against Rogers.
"For me to look down here and see eight walks says a lot," Florida coach Tim Walton said. "I think they obviously did a good job. But [Rogers] throws strikes. That's got to be a season high; she went probably 25 games in a row without giving up eight walks. So that's tough. It's tough to give a team like that that many extra opportunities. But they did a good job working the count. They're tough to strike out for sure."
Quick to give credit to Arizona State's hitters in that respect, Walton also appeared vocal during the game in his displeasure with the strike zone and noted after the game that it's his job to stick up for his pitcher when she feels she's throwing strikes. To his point, Rogers walked five against Auburn on April 16, the only time in 34 outings totaling 242.2 innings prior to Friday night that she walked more than three.
But the relative merits of the strike zone aside, the point is the Sun Devils, as they always do, figured it out quickly and used it to their advantage, as Lockwood noted in talking about her final at-bat.
Don't mistake the Sun Devils for automatons. They like to hit. They just don't force it. In the at-bat between her home run and her walk-off single, Lockwood drew an intentional walk.
"I was bummed on the walk; I was excited to hit again," Lockwood said. "But I was on base, and that's all we really work on is working at-bats. And given, it was kind of handed to me, but that's what we look for is getting base runners on."
Like the rest of her lineup, Lockwood waited her turn. And with the bases loaded in the bottom of the seventh (after a two-out walk from Kaylyn Castillo), she acted.
June, 2, 2011
06/02/11
11:03
PM ET
Arizona State junior shortstop Katelyn Boyd talks about the Sun Devils' 3-1 win over Oklahoma in their first game at the Women's College World Series.
February, 10, 2011
02/10/11
11:47
AM ET
Editor's note: Graham Hays is counting down to the start of the 2011 college softball season with a look at each of the teams in his top 20. Check back daily for updates.

No. 2 Arizona State
Last season: 44-17, lost in Gainesville super regional
Who returns: Maybe Washington State and USC don't field softball teams, but there are generally players enough for a couple of extra squads in Tempe by the time Arizona State coach Clint Myers gets done filling out a roster. This season is no exception, with 17 players who saw action last season listed on the preseason roster. Most notably, the returnees include shortstop Katelyn Boyd (1.296 OPS, 27 stolen bases) and outfielder Lesley Rogers (1.059 OPS, 23 stolen bases). Those two are the centerpieces of a lineup that is a model of plate discipline, as the Sun Devils totaled 271 walks and a .425 on-base percentage against just 235 strikeouts in 2010.
Nobody fiddles with lineups like Myers, but Annie Lockwood (.987 OPS), Krista Donnenwirth (.867 OPS) and Kaylyn Castillo (.843 OPS) return after starting at least 50 games, while Mandy Urfer is back after posting a 1.144 OPS in 38 games. In the circle, Hillary Bach held up well against the expectations she set for herself with some good World Series outings as a freshman. Bach cut her ERA and home run rate last season.
Who departs: Caylyn Carlson (1.081 OPS) was a big ingredient in the glue binding the offense together, even as her back kept her at less than full strength. Katie Crabb and Ashley Muenz also take a lot of postseason experience with them.
Who arrives: One freshman stands above the rest, literally and figuratively in the case of 6-foot-1 pitcher Dallas Escobedo, but more on her in a minute. With injuries slowing Sam Parlich and Michelle Nulliner in preseason, either or both of Bailey Wigness and Breanna Kaye could find early opportunities at second base. The same goes for Alix Johnson and Mary Spiel in the outfield, with Myers suggesting Rogers is also less than 100 percent to open play.
Preseason question: Why is Arizona State No. 2?
It is literally impossible, temporally or topographically, to travel a shorter distance from Tempe in the spring of 2011 in search of evidence as to why the Sun Devils have at least the potential to go from a team that exited the postseason stage overmatched and undermanned last spring to a team still playing softball on Monday and Tuesday at the Women's College World Series in Oklahoma City this June.
All that's required, even if Arizona State fans are loathe to do it in any situation, is a glance down the road to Tucson.
Not much grows easily in the desert, so there's no guarantee of success in planting a unique freshman pitching talent in a lineup that can score runs in bunches. But what worked for Arizona last spring with Kenzie Fowler could work equally well for Arizona State and Dallas Escobedo.
"It's difficult to project because you just don't know how the youngsters are going to perform; we do play in the toughest conference in the country in the Pac-10," Myers said. "But from all indications, it's going to be a pretty good team.
"If the coaching doesn't screw it up, we should be able to win a few games."
Arizona State won a few games last season, notably four of the six it played against Arizona and UCLA, the two teams that ended the season playing for the title. It also lost some games that raised eyebrows when the scores were posted, including being swept at home by California, and outscored 22-4, and losing two of three games at Oregon State. Rather than a team that was consistently middle of the pack, Arizona State was inconsistently bad and sporadically terrific.
Almost all of a lineup that ranked No. 16 in the nation in slugging percentage and No. 12 in scoring returns, and it could be even more potent this time around. Beyond the mere athletic maturation inherent in a college career, Boyd is healthy after playing the final stretch of last season with a broken hand. Regardless of how much she brought on herself, Donnenwirth is a year removed from the turmoil of a suspension for off-field actions and is still the player who starred in the 2009 World Series.
Last year's roster included a lot of returning players filling significant roles for the first time. Most of those same players are back again, only now with experience and 150-plus at-bats under their belts.
And, of course, there is Escobedo, a pitching prize people have been waiting at least four years to watch in a college uniform.
"She's a big girl; she's 6'2," Myers said, adding an inch to her program height. "And surprising for her size, she's got pretty good feet as far as the defensive side and good reactions. She's a very good defensive, fielding pitcher. … She can go up, down, in, out, she's got a changeup now. So hitters are going to have to be on their toes, considering they're not going to be able to really look for one pitch. And everybody knows she throws hard."
With Bach around, Arizona State has a luxury Arizona didn't have with Fowler last season. Myers can bring the freshman along at her own pace. By the time the postseason rolls around, that may give the Sun Devils the equally luxurious option of having a No. 2 pitcher in Bach with 56 career wins and plenty of experience on the sport's biggest stage.
May, 2, 2010
05/02/10
10:01
PM ET
Five teams that moved the needle last week.
[+] Enlarge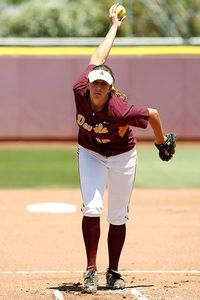 Jason WiseArizona State's Hillary Bach pitched a pair of complete games this weekend, including a one-hit shutout Friday.
Arizona State: As it turns out, Arizona State's road to a winning record in the Pac-10 may be just that -- the road. The Sun Devils typically leave home before conference play about as often as Howard Hughes did in his final years. They didn't play away from Farrington Stadium until March 18 this season, having played their first 26 games at home. They didn't play a true road game until April 9 at UCLA. Yet with six games remaining, they are 5-1 on the road in the Pac-10 and 3-6 at home. Go figure. 
Following a three-game sweep against the Bruins early in April, the Sun Devils again made the most of their travels by taking two of three games at Stanford over the weekend. Hillary Bach pitched a pair of complete games for the wins, including a one-hit shutout Friday, and Mandy Urfer -- slugging better than .700 in part-time duty induced by a stress fracture in her foot and strep throat -- drove in runs in both wins and hit her fifth home run of the season. 
Why does all of this matter? It looks more and more like Arizona State, which plays three at Oregon State next week and closes the regular season with three at home against Washington, may have trouble gaining one of the top eight seeds in the NCAA tournament. Barring a repeat of last season, when North Dakota State stunned Oklahoma and left Arizona State as the only seeded team in its super regional, that means hitting the road to earn a fifth consecutive trip to the Women's College World Series. In fact, with so few teams within driving range of Tempe, and nearby Arizona perhaps ahead in the pecking order, Arizona State may again find itself playing on the road as a seeded team in a regional. 
Alcorn State: It took waiting out a weather delay and then playing through rain. It required overcoming both back-to-back home runs against them to lead off the game and an injury to their ace, but no team had a better Sunday than the Braves. 
The first team officially in this year's NCAA tournament, Alcorn State outlasted Mississippi Valley State 6-3 in extra innings to win the SWAC tournament, denying their opponent a seventh consecutive title. Beyond their perseverance in the title tilt, the Braves entered the conference tournament having won just six of their last 17 games in the regular season and promptly lost their opener in the double-elimination tournament to Grambling State.
But after scoring four runs in the top of the eighth inning of the final, after having two outs with the bases empty, Alcorn State watched freshman pitcher Deanna Rancilio, the late-inning replacement for injured ace Jennie Hatch, close out the win. The play of the game might have been Hatch having the composure to lob the ball to first base for the out after being hit in her throwing hand by the line drive that forced her out of the game. 
Fordham: The Rams can't afford a lapse when they close the regular season next weekend at home against St. Bonaventure, but a weekend sweep at Charlotte may have been the final piece of the puzzle to earn an at-large bid to the NCAA tournament, should they fail to win an automatic bid in the upcoming Atlantic 10 tournament. 
Ace Jen Mineau pitched both ends of Sunday's doubleheader, struck out 20 and allowed just seven hits in a pair of shutouts. Third baseman Jocelyn Dearborn drove in the only run in a 1-0 win to open the doubleheader with a home run and capped the scoring in an 8-0 nightcap win with another home run. Beckah Wiggins, who entered the weekend ranked No. 19 nationally in RBIs per game, also homered and drove in four in Sunday's finale. 
Ranked No. 32 in the RPI released last week, Fordham has wins against RPI top-20 teams in Georgia Tech and Texas A&M, as well as wins against Florida International (No. 41), UNLV (No. 67), Oregon State (No. 69) and now Charlotte (No. 62). The Rams have lost just twice in their last 26 games, both times against Massachusetts. 
Creighton: In honor of the Kentucky Derby, Creighton is coming up strong on the outside as the Missouri Valley race comes down to the wire. 
Behind Tara Oltman, who equaled the conference record for career strikeouts in the process, Creighton beat Illinois State 3-1 Sunday on the road to take two of three games in the weekend series between teams in second and third in the MVC. The one game the Bluejays lost in the series, a 2-1 decision in the back end of Saturday's doubleheader, actually ended a 13-game conference winning streak. Seemingly on the ropes after a 2-5 start in the league, Creighton is now half a game behind Illinois State for second and two games behind league leader Southern Illinois. 
Renae Sinkler picked up four hits, including three home runs, and drove in five runs for the Bluejays, while Oltman struck out 20 batters in working all 19 innings of the series. 
Kent State: Beth Cinadr's walk-off home run in a 4-2 win against Central Michigan capped three straight wins for the Golden Flashes after a weekend-opening loss against Eastern Michigan. As a result, Kent State is tied with Ball State for the best record across the MAC's two divisions. 
Ace Kylie Reynolds, battling what coach Karen Linder called "finger problems" in an official release, threw a three-hitter in the first game of the doubleheader against Central Michigan,  but her weekend numbers weren't what we've grown accustomed to from the program's all-time strikeouts and wins leader. 
Which is why it's particularly noteworthy how the offense stepped up. 
Cinadr's walk-off was a two-run home run because Central Michigan opted to intentionally walk Lauren Grimes ahead of her -- the third consecutive intentional walk for Grimes after she had hit three home runs in her first five plate appearances of the doubleheader. Kent State is slugging .419 this season, not an earth-shattering number but a dramatic improvement on last season's anemic .341 slugging percentage.
Graham Hays covers women's college softball for ESPN.com. E-mail him at Graham.Hays@espn3.com. Follow him on Twitter: @grahamhays.
November, 8, 2009
11/08/09
10:25
PM ET
STORRS, Conn. -- Standing on the field after Sunday's Big East tournament final, a pair of midfielders offered ample visual evidence of both how long a season it has been for Notre Dame and why there is reason for the Irish to hope the campaign isn't even close to finished.
Fresh off scoring the game-winning goal in Notre Dame's 2-1 win against Marquette, senior Amanda Clark held the hardware signifying her place on the all-tournament team. Forced out of the game after a first-half injury, teammate Rose Augustin stood nearby with her arm in a sling, protecting a possible shoulder separation.
Conference tournament title No. 11 didn't come easily for a team that lost numerous key seniors from last season's national finalist, lost the first of many current players to injury before its first game this season and lost the first game in its new stadium by six goals.
"This team's made huge strides since that point," Notre Dame coach Randy Waldrum said of a 6-0 loss at home to North Carolina in September. "We've really, really turned the corner. And I feel like we're finally playing the way Notre Dame can play, so I'm real confident about the way we're going into the postseason tournament. It's been difficult because we've done this with a lot of injuries."
It's also done it with a pair of forwards as good as any in the nation, Melissa Henderson and Lauren Fowlkes, who combined for the first goal Sunday. But as the season progressed, it also did it with players such as Clark, a stalwart defensive midfielder for much of her career, filling whatever role the flow of a game required.
"It seems like they've all found a way to do it at the right time," Waldrum said. "It was Amanda today with the big goal to get the winner. It was a defender [Jessica Schuveiller] Friday night to do it against St. John's, and it just seems like we've kind of had that."
And so, as is Notre Dame's way, November rolls on with the promise of more soccer.
BRACKETOLOGY
Notre Dame can rest easy. For many more teams, the remaining hours until Monday's NCAA tournament selection (ESPNews, 8 p.m. ET) will be a time of tension, apprehension and occasionally hopeful anticipation. Here's one prediction for how things unfold. The numbers included for bubble teams are far from the only factors the selection committee considers, but they annually prove a good cheat sheet.
Automatic: Arkansas-Pine Bluff, Boise State, Boston University, Central Michigan, Colgate, Davidson, Dayton, Denver, Harvard, High Point, Illinois State, IUPUI, Kennesaw State, Loyola (Md.), Memphis, Monmouth, Murray State, North Carolina, Northern Arizona, Notre Dame, Oklahoma State, Penn State, Portland, San Diego State, South Carolina, Southeastern Louisiana, Stanford, UC Santa Barbara, UNC-Wilmington, Wisconsin-Milwaukee
Projected first 30 at-large teams: Auburn, Boston College, BYU, California, Central Florida, Connecticut, Florida, Florida State, Georgia, LSU, Marquette, Maryland, Mississippi, Missouri, Ohio State, Oregon State, Purdue, Rutgers, Santa Clara, St. John's, Texas A&M, UCLA, USC, Virginia, Virginia Tech, Wake Forest, Washington, Washington State, West Virginia, Wisconsin
Last Four In:
San Diego
Record: 12-6-2 (5-2-0 in WCC)
No. 43 RPI
5-5-1 vs. RPI top 100
2-3-1 vs. RPI top 50
Key results: Beat Rutgers, Santa Clara; tied UCLA
Momentum: 6-3-1 in past 10 games
Minnesota
Record: 12-5-3 (5-3-2 in Big Ten)
No. 42 RPI
5-5-3 vs. RPI top 100
3-4-1 vs. RPI top 50
Key results: Beat Wisconsin, Purdue, Indiana; tied Illinois
Momentum: 5-3-2 in past 10 games
Duke
Record: 8-8-4 (4-4-2 in ACC)
No. 38 RPI
5-8-3 vs. RPI top 100
3-7-3 vs. RPI top 50
Key results: Beat Auburn, Miami, Virginia Tech; tied Florida State, Wake Forest, LSU
Momentum: 4-4-2 in past 10 games

Michigan State
Record: 11-4-4 (4-4-2 in Big Ten)
No. 56 RPI
4-4-3 vs. RPI top 100
3-3-1 vs. RPI top 50
Key results: Beat Penn State, Ohio State, Minnesota; tied Purdue
Momentum: 4-4-2 in past 10 games
First four out:
Colorado College
Record: 12-6-2 (8-2-1 in Conference USA)
No. 32 RPI
5-6-1 vs. RPI top 100
1-3-0 vs. RPI top 50
Key results: Beat Washington State; tied Kansas
Momentum: 6-3-1 in past 10 games
Kansas
Record: 12-8-2 (4-6-0 in Big 12)
No. 52 RPI
4-6-1 vs. RPI top 100
3-2-1 vs. RPI top 50
Key results: Beat San Diego, Arizona State, Pepperdine, Missouri; tied Colorado College
Momentum: 4-5-1 in past 10 games
Indiana
Record: 10-7-2 (2-6-2 in Big Ten)
No. 36 RPI
4-7-2 vs. RPI top 100
1-6-1 vs. RPI top 50
Key results: Beat Florida, Michigan State; tied Illinois
Momentum: 2-6-2 in past 10 games
Charlotte
Record: 16-3-2 (9-0-2 in Atlantic 10)
No. 53 RPI
2-3-1 vs. RPI top 100
0-1-1 vs. RPI top 50
Key results: Beat William & Mary, NC State; tied Dayton
Momentum: 7-1-2 in past 10 games
Arizona State
Record: 9-7-3 (2-6-1 in Pac-10)
No. 37 RPI
5-6-3 vs. RPI top 100
3-6-1 vs. RPI top 50
Key results: Beat San Diego State, Oregon, Oregon State; tied Virginia
Momentum: 3-6-1 in past 10 games
May, 30, 2009
05/30/09
7:48
PM ET
Arizona State vs. Alabama
9:30 p.m. ET | ESPN
Alabama couldn't escape the ghosts of past first-day failures in Thursday's loss against Michigan -- it has never won an opening game in six World Series trips. But after putting up a Women's College World Series record 14 runs in an afternoon elimination game against Arizona, the Crimson Tide get an opportunity to exorcise another boogeyman in a rematch of last season's controversial epic.
Alabama and Arizona State met twice in last year's event, but it's the first game people in Tuscaloosa still see in their nightmares. In that game, with two outs in the top of the seventh, an apparent foul ball was ruled to have nicked third baseman Kelley Montalvo's glove, giving Arizona State a two-run double and eventually the 3-1 win.
In a somewhat unusual twist for Saturday night at the World Series, this rematch will come in a game between two teams with rested aces. Alabama got a shutout from No. 2 starter Charlotte Morgan against Alabama, allowing it to hold back sophomore Kelsi Dunne for the team's second game of the day.
Just about all the Crimson Tide got in on the action against Arizona, but the top of the lineup was the most productive. Seniors Brittany Rogers, Lauren Parker and Montalvo, along with junior All-American Morgan, combined for 10 hits and seven RBIs. Given the team's uncharacteristic flat performance against Michigan two days earlier, that production was a positive sign, to put it mildly, that internal leadership took hold in the wake of Thursday's loss.
Player to Watch: Lesley Rogers
The Arizona State outfielder hasn't been a constant in the lineup this season -- few players are constants in Arizona State coach Clint Myers' rotation of regulars -- but she had three of her team's six hits in the two games between the teams last season.
May, 30, 2009
05/30/09
5:56
PM ET
OKLAHOMA CITY -- The team buses all come and go the same way at the complex that house Hall of Fame Stadium, but not all exits from the World Series are created equal. And so while Missouri's stay here this week bordered on stormy, the Tigers have at least a couple of potential routes to travel after bowing out of their first Women's College World Series in 15 years.
For now, the team's stay in the World Series may be primarily remembered for coach Ehren Earleywine's displeasure. After the team's opening loss against Arizona State, he voiced his displeasure about an infield he felt was unduly hard, to the detriment of his fielders against the Sun Devils' slap hitters. After Saturday's 5-2 loss against Georgia in an elimination game, illegal pitches were the focus of the discussion (although in this instance, Earleywine was more witness than prosecutor in answering postgame questions about his conversations early in the game with umpire Sally Walker).
But at some point in the next few weeks, the story will shift to how Missouri reached the World Series and whether or not it is positioned to make the trip a regular occurrence.
Many tackle the question; few come up with an answer.
For perennial participants along the lines of Alabama, Arizona or UCLA, an early World Series exit need not be a program-defining moment. But for many more programs, it does often represent a quiet end to the high-water mark for at least a few cycles of recruiting classes.
Many of those are teams that ride the momentum of a senior ace. Think Virginia Tech with Angela Tincher last year, Baylor with Lisa Ferguson in 2007 or Oregon State with Brianne McGowan in 2006. No matter how many other players return the next season for those programs, getting back to the World Series comes down to an ability to reload in the circle.
Oregon State is still searching for another ace in that mold, and Virginia Tech struggled this season without one. After an initial dip last season, Baylor took a step toward solidifying its place in the upper class when it landed freshman pitcher Whitney Canion and returned to a super regional this season.
But with Chelsea Thomas back for three more seasons, Missouri is in a different situation. No matter what befell her in Oklahoma City, Thomas has a chance to be the kind of pitcher who makes a team a contender every season.
"As long as she'll stay to the plan and be open-minded, she could end up being one of the best to have ever thrown because she does throw so hard," Earleywine said earlier this week.
And in paying tribute after Saturday's loss to the seniors he inherited three years ago, Earleywine simultaneously hinted at a confidence that he will surround Thomas with more and more pieces.
"We're playing with a lot of girls that weren't recruited by too many schools," Earleywine said. "I'm proud of the job that they have done. No one would really expect a group of kids that weren't recruited like they weren't to be able to make it this far. We had a great season. We recorded the most wins in Missouri softball history and made it to the World Series for the first time in 15 years."
That sounded a lot like Arizona State coach Clint Myers, who after his team lost its first two games in Oklahoma City in 2007 made clear that the returning players would need to learn from that feeling -- because there were new players coming in to push them. New and old celebrated a title last season.
Whether or not Earleywine's returning players -- and seven players who started against Georgia will be back next season -- make the same progress that Sun Devils such as Kristen Miller, Mindy Cowles and Rhiannon Baca made will go a long way to determining if Missouri's two-and-done this week is a one-and-done for the program as a championship contender.
And if Earleywine gets a chance for a slightly less combative trip to the big stage.
May, 29, 2009
05/29/09
1:24
AM ET
OKLAHOMA CITY -- If an NBA playoff series doesn't really begin until the road team wins a game, the Women's College World Series doesn't really begin until a team loses a lead.
Florida's 3-0 win against Arizona on Thursday night capped an opening day at ASA Hall of Fame Stadium that was long on blue skies and short on both the drama and the threat of thunderstorms that tend to accompany the start of play. It wasn't a bad day of softball -- it would take more than some perfunctory late innings to change that -- but it also wasn't anything that's likely to linger in the memories of those unassociated with the four winning teams.
Georgia couldn't quite stay even long enough, or get a lead of its own, to put Washington and Danielle Lawrie under pressure.
Arizona State sucked the life out of Missouri's momentum with a barrage of singles and small-ball runs in the first two innings.
Alabama's listless play turned a potential clash of titans against Michigan into a one-sided romp for the Wolverines.
And despite five innings of shutout relief from Sarah Akamine, Arizona couldn't get nearly enough going against a dominant Stacey Nelson to overcome an early 3-0 deficit.
"I really felt throughout the game that we were just a couple of baserunners from getting something going," Arizona coach Mike Candrea said. "But this is what the College World Series is all about, you know. You get games like this. Florida, definitely, we knew was a very good team, and Nelson did a good job, and I tip my hat to them."
And so it's on to Friday's games.
No. 10 Arizona State vs. No. 3 Washington, 7 p.m. ET (ESPN2)
It doesn't get any easier for Lawrie. Georgia couldn't seize control Thursday, but it made life more difficult than its one run against the Washington ace might indicate. Extending at-bats and making good contact, including one drive to within inches of a home run, the Bulldogs looked like a team that knew what to expect -- as you might expect from one of the only teams to beat Lawrie this season.
Another of those teams awaits Friday night. Arizona State beat Washington 9-2 in late April in Tempe, chasing Lawrie after the ace allowed a season-high six earned runs on eight hits in four innings. The Huskies pitched to Arizona State's Kaitlin Cochran, and in this instance, Cochran got the best of her fellow USA Softball Player of the Year finalist with a home run. And beyond that game, the Sun Devils were able to push Lawrie in all three games between the teams this season. In its two defeats at the hands of Washington, Arizona State still managed to collect 20 hits and five earned runs against Lawrie.
The bad news for fans of the Sun Devils is that despite putting up the day's high score with seven runs against Missouri, Arizona State's power game isn't in top form. And stringing together singles against Lawrie is a tough road to success.
"I am getting used to singles right now," Myers said. "For some reason, we haven't been hitting long balls lately. But with the mentality of what we are trying to do at the plate, we are trying to stay on top. We hit nine pop-ups, eight with runners in scoring position [against Missouri], and great teams don't do that."
No. 5 Michigan vs. No. 1 Florida, 9 p.m. ET (ESPN2)
Wolverines coach Carol Hutchins has long insisted her teams don't worry all that much about an opponent's strengths and weaknesses, instead choosing to expend their energy on making sure Michigan does what it does well.
Simply for the sake of sanity, that's not a bad idea for anyone scheduled to play Florida these days.
The Gators put together a win against Michigan earlier this season that looked remarkably like their win against Arizona on Thursday. Nelson shut down a good lineup, striking out nine and allowing just three hits, while her offense chased starter Nikki Nemitz with four quick runs and then failed to do much more against Jordan Taylor.
That last part is one reason Hutchins' pitching decision is so intriguing. She's a long-term advocate of a two-pitcher system, and followed through on that by starting Taylor in the second game of last week's super regional against Baylor. Against Alabama, Nemitz looked like the kind of pitcher a team could ride for a lot of games in Oklahoma City, but Taylor offers a much different style, bringing movement from a variety of looks.
If Hutchins and her staff saw something in the first game that convinced them that Taylor's success and Nemitz's lack thereof was more than coincidence, the former could get the call.
May, 28, 2009
05/28/09
9:29
PM ET
OKLAHOMA CITY -- Missouri coach Ehren Earleywine wasn't thrilled with the state of the infield at Hall of Fame Stadium, a surface he felt was hard enough that it left his infielders waiting, waiting, waiting far too long for a chance to make a play.
Arizona State freshman Talor Haro knows the feeling.
One of the Sun Devils' unlikeliest potential postseason heroes, Haro continued a torrid May with four singles in her team's small-ball onslaught in a 7-3 win against Missouri on the opening day of the Women's College World Series.
Haro and Jessica Mapes, the two primary slappers at the top of an Arizona State order loaded with power, combined for eight singles on a day when the Sun Devils stranded 13 runners and didn't have any extra-base hits. It's not exactly the typical modus operandi for a team that is slugging nearly .550 this season, but it worked.
And it worked in large part because of a player who was barely a factor as recently as four weeks ago and who entered the NCAA tournament with just 39 at-bats and 12 hits.
With her performance Thursday, she now has 12 hits in 16 postseason at-bats.
Haro didn't exactly come out of nowhere. She was a two-time all-state selection in high school in Arizona, but a dislocated elbow following a collision with the wall last fall knocked her off the pace in her transition to the college game. And if you fall off the pace on Arizona State's depth chart, it's a little like falling out of the draft of cars at the Daytona 500.
Kaitlin Cochran may be the only player in Tempe whose hold on a starting spot is anything more than tenuous.
"This is the Pac-10," Arizona State coach Clint Myers said. "You've got to figure that every player that is on a team was either a star or close to it [in high school]. Nobody recruits a bench player; it's an adjustment for all of them. But I mean, I'm a lot crazier than most of the Pac-10 coaches. We've got 20 kids on the roster right now, and I'll play 16, 17 of them in a game."
That's a bargain any player makes when he or she signs at a top program.
"I wanted to go anywhere in the Pac-10, any big school, and I knew any school would have an amount of good girls and a good roster," Haro said. "So I knew it would be a challenge to fight for a spot, but I was ready for it."
Perhaps a little too ready for the challenge. Haro recalled that early on in the spring, she was so overeager, she'd find herself already out of the batter's box by the time the ball hit the catcher's glove. She started the team's opening game and struck out three times in three at-bats. She finished the opening week 0-for-7 with four strikeouts.
The effort was there, as evidenced by earning a spot in the opening day lineup, but the finished product was less than the sum of the parts.
"She really did well when she came back, but she didn't have the experience of the mental side," Myers said. "And what she's doing now -- it's smarter, not harder. When she first started the season, everything was harder, not smarter."
With just 27 at-bats between Feb. 13 and May 7, Haro had to resign herself to making the most of practice cuts, pinch-running opportunities and occasional pinch-hitting opportunities. It was a couple of those pinch-hitting chances that finally convinced Myers her time had come. After getting a little more time than usual during the final weekend of the regular season, she found herself in the starting lineup for an elimination game against Cal State Fullerton in regionals. One hit and two walks in that win earned her another start, and three hits in that game against LSU led to a move up the batting order.
The rest, as they say, is history.
"I really struggled mentally with that, just trying to calm myself down," Haro said of the mindset that turned her season around. "And [I had to tell myself] 'Don't think about the pressure; it's just the game I've been playing my whole life.'"