Category archive:

Kentucky Wildcats
February, 17, 2010
02/17/10
11:58
AM ET
TEMPE, Ariz. -- The Kajikawa Classic is one of the tournaments where the softball season begins each year, which means in turn that it's also where softball careers begin to end.
[+] Enlarge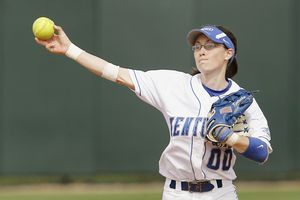 KU Media Relations for ESPN.comKentucky's Natalie Smith is a .318 career hitter with just 38 strikeouts in 509 career at-bats.
Welcome to Kentucky senior Natalie Smith's world.
For Kentucky, the weekend brought a signature win against Arizona State and a successful start to a potentially special season. For Smith, an Arizona native, it offered a chance to pass 'Go' one more time, and if not collect $200, then perhaps at least some laundry money.
"The first game I had not only direct family here but I had a lot of extended family, friends," Smith said of a 5-2 win against the Sun Devils, only the Pac-10 power's third nonconference loss at Farrington Stadium since the start of the 2006 season "It was really nice to just win in front of a home crowd. It felt really good to beat ASU; I'm not going to lie. I grew up watching them, so coming here, that was who we were gunning for and it was really exciting."
The coffehouse-chic glasses she wears on softball diamonds more familiar with brightly colored ribbons or glittered headbands help, but Smith seems the sort capable of wrapping her mind around the competing strands of optimism and introspection at play for seniors across the country. For instance, not everyone would come up with something like this in reflecting on the best parts of moving to SEC country to play softball at a high level.
"I really enjoy getting to see the South," Smith said. "Getting just to travel in that area as part of the package has really been a cool experience."
Smith is a four-year starter for the Wildcats, a .318 career hitter with just 38 strikeouts in 509 career at-bats and a steady, vocal presence with the glove at second base. She nevertheless plays in the shadow of keystone partner Molly Johnson, Kentucky's All-American senior shortstop. In short, she's both very good and very like so many players around the country who go about their playing days largely anonymous outside their own fan bases. They just have to hope the pieces fall in place for a senior season to remember.
The Wildcats stumbled in their finale, dropping a decisive 6-1 decision to California Saturday evening, but they still emerged from the desert with three wins in five starts. In earning SEC Player of the Week honors after hitting three home runs, sophomore Brittany Cervantes showed potential to follow up a good freshman season by becoming an anchor in the heart of the batting order. And while sophomore Chanda Bell took the loss against Cal, she looked like an ace with 14 strikeouts against the Sun Devils and 13 more in a two-hit shutout against Cal State Fullerton.
"The first two seasons were just, they were really tough to get through," Smith said of the time before Bell's arrival. "It's a long year in the SEC conference and we just didn't have the pitching, we didn't have the experience. And it is just an amazing feeling being behind someone that you know is going to hit their spots, that you know is in the game -- head in the game all the time, just a great athlete. I can't say enough about Chanda Bell. She has helped turn this program into the program it is and to what it's going to be. It's top notch. And I absolutely love playing with her. she's a great girl on and off the field, and I just can't say enough about her."
And so Kentucky and hundreds of other teams are off and running. And Smith and hundreds of other seniors are aware of the finish line at the end.
"I'm just trying to go with it one day at a time, but it's always in the back of my mind," Smith said. "It makes you want to give it all on the field even more because you know it's your last year and this is the last chance that you really have to compete. I'm going to miss it, but so far it's been a pretty great start."
Graham Hays covers softball for ESPN.com. E-mail him at Graham.Hays@espn3.com.
April, 11, 2009
04/11/09
11:52
PM ET
LEXINGTON, Ky. -- When a team wins 112 games out of 120 in less than two full seasons, odds are its going to win them in just about every conceivable manner.
And that includes in dramatic fashion, even if they all seem to be coming at once for the University of Florida.
The nation's top-ranked softball team looked the part in the finale of a weekend series at Kentucky shortened to two games by weather. The Gators pounded out nine hits and sophomore pitcher Stephanie Brombacher faced just one batter more than the minimum in a 6-0 win. But the drama came in a 1-0 extra-inning win in the opening game of Saturday's doubleheader -- the third time in eight days that Florida came up with the eventual winning run in its final at-bat.
The win was the team's first by a 1-0 score this season and just the second by a one-run margin of any kind. And for a team that didn't get its first and only hit until the ninth inning, it was the Gators' least prolific hitting display since Monica Abbott one-hit them in 2007.
"They help and they hurt," coach Tim Walton said of the narrow escapes. "They help us in regard to being able to play in close games, play in tight games like we play at the postseason levels, when you play those good teams that have outstanding pitchers. So it helps us in that regard. It hurts us in a way -- you know, we haven't been no-hit like that in a long time, for that many innings. But I think ultimately we found a way to win at the end, manufactured a run. So it shows that we can manufacture runs, and then obviously we got back to our game plan the second game.
"There are obviously some things we've got to do a better job of, one through nine in the lineup, but overall, sometimes you've just got to give the other team credit."
Player of the Year candidate junior Francesca Enea provided Wednesday's winner against Florida State in extra innings and broke the program's career home run record -- with more than a season to spare -- with two in Saturday's finale against Kentucky. But the trip to Lexington also offered sophomore Kelsey Bruder a stage to play the hero in conference play for the second weekend in a row, seven days after her walk-off grand slam capped a five-run bottom of the seventh in a 6-2 win against Mississippi State.
Saturday's sacrifice fly in the top of the ninth that scored pinch runner Le-Net Franklin wasn't quite as dramatic, but it was the first ball the Gators managed to get in the air in fair territory in nine innings against Kentucky freshman Rachel Riley.
Bruder finished the doubleheader with one hit, two walks and the pivotal sacrifice fly and is hitting .343 this season and .358 in SEC play. All of that from someone who had just six hits in 45 at-bats as a freshman (although for fans of small sample sizes, two of those were doubles and another was a home run).
"She was a big-time hitter coming in out of high school," Walton said. "[We] just didn't have a place to play her last year, so she just didn't ever really get in the lineup and get confident. Now she's been in the lineup every day, every inning of every game, and whether she's 0-for-4 or 4-for-4, she knows she's playing. And I think that's really made a difference for her."
And on a team that seems to trade on its familiarity after returning eight starting position players (although Kim Waleszonia remains out with a leg injury) and both pitchers, Bruder typifies why Florida's continuity makes it all too easy to miss that this team is actually more prolific than the group that won 70 games last season.
Admittedly, tough innings against tough pitchers remain in both the SEC and NCAA tournaments, but the Gators have improved their slugging percentage from .468 last season to .544 this season and their on-base percentage from .391 last season to .428 this season. (Both of last season's marks were school records in Gainesville.)
On top of that, consider this strikingly familiar progression:
Arizona State 2007
.461 slugging percentage, .385 on-base percentage
Arizona State 2008
.549 slugging percentage, .428 on-base percentage
And the Gators have a better defense and a more reliable No. 2 pitcher in Brombacher (now 36-0 in her career) than last year's champs had en route to the title.
The Gators won't play enough games to match last season's win total, and Friday's washout means they won't get enough games in to match last season's 28-1 SEC record. But those aren't the numbers that tell us this year's team isn't just better than last season's team, it's significantly better.
• Kentucky couldn't pull off the upset, but coach Rachel Lawson has come up with an impressive young core of talent in just her second season. Despite drawing only relief duty as she rounds back into form after a minor leg injury, de facto freshman ace Chanda Bell showed a nice changeup to go with the rise ball and breaking pitches that have earned her the program's single-season strikeout record in less than her first full season.
But the star on this day was Riley, who nearly pulled off the no-hitter against one of the nation's most potent offenses in just her second collegiate start (the first coming earlier this week in a 6-5 win against Tennessee). Riley wasn't overpowering, but masterful wouldn't be an exaggeration for a pitcher who coaxed groundball after groundball out of the Gators.
Walton said he wasn't displeased with how his hitter adjusted, and they made Kentucky's infield -- especially star shortstop Molly Johnson -- work all afternoon on hard grounders. But a pitcher who can keep the Gators tethered to terra firma is doing something right.
"I think ultimately a lot of our kids did have different locations in the batter's box and made good adjustments," Walton said. "We just didn't get it done."
At this point, if Kentucky doesn't deserve an NCAA at-large bid, I'm missing something.
March, 8, 2009
03/08/09
8:51
PM ET
What happens when a game of chess breaks out at a softball tournament? Witness the Easton Challenge in Tuscaloosa, Ala., where No. 1 Washington and No. 3 Alabama split a pair of games with identical 6-0 scores that resolved little in the race to the Women's College World Series.
Other than, perhaps, showing that the SEC may be one group of Bulldogs deeper than anticipated.
Washington's Danielle Lawrie and Alabama's Kelsi Dunne both pitched shutouts against the other's team, which means, of course, they didn't get a chance to throw against each other in two games between the Huskies and Crimson Tide. Even against a lineup like Alabama's, Lawrie's four-hit shutout isn't entirely surprising. So perhaps the slight edge in "statements" goes to Dunne, who beat the Huskies with a two-hitter Friday and looks increasingly like a title-caliber ace.
Then again, should the teams meet again in a few months, Dunne will have to figure out what to do with Jenn Salling, who it turns out will be eligible for the Huskies shortly.
Salling's bat may be a welcome addition for Washington, whose offense this season falls closer to timely than prolific. I'd work out exactly how much closer, but the Huskies have disappointingly joined Oklahoma in going behind the veil of secrecy when it comes to posting statistics on their Web site. Suffice to say, take out some offensive explosions against lower-tier teams in Utah State, Portland State and Seattle University, and the Huskies are averaging 4.3 runs per game. That's still championship material, no mistake about it, but it's not quite the run-scoring juggernaut we saw with Arizona State last season (the Sun Devils topped that average in Pac-10 play alone last season).
Meanwhile, while Lawrie held serve in her turn against the Tide, she suffered her first loss of the season in a 2-0 setback against Georgia. That was the Bulldogs' second win against a dominant pitcher, as they handed Baylor freshman Whitney Canion a 9-0 run-rule loss (Canion lasted less than an inning) just a day after Canion battled Lawrie into extra innings in a 1-0 Washington win.
Since TideSports.com executive sports editor Tommy Deas was on hand in Tuscaloosa, check out what one of the best softball voices in the game had to report from his vantage point at the park for the entire event. There is also video available for all of Alabama's games in the event.
• At ASA Hall of Fame Stadium, the venue every team hopes to inhabit at the end of May, Northwestern, Oklahoma and Tennessee offered an early dress rehearsal.
Northwestern had the best weekend, and probably needed it the most, picking up a pair of wins against Tennessee and splitting a pair against Oklahoma. The Lady Vols couldn't solve the Wildcats but had no such trouble taking two from the Sooners, including one in Norman. As the math plays out, that means it wasn't a great weekend for the Big 12 favorite playing on or near its home turf.
More than the results, what stands out about the games in Oklahoma are the scores. Only once, in Northwestern's 1-0 win against Oklahoma on Sunday, did any of the teams register a shutout. The losing teams combined to score 15 runs in six games.
And it's not just those three teams. It seems that when college softball reconvenes at ASA Hall of Fame Stadium, offense may matter more than ever.
Conference play kicked off in a number of leagues around the country, at least for those teams not otherwise engaged in tournaments.
Conference USA There's conversation every season about whether or not Oklahoma will make the short trip from Norman to Oklahoma City for the Women's College World Series, but how about an intrastate showdown at the college game's signature event? All right, we're a long way from penciling in Tulsa for a trip to the final eight, but the Golden Hurricane cemented a strong start to the season by sweeping three from Central Florida.
An at-large entrant in last season's NCAA tournament (they were swept out of a regional in Norman by Oregon and Arkansas), Tulsa returned both primary pitchers and seven of the nine players in its batting order during that postseason run. Sophomore Jordan Kinard starred Saturday, striking out 13 against just one walk in a 7-2 win. Perseverance might be the better description of junior Jackie Lawrence (an Indiana native, in what will be a theme this week) earning the win in an 11-inning 7-6 win to open the three-game series, but she's a proven workhorse in the circle.
And as the run totals suggest, it's not as if the Golden Hurricane need shutouts. The team totaled just 33 home runs in 58 games last season, 15 of which came off the bat of Lauren Lindsay. She's at it again with five this season, but her teammates have tacked on nine more through 21 games, halfway to their total in support of the slugger last season.
SEC Kentucky dropped its three-game series at LSU but did earn a road win Saturday. The Wildcats won only three conference games all of last season, and while all three came away from Lexington, taking a game in Baton Rouge is a notable way to continue a campaign that has already featured wins against Oregon, Hawaii, UNLV and San Diego State.
Freshman Chanda Bell earned the win in relief against LSU after she took the loss in the first game of the day's doubleheader despite 10 strikeouts. Home runs from Rachel Mitchell and Ashley Langoni provided all of LSU's runs in that opening 3-2 win, as homers have been a bugaboo for Bell (nine allowed in 59.1 innings). But with 79 strikeouts and a .182 batting-average against entering Sunday's finale, the native Hoosier seems to be further proof that Fresno State's Morgan Melloh isn't the only quality pitching export the state of Indiana has provided recently.