Category archive:

LSU Tigers
January, 21, 2011
01/21/11
11:12
AM ET
Editor's note: Graham Hays is counting down to the start of the 2011 college softball season with a look at each of the teams in his top 20. Check back daily for updates.

No. 16 LSU
Last season: 45-16, lost in Baton Rouge regional
Who returns: The list includes the reigning freshman ERA champion and another player who coach Yvette Girouard says might be the best left fielder she's ever coached. In other words, the cupboard isn't bare. Now a sophomore, Rachele Fico's 1.15 ERA in a team-high 158.2 innings topped all freshmen nationwide in a season in which that was saying something. Ashley Langoni, the aforementioned left fielder, is also the Tigers' returning leader in slugging percentage (.527). Seven other players who started at least 37 games in the field or 16 in the circle also return, including SEC all-defensive team honoree Jessica Mouse at third base.
Who departs: The two players who best positioned the Tigers to compete in the runs-race that has become the SEC in recent season. Kirsten Shortridge (.439 on-base percentage, 45 stolen bases) was among the best leadoff hitters in the game, and Rachel Mitchell (.962 OPS, 19 stolen bases) was the best all-around run producer behind Shortridge in the order. The circle also took a hit, with the graduation of Cody Trahan (13-5, 1.47 ERA last season).
Who arrives: A cast of thousands. All right, six, but six freshmen who Girouard can't stop praising for their work ethic. Outfielder Simone Heyward will likely inherit Shortridge's leadoff spot, while either Alex Boulet or Jacee Blades could also start in the outfield, at least until senior Ashley Applegate returns from a fractured bone in her hand. Freshman pitcher Meghan Patterson could also play a role behind Fico and Mack.
Statistically speaking: Despite ranking seventh in team bating average and fifth in on-base percentage, LSU had five players with an on-base percentage of .400 or better, the same number as Tennessee and Georgia.
Preseason question: Is LSU built to compete in a world of sluggers?

As is usually the case in Baton Rouge, the TIgers have pitching, with Fico poised to inherit an even larger role than she filled while living up to her ample prep hype. They also have the SEC's best defense by fielding percentage, perhaps most notably in the form of Mouse, once she recovers from a recent foot injury that may have her wearing a protective boot for another week.
But do pitching and defense still win games, let alone the championships the old adage promises?
"There's no question we've to score some more runs," Girouard said. "We had a ton of pitching last year. We've tried to make ourselves a little bit more balanced here with a little bit more speed in our lineup. But yeah, when I filled out the preseason form, it was scary voting for Georgia and Tennessee and Alabama and Florida; they have a ton of great players on all of those teams."
The old-school staples worked well enough for the Tigers in 2010, producing a 20-8 conference record despite the team's .400 slugging percentage -- a far cry from those approaching and surpassing .600 from rivals like Alabama, Florida and Georgia. And considering LSU went 2-6 against those teams, that's a bit of an issue, especially with Mitchell's departure taking away a power bat. What the Tigers did, they did well. They were the conference's most efficient team in the running game, stealing 125 bases against just 12 times caught stealing. And as the individual on-base percentages suggest, they didn't waste plate appearances.
Of course, even if LSU wanted to move beyond manufacturing runs, moving into the otherwise sparkling new Tiger Park last season made it a necessity.
"The dynamic of the park is something that we're still kind of adjusting to," Girouard said. "In the old park, the ball just flew off the bat. We were enclosed, the wind was basically at the hitter's back. Where we are now, the river dictates a lot of the wind currents and it can not only change in an inning, it can change pitch to pitch. The park plays huge. I'm not going to blame it all on that fact as to why we haven't kept up with the home runs, but it has been a huge factor into why our numbers have gone down with home runs."
April, 29, 2010
04/29/10
11:17
AM ET
If the revolution is coming, expect to be notified by bullpen phone.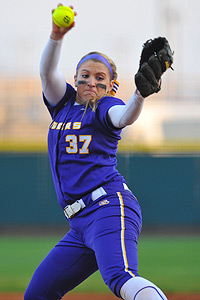 Courtesy of Steve FranzFreshman Rachele Fico is LSU's secret weapon.
When No. 8 Georgia visits No. 12 LSU Thursday (ESPN, 8 p.m. ET) and Friday (ESPNU, 9 p.m. ET) in a key SEC showdown in advance of the conference tournament two weeks hence, it will be a contrast of styles. The Bulldogs enter the game ranked fifth nationally in slugging percentage; the Tigers enter ranked fourth nationally in ERA. It's a Georgia lineup with its five hitters slugging better than .600 against an LSU pitching staff and its three pitchers with ERAs under 1.56 -- and a fourth option available with a 2.33 ERA. 
But beyond those differences, it's also a meeting of teams that share an affinity for a part of softball that doesn't always get a lot of attention or respect: the bullpen. 
LSU freshman Rachele Fico earned the most recent SEC pitcher-of-the-week honors on the strength of her work in a three-game weekend sweep at Kentucky. With teammate Cody Trahan on the bench for the series because of disciplinary infraction, Fico started twice and went the distance both times (one a rain-shortened five-inning game). She also added a save in the other game, her fifth of the season. Five saves might not sound like much, but it was good enough to establish a program record at LSU.
In fact, in the history of the SEC, only four pitchers have saved double-digit games in a season. 
One of the nation's mostly highly touted freshmen after throwing 26 perfect games in high school, Fico has made 33 appearances this season, 21 of them as a reliever. 
"I'm trying to change the mentality a little bit," LSU coach Yvette Girouard said. "You see a lot of arm injuries today, more than I've seen in 30 years of my career. And you know, what we all have to understand is [a pitcher's arm] is a rubber band and it only can stretch so much. 
"And maybe we need to be like baseball and bring in closers and relievers and everything else, but these kids have grown up their whole lives trying to complete the game, and they feel like they're a failure if they don't complete the game. I keep trying to reiterate that the bottom line is we just need to win, and if it takes all four of them going two innings, then that's what we're going to do. And maybe by the time Fico and [sophomore Brittany] Mack are seniors, their arms will be far healthier."
Fico leads the Tigers in innings pitched despite the fact she's started fewer games in the circle than Trahan and Mack. If that sounds intuitively strange, it should. It's the only case in the SEC in which a pitcher with the third-most starts leads a team in innings pitched. And there's only one case where a pitcher with the second-most starts for a team leads in innings pitched -- Mississippi's Brittany Barnhill. 
[+] Enlarge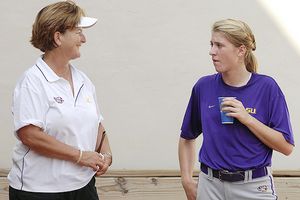 Steve FranzLSU coach Yvette Girouard, left, here with Rachele Fico, uses her bullpen to win games.
Beyond protecting a pitcher's arm, there's a strategic side to going to the bullpen. Sure, if you have a Danielle Lawrie or a Cat Osterman, you can rest easy knowing you have the advantage in the first inning, seventh inning and any other inning. But for the 99.9 percent of the population that constitutes the rest of the softball world, it's potentially advantageous to be able to change what hitters see at just about the same time they might be locking in their timing against the starter. 
"Rachele is just perfect for that scenario, where she comes in and throws strikes right away and throws hard," Girouard said of bullpen duty. "That's kind of what the baseball mentality is with the reliever or the closer, just go in there and throw gas as long as you can and throw as hard as you can for as long as you can."
And while Fico may well start either Thursday or Friday's game, there's a true relief specialist on the other side. Georgia freshman Alison Owens has thrown 58.2 innings for the Bulldogs this season and has yet to make her first start. Not only is she the only pitcher in the league with more than 50 innings who hasn't started a game, she's the only pitcher to throw even 10 innings without making a start. A season after getting 33 complete games from its pitchers in 59 total games, Georgia has just 17. And rather than a sign of vulnerability, it may be evidence of why the team has the pitching to complement its ridiculously good offense as it looks to return to the Women's College World Series.
Player to watch: If you like defense, and if you appreciate offensive value beyond traditional counting stats like batting average and RBIs, keep an eye on LSU third baseman Jessica Mouse. I've had dozens of opportunities to watch Mouse play the hot corner during her time with the Stratford Brakettes amateur team the last few summers (where she teamed with Fico the last two seasons and Georgia shortstop Laura Trout two summers ago), and she's worth the price of admission for her glove alone. 
She's made just three errors in 49 games this season, and no third baseman in the SEC has more assists than Mouse with 89. 
"She just goes out there and -- she's Pete Rose," Girouard said. "She just puts her nose down and she catches everything in sight. I've coached her now three years and I can tell you, I think maybe she's thrown away three balls in practice in three years. So you think of all the reps she's had and how consistent she is."
Graham Hays covers women's college softball for ESPN.com. E-mail him at Graham.Hays@espn3.com. Follow him on Twitter: @grahamhays.
February, 11, 2010
02/11/10
12:49
PM ET
1. Is the Pac-10 stronger than ever?
When Florida and Alabama opened last season atop the polls, the question of the moment was whether the SEC had caught the Pac-10 as the sport's pre-eminent power base.
By the time Washington finished celebrating its first national championship on the field at ASA Hall of Fame Stadium, it was clear the softball arms race -- ironically in one of the kindest seasons to batters in recent memory -- was nowhere near such a neat and tidy resolution.
The SEC and others are moving ahead full steam, but they're chasing a moving target.
Washington opens this season poised to defend its title and ranked No. 1. The first Pac-10 team other than Arizona or UCLA to win a national championship when it did so in 2002, Cal appears back in position to challenge for a spot in the World Series and possibly even a second title. Stanford keeps adding talent and can make a strong case as the best team not to reach the World Series in the past five years. A season after making do without Katie Burkhart well enough to reach Oklahoma City, Arizona State must repeat the process without Katie Cochran. But the Sun Devils have more than enough talent to avoid falling off the pace set by their 2008 title team.
And those are just the contenders that didn't win 19 of the first 24 NCAA championships, loot divvied up between UCLA (10 titles and one vacated title) and Arizona (eight titles).
[+] Enlarge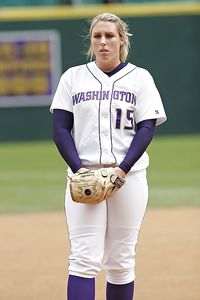 University of Washington Athletic Department If Washington makes it back to the WCWS, Danielle Lawrie will be a threat.
Is the rest of the country catching up to Arizona and UCLA? With as much talent as there is this season in Tucson and Westwood, it's undoubtedly so. It's just that to a greater degree than ever before, despite the Pac-10's long history of large World Series contingents, the rest of the country includes places like Tempe, Ariz.; Berkeley and Palo Alto, Calif.; and Seattle.
2. Is Washington the team to beat?
Even if you don't subscribe to the theory that the champions deserve that label until it's taken from them, the Huskies qualify strictly on the merits of the here and now.
That isn't to say coach Heather Tarr's team is unquestionably better than last season's version. It lost a huge tangible piece in All-American second baseman Ashley Charters and perhaps an equally noteworthy intangible piece in catcher Alicia Blake, Danielle Lawrie's catcher for three seasons. But the pieces the Huskies return -- and there are a lot -- should be better. Sophomores Kimi Pohlman and Niki Williams have a year of success to build on, while junior third baseman Morgan Stuart has a year of work at the hot corner to build on after shifting from shortstop. And senior Jennifer Salling, whose midseason arrival necessitated Stuart's shift, won't have to jump in midstream.
And there is, of course, Lawrie. After pitching through a stress fracture in her pitching arm for much of last season, she's healthy and without peer in the college ranks now that former Florida ace Stacey Nelson has moved on. Last year, Lawrie pitched through two road trips in regionals and super regionals, plus a long elimination day against Georgia in the World Series; in so doing, she proved she can overwhelm opponents when she's at her best and blink past when she's not.
3. Which player could alter the college softball landscape?
[+] Enlarge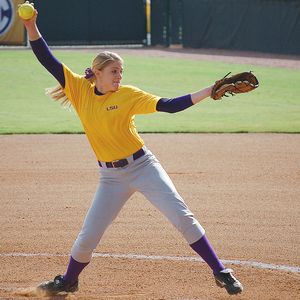 Matt Dunaway/LSU Athletics LSU's Rachele Fico has the potential to set herself apart from the crowd.
How's that for a buildup? But when you threw perfect games by the dozens in high school in Connecticut, helped a Florida travel ball team upset the softball establishment in knocking off the California powers to win the prestigious ASA Gold title, pitched against Team USA after your junior year in high school and earned space on "SportsCenter" and in The New York Times, lofty expectations get packed for school right along with the notebooks and clothes.
LSU freshman Rachele Fico is just one of several highly touted freshman pitchers dotting big-time rosters around the country, but she has the potential to set herself apart from the crowd.
All the accomplishments and experiences predating her arrival in Baton Rouge help, as does her place in a program with perhaps the richest softball tradition in the SEC but that, like the rest of the conference, is still looking for its first national championship. It also doesn't hurt that Fico has both the ability to blow pitches past batters and a sense of spin and control beyond her 18 years.
She even sounds like a seasoned vet in passing credit to her defense -- a defense that isn't likely to get a lot of work on days when she's on top of her game.
"I'm extremely comfortable with my team; I know I have a great defense behind me," Fico said a few days before her debut. "So I'm not scared to throw pitches and I know if they do get put into play my teammates are going to make the plays behind me."
The sport is also evolving to give freshman pitchers a greater shot at success. While Connecticut high schoolers still throw from 40 feet, Fico's experience in travel ball and pitching for the elite Stratford Brakettes amateur team (alongside players like former LSU catcher Killian Roessner) means pitching from a consistent 43 feet in college is actually something of a relief, rather than a challenge to overcome.
"My biggest adjustment to 43 feet with pitching was probably my changeup," Fico said. "When I switched to 43 feet, I had to work on getting the ball to get there a little bit more. But it's really nice to have those extra three feet because it gives us so much time to make the ball spin and get a little bit more break on it."
4. Which team could make a surprise trip to Oklahoma City?
There is almost always at least one team that sneaks up on fans and pundits. Two seasons ago, Louisiana-Lafayette went from No. 20 in the preseason Top 25 to the World Series. Last season Missouri and Georgia rose from Nos. 23 and 19, respectively, to Oklahoma City.
Now it's about time No. 19 Florida State ends its World Series hiatus.
The Seminoles will need more consistent run production this season, no small task considering they lost their best hitter, Kaleigh Rafter. A team that slugged an anemic .366 in 2009 has some work to do, but senior outfielder Carly Wynn (.530 slugging, .409 on-base percentage) is a good place to begin building a lineup. The Seminoles should once again get a boost from the transfer market -- like they did with Rafter -- with the arrivals of Jen Lapicki from Tennessee and Tory Haddad from Ohio State, patient hitters with the ability to add to the team's extra-base hit totals.
The good news is Florida State doesn't need to set scoring records as long as Sarah Hamilton and Terese Gober are splitting innings in the circle. The two combined to go 44-16 with 519 strikeouts and just 87 walks in 421 1/3 innings, reminiscent in some ways of Northwestern's duo of Eileen Canney and Courtnay Foster in that program's breakout 2006 campaign.
5. Who are three players who deserve a brighter spotlight?
Carly Normandin, OF, Massachusetts The Minutewomen might have been one of the best teams in the country last season. They just had the misfortune to play 22 innings against Danielle Lawrie on the final day of regionals. Ace Brandice Balschmiter is gone, which will make a repeat performance difficult, but Normandin was one of the toughest omissions from this season's ESPN.com All-America team. Her bat is streaky, but the end product (.727 slugging, .457 on-base percentage) is indisputably great. And what never wavers is her defense. It's tough to make declarative defensive statements without more widely available video and statistics, but I know this: I've never seen a better outfielder.
Kylie Reynolds, P, Kent State All she's done for the past three years is strike out batter and win games. A season ago, she finished sixth nationally in strikeouts per seven innings -- and it was the first season in which she didn't win MAC Pitcher of the Year honors (Ball State's Elizabeth Milian ended her run). In 236 innings, Reynolds struck out 345 batters and limited opponents to a .190 batting average. And Reynolds isn't just a MAC phenomenon. Last season alone, she struck out 11 in a loss at Arizona State, didn't allow an earned run in 7 2/3 innings in a loss against Iowa and shut out a good Texas State team for an upset win.
Melissa Roth, C, Louisville The Big East may not be the Pac-10 or SEC -- it may not even be the Big Ten or ACC -- but if you hit .444 with an .870 slugging percentage and .566 on-base percentage, you can get it done in any uniform. That includes the Team USA uniform Roth wore in the Pan American Games. Her only problem is she's caught, pun intended, at what's surprisingly one of the deepest positions when it comes to elite hitters, joining the likes of Sam Marder, Chelsea Bramlett and Stacie Chambers in fighting for recognition behind the plate.
Graham Hays covers softball for ESPN.com. E-mail him at Graham.Hays@espn3.com.
September, 21, 2009
09/21/09
7:20
AM ET
Just as the frost on the windshield Sunday morning in Connecticut offered a reminder of what's ahead, the schedule shows that soccer season is already at its first major fork in the road.
The Pac-10 and West Coast Conference, demonstrating that coast's admirable ability to take life at a more leisurely pace, don't start conference play for another couple of weeks. But putting those two leagues aside for the moment, how do things look elsewhere?
Sadly, Neil Patrick Harris wasn't available to host, so you're stuck with me.
ACC
Early test: Boston College at Florida State, Sunday
Is North Carolina vulnerable after Sunday's 0-0 tie against Auburn? Don't bet on it -- the only two goals the Tar Heels have allowed all season came opening night at the end of a 7-2 rout against UCLA on a sloppy field. But this game in Tallahassee will be a showdown of perhaps the two teams best equipped to challenge the defending champs. After seeing the Eagles on Sunday, I'd put a midfield of Gina DiMartino, Julia Bouchelle and Kristen Mewis up against any group out there.
September surprise: Easily Maryland, which has a 1-0 win against Santa Clara to validate an 8-0-0 start. The Terrapins actually get first crack at the Seminoles, as they'll visit Tallahassee on Thursday.
Big 12
Early test: Kansas at Oklahoma State, Sunday
The Jayhawks got off to a fast start last season but finished under .500 in conference play, including a 1-3-1 record away from Lawrence. Oklahoma State is the defending conference champion but dropped its conference opener against Colorado (the lone Big 12 game played thus far). Texas A&M still seems like the class of the league, especially after beating Portland 3-1 this past weekend, but Sunday's game in Stillwater is a chance for the Jayhawks to show they're a real challenger and the Cowgirls to show they're not ready to be deposed.
September surprise: At this point, we know more about most Big 12 teams' ability to schedule advantageously than their ability to play great soccer, but Nebraska's prolific offense -- paced by freshman Morgan Marlborough's 13 goals -- is worth noting.
Big East
Early test: Rutgers at Georgetown, Friday
Georgetown produced the most emphatic result of the first Big East weekend, drubbing Villanova 4-0 (although the Hoyas then tied Penn 3-3 on Sunday). Like Santa Clara's Jordan Angeli, Georgetown's Sara Jordan returned for a sixth year after an injury-plagued career and has helped in tangible (four goals, four assists) and intangible ways.
September surprise: Minus a lost weekend in Philadelphia (defeats to Drexel and Penn), Pitt has enjoyed a banner September, capped by a win at Ohio State and a tie against West Virginia this past weekend in Morgantown, always a tough stop for Big East teams.
Big Ten
Early test: Penn State at Michigan State, Sunday
The Spartans were 7-0-1 entering Sunday's 1-1 draw at Eastern Michigan, but the result raises questions, given the caliber of opponent in many of those wins. The good news is they get a shot at instant credibility against Penn State. The Nittany Lions took the opposite route early, persevering through six consecutive one-goal games, including four losses, against likely NCAA tournament teams before breezing past Boston University and James Madison.
September surprise: Indiana reached the Sweet 16 two years ago, so surprise is a little strong, but the Hoosiers, at 8-1-0, including a win against Florida, are perhaps ahead of schedule.
SEC
Early test: Georgia at LSU, Friday
Two familiar conference contenders in recent seasons open this year's conference slate. After a disappointing opening loss at home against Memphis, the Tigers have shown a lot of fight, including a 1-0 loss against North Carolina and 2-2 tie against Duke this past weekend. Georgia has played a good schedule, albeit one short on ranked opponents, and will look to return the favor after LSU beat it in Athens last season. (The Bulldogs are 14-4-0 since that loss.)
September surprise: South Carolina is the undefeated SEC team with championship aspirations, but forget the quality of the schedule and give Mississippi State full marks for an 8-0-0 start. That's more wins than in any of the past four full seasons.
May, 18, 2009
05/18/09
2:28
PM ET
It's conference tournament time, when bubbles are burst and the field is whittled to 64. Three teams wrapped up bids in the past week, as UC Irvine clinched the regular-season title in the Big West while Army and Bethune-Cookman took home conference tournament titles. Most of the field is set, but what's in store for the bubble teams and the long shots as Selection Monday approaches?
National Seeds
This seemed a lot clearer last week, before Rice and Georgia Tech struggled over the weekend. The top six are still solid, and the last two spots boil down to two separate debates.
First, who gets the second spot in the ACC. Georgia Tech has a gaudy RPI but finished fourth in the conference, while Florida State took the regular-season title with a less impressive RPI. The Seminoles can make this a moot point if they win the ACC tournament, as that should wrap up a national seed.
This will sound like a broken record, but the other debate is in the SEC. LSU has most likely already wrapped up one of the spots, so it comes down to Ole Miss and Florida. This one could be settled in Hoover, as the Rebels and Gators are on the same side of the bracket. For now, the Ole Miss series win at Florida is enough to pick up the last national seed.
Lurking in the shadows is Rice -- the Owls need a lot of help (both Florida and Ole Miss losing early in the SEC tournament), but a deep run in the Conference USA tournament puts them back in the discussion.
National seeds: No. 1 Texas, No. 2 UC Irvine, No. 3 Arizona State, No. 4 LSU, No. 5 North Carolina, No. 6 Cal State Fullerton, No. 7 Georgia Tech and No. 8 Ole Miss.
The Rest of the Top 16
For the past several weeks, TCU has been a traveling No. 1 seed -- at this point, the Horned Frogs' success (as well as the late-season slump by Texas A&M) is enough to land Fort Worth the third hosting spot in Texas.
That doesn't mean the committee won't still be on the lookout for a "northern" host. Louisville has a better résumé than Ohio State, including a midweek sweep of the Buckeyes, and could merit a No. 1 seed if it sweeps through the Big East tournament.
East Carolina moves into a hosting role with a strong finish and the regular-season Conference USA crown. On the heels of sweeping Texas A&M, Oklahoma garners the second home regional from the Big 12.
The other eight hosts (in alphabetical order): Clemson, East Carolina, Florida, Florida State, Louisville, Oklahoma, Rice and TCU.
And Everyone Else
It really seems as if the bubble is a lot smaller than normal this season. College of Charleston looks to be set up for disappointment again, as it slumped to finish fifth in the Southern Conference. None of the other "bubble out" teams has much to complain about if it doesn't make the field. There are usually three or four upsets in conference tournaments that shake things up, so of the last five in, Western Carolina and Baylor have the least to worry about.
Last five in (least secure first): BYU, Troy, Southeastern Louisiana, Baylor and Western Carolina.
First nine out (best chance first): College of Charleston, Duke, Stanford, New Mexico, UC Riverside, Hawaii, Tulane, Oklahoma State and Auburn.
The Field of 64
National seed regionals are shown next to the regional that they match up with for super regionals:
Austin Regional
No. 1 Texas
Texas State
Oregon State
Wagner
Forth Worth Regional
TCU
Kansas State
Dallas Baptist
Missouri State
Oxford Regional
No. 8 Ole Miss
Middle Tennessee
Baylor
Eastern Illinois
Tallahassee Regional
Florida State
Georgia Southern
Troy
Bethune-Cookman
Baton Rouge Regional
No. 4 LSU
Ohio State
Southeastern Louisiana
Southern
Houston Regional
Rice
Texas A&M
BYU
Dartmouth
Chapel Hill Regional
No. 5 North Carolina
Elon
George Mason
Binghamton
Greenville Regional
East Carolina
Virginia
Vanderbilt
Manhattan
Tempe Regional
No. 3 Arizona State
Minnesota
Cal Poly
Gonzaga
Norman Regional
Oklahoma
Arkansas
Washington State
Oral Roberts
Fullerton Regional
No. 6 Cal State Fullerton
Coastal Carolina
San Diego State
San Jose State
Gainesville Regional
Florida
Miami
Illinois
Jacksonville
Irvine Regional
No. 2 UC Irvine
Missouri
Boston College
Army
Clemson Regional
Clemson
South Carolina
Western Carolina
Kent State
Atlanta Regional
No. 7 Georgia Tech
Georgia
Kansas
Illinois-Chicago
Louisville Regional
Alabama
Louisville
Western Kentucky
Dayton
May, 11, 2009
05/11/09
11:41
AM ET
Not a lot of movement this week in my baseball regional projections, as most of the teams that were in either/or situations last week performed about the same as their closest competitors. Only the Southern Conference picked up a spot, as College of Charleston (riding a 10-game winning streak) moved into the field. That bid was at the expense of South Florida, on the assumption that a streaking Louisville would win the Big East's lone bid. Loyola Marymount, which has secured a spot in the WCC championship series against Gonzaga, moved into the field in place of slumping San Diego.
National Seeds
Not a great week for the top SEC teams, and the top teams on the West Coast are all red-hot. This will likely change before Selection Monday, but for now there are three national seeds from out West and just one from the SEC, with Ole Miss and Florida knocking on the door if any of the others stumble down the stretch. Since the selection committee can't match those teams from the Pac-10 and Big West up in the super regionals, they'll likely put all three in the same side of the bracket in Omaha.
National seeds: No. 1 Texas, No. 2 North Carolina, No. 3 UC Irvine, No. 4 LSU, No. 5 Rice, No. 6 Arizona State, No. 7 Cal State Fullerton and No. 8 Georgia Tech.
The Rest of the Top 16
The second tier of regional hosts is pretty well set at this point. Miami and Georgia are both struggling and, in addition to needing to be nearly perfect down the stretch, need others to falter to get back into the discussion. The two teams closest to hosting right now that aren't in the top 16 are a surging Alabama (second in the SEC) and Oklahoma (which could pass Texas A&M in this discussion with a strong showing in their upcoming series).
There's a new name under discussion for a hosting spot from the "northern" part of the country -- on the heels of beating Ohio State twice in the past week, Louisville staked its claim for a home regional. The Cardinals hosted a Super Regional in 2007 and drew more than 12,000 fans for the three-game set against Oklahoma State. TCU once again falls victim to the committee's desire for geographical balance (and the strength of Texas baseball this year) and gets sent packing as a No. 1 seed.
The other eight hosts (in alphabetical order): Arkansas, Clemson, Florida, Florida State, Louisville, Ole Miss, Texas A&M and Virginia.
And Everyone Else
Oklahoma State is all but out of the Big 12 tournament, while Auburn has been eliminated from contention for the SEC tournament (and Kentucky needs some help). With enough strong teams in the mid-major conferences, that should be enough to knock these three off the bubble despite their strong RPI rankings. All eight teams that make the SEC tournament will be in the NCAA field, while Duke and Texas Tech will be the only teams to make their conference tournament and miss the regionals from the ACC and Big 12.
The Southern Conference gets a fourth team again with all of the top contenders playing well down the stretch. The Big Ten stays at three teams (with Illinois on the bubble), while Conference USA (two bids) and the Pac-10 (three bids) remain well below their historical norm.
Two teams that have appeared in every projection up to this point fell out due to recent struggles. San Diego will not be in the WCC championship series, so Loyola Marymount jumped over it and into the field. Hawaii has also played poorly recently -- the Rainbows host the WAC tournament, but for now that bid will go to first-place San Jose State.
Last Nine In (least secure first): Loyola Marymount, Baylor, Western Carolina, Washington State, Illinois, Dallas Baptist, Southeastern Louisiana, College of Charleston and Kansas.
First Nine Out (best chance first): Kentucky, Hawaii, Duke, BYU, San Diego, Troy, New Mexico, Oklahoma State and UC Santa Barbara.
The Field of 64
National seed regionals are shown next to the regional that they match up with for super regionals:
Austin Regional
No. 1 Texas
Oregon State
Dallas Baptist
Sacred Heart
Fayetteville Regional
Arkansas
Oklahoma
Boston College
Oral Roberts
Atlanta Regional
No. 8 Georgia Tech
Georgia
Western Carolina
Manhattan
Gainesville Regional
Florida
Miami
College of Charleston
Bethune-Cookman
Baton Rouge Regional
No. 4 LSU
Missouri
Southeastern Louisiana
Southern
Tallahassee Regional
Florida State
Alabama
Illinois
Jacksonville
Houston Regional
No. 5 Rice
Texas State
Baylor
Dartmouth
College Station Regional
Texas A&M
Minnesota
Washington State
Eastern Illinois
Irvine Regional
No. 3 UC Irvine
Ohio State
San Diego State
San Jose State
Charlottesville Regional
Virginia
East Carolina
Gonzaga
George Mason
Tempe Regional
No. 6 Arizona State
Cal Poly
Kansas
Illinois-Chicago
Clemson Regional
Clemson
Coastal Carolina
South Carolina
Binghamton
Chapel Hill Regional
No. 2 North Carolina
Elon
Vanderbilt
Indiana State
Louisville Regional
TCU
Louisville
Western Kentucky
Dayton
Fullerton Regional
No. 7 Cal State Fullerton
Kansas State
Loyola Marymount
Army
Oxford Regional
Ole Miss
Georgia Southern
Middle Tennessee
Kent State
April, 29, 2009
04/29/09
2:52
PM ET
Leave it to a person who wants to pursue a future in marketing to find the appropriate spin to put on one bright moment in a season and a career cut short by injury.
And leave it to Dani Hofer to make sure her final pitch was a strike.
The only senior on LSU's roster this season, Hofer was honored before Sunday's home finale against South Carolina, as so many seniors around the country have been over the past few weeks. But the photo op with her parents and coach Yvette Girouard before the game wasn't the end of the celebration. Unable to play this season because of a career-ending wrist condition, Hofer stepped into the circle to start the game and threw one pitch before giving way to junior Cody Trahan. Fittingly, Trahan inherited an 0-1 count.
[+] Enlarge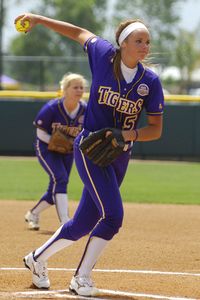 LSU Athletics Dani Hofer threw one pitch her senior season but made it count.
"It was the first time I was actually able to step on that side of the field and have the fans behind me and just be a part of the team on the field," Hofer said. "So it felt amazing.
"It's been an honor to be here for four years, so it's a good way to go out, I guess."
By the end of her sophomore season in 2007, Hofer had emerged as one of the best pitchers in the nation. The first prep player from east of the Mississippi to win Gatorade National Player of the Year honors, she went from Florida to LSU accompanied by sizable expectations. And as one of three pitchers on last season's ESPN.com preseason All-America team, keeping good company with Angela Tincher and Katie Burkhart, she seemed well on her way to living up to the advance billing and potentially leading the Tigers back to Oklahoma City.
But after battling a wrist injury throughout her junior season -- she still managed to grind out a 19-8 record with a 1.88 ERA, including a win in an NCAA tournament elimination game against East Carolina -- she underwent offseason surgery. When pain persisted and slowed her rehab, she eventually was diagnosed with Reflex Sympathetic Dystrophy, a condition in which, according to the Reflex Sympathetic Dystrophy Syndrome Association Web site, "nerves misfire, sending constant pain signals to the brain."
Between the pain associated with pitching and the risk of doing permanent damage to the wrist, Hofer had to hang up her spikes months earlier than she had hoped.
Asked by Girouard to lend whatever leadership she can from the sideline, Hofer has watched and offered advice as Trahan and freshman Brittany Mack have assumed great responsibilities in the circle and kept the Tigers in the hunt in an SEC as deep as it's ever been.
"Cody's definitely had to step up and take over the leadership on the mound, and I feel like she's done a great job," Hofer said. "She didn't know that she'd have to do that this season, so I feel like she's done a great job kind of taking over that role. And with Brittany Mack, at the beginning of the year, no one thought she was even going to throw this season because they thought I'd be out there throwing too."
But back in the circle Sunday, she found herself once more in the mindset of an ace.
"I felt like I stepped on the mound to throw a whole game," Hofer said. "My dad was joking with me; he was like, 'It seemed like you were going back to throw another pitch instead of just handing the ball off.' I didn't realize that I did that, but I probably did. You just kind of get into a groove, and it just seemed so natural for me to be out there throwing that I didn't really just want to throw one pitch."
• An abbreviated look at some of the weekend's big games:
Dartmouth at Cornell
(Best-of-three series)
An NCAA tournament bid is on the line in the Ivy League championship. The Big Red have dominated the league and have 40 wins overall but split with Dartmouth on the road.
Portland State at Loyola Marymount
(Four games)
If Portland State wins two, it will win the Pacific Coast Softball Conference title and an NCAA tournament bid. If Loyola Marymount wins all four, it will still be alive for the same, depending on how Sacramento State and San Diego fare.
Ohio State at Northwestern
(Two games)
Northwestern ace Lauren Delaney has been charged with 24 walks in her past 14.1 innings, but she can just as easily take away what she gives when she's on.
Iowa at Michigan
(Two games)
The Wolverines have managed just eight earned runs in 40.1 innings against Iowa ace Brittany Weil during her stellar career.
Alabama at Tennessee
(Three games)
Will we see more of Jessica Spigner in the circle after the super freshman's five innings of one-hit relief against Georgia last week?
Louisville at Notre Dame
(Two games)
Notre Dame could use at least a win for extra bubble insurance, and Louisville is still in the running for a seed in the NCAA tournament.
Morehead State at Jacksonville State
(Three games)
Jacksonville State is looking at a solid at-large profile, but with a three-game lead on the team visiting for three games this weekend, it would be nice to wrap up hosting chores for the conference tournament.
BYU at San Diego State
(Three games)
A starter in all 10 league games so far, Aztecs freshman Felicia Reifschneider is hitting .077 -- with a .400 on-base percentage. Nifty.
Arizona at Stanford
(Two games)
Stanford is 1-8-1 against Arizona thus far in Missy Penna's career (although she's not on the hook for all those decisions). Can Stanford, sixth in hitting in conference play, give its ace enough run support to change that?
Arizona State at California
(Two games)
Only Oregon has allowed more unearned runs than California in Pac-10 play. A win or two this weekend would do wonders for Cal's NCAA tournament seeding hopes.
March, 8, 2009
03/08/09
8:51
PM ET
What happens when a game of chess breaks out at a softball tournament? Witness the Easton Challenge in Tuscaloosa, Ala., where No. 1 Washington and No. 3 Alabama split a pair of games with identical 6-0 scores that resolved little in the race to the Women's College World Series.
Other than, perhaps, showing that the SEC may be one group of Bulldogs deeper than anticipated.
Washington's Danielle Lawrie and Alabama's Kelsi Dunne both pitched shutouts against the other's team, which means, of course, they didn't get a chance to throw against each other in two games between the Huskies and Crimson Tide. Even against a lineup like Alabama's, Lawrie's four-hit shutout isn't entirely surprising. So perhaps the slight edge in "statements" goes to Dunne, who beat the Huskies with a two-hitter Friday and looks increasingly like a title-caliber ace.
Then again, should the teams meet again in a few months, Dunne will have to figure out what to do with Jenn Salling, who it turns out will be eligible for the Huskies shortly.
Salling's bat may be a welcome addition for Washington, whose offense this season falls closer to timely than prolific. I'd work out exactly how much closer, but the Huskies have disappointingly joined Oklahoma in going behind the veil of secrecy when it comes to posting statistics on their Web site. Suffice to say, take out some offensive explosions against lower-tier teams in Utah State, Portland State and Seattle University, and the Huskies are averaging 4.3 runs per game. That's still championship material, no mistake about it, but it's not quite the run-scoring juggernaut we saw with Arizona State last season (the Sun Devils topped that average in Pac-10 play alone last season).
Meanwhile, while Lawrie held serve in her turn against the Tide, she suffered her first loss of the season in a 2-0 setback against Georgia. That was the Bulldogs' second win against a dominant pitcher, as they handed Baylor freshman Whitney Canion a 9-0 run-rule loss (Canion lasted less than an inning) just a day after Canion battled Lawrie into extra innings in a 1-0 Washington win.
Since TideSports.com executive sports editor Tommy Deas was on hand in Tuscaloosa, check out what one of the best softball voices in the game had to report from his vantage point at the park for the entire event. There is also video available for all of Alabama's games in the event.
• At ASA Hall of Fame Stadium, the venue every team hopes to inhabit at the end of May, Northwestern, Oklahoma and Tennessee offered an early dress rehearsal.
Northwestern had the best weekend, and probably needed it the most, picking up a pair of wins against Tennessee and splitting a pair against Oklahoma. The Lady Vols couldn't solve the Wildcats but had no such trouble taking two from the Sooners, including one in Norman. As the math plays out, that means it wasn't a great weekend for the Big 12 favorite playing on or near its home turf.
More than the results, what stands out about the games in Oklahoma are the scores. Only once, in Northwestern's 1-0 win against Oklahoma on Sunday, did any of the teams register a shutout. The losing teams combined to score 15 runs in six games.
And it's not just those three teams. It seems that when college softball reconvenes at ASA Hall of Fame Stadium, offense may matter more than ever.
Conference play kicked off in a number of leagues around the country, at least for those teams not otherwise engaged in tournaments.
Conference USA There's conversation every season about whether or not Oklahoma will make the short trip from Norman to Oklahoma City for the Women's College World Series, but how about an intrastate showdown at the college game's signature event? All right, we're a long way from penciling in Tulsa for a trip to the final eight, but the Golden Hurricane cemented a strong start to the season by sweeping three from Central Florida.
An at-large entrant in last season's NCAA tournament (they were swept out of a regional in Norman by Oregon and Arkansas), Tulsa returned both primary pitchers and seven of the nine players in its batting order during that postseason run. Sophomore Jordan Kinard starred Saturday, striking out 13 against just one walk in a 7-2 win. Perseverance might be the better description of junior Jackie Lawrence (an Indiana native, in what will be a theme this week) earning the win in an 11-inning 7-6 win to open the three-game series, but she's a proven workhorse in the circle.
And as the run totals suggest, it's not as if the Golden Hurricane need shutouts. The team totaled just 33 home runs in 58 games last season, 15 of which came off the bat of Lauren Lindsay. She's at it again with five this season, but her teammates have tacked on nine more through 21 games, halfway to their total in support of the slugger last season.
SEC Kentucky dropped its three-game series at LSU but did earn a road win Saturday. The Wildcats won only three conference games all of last season, and while all three came away from Lexington, taking a game in Baton Rouge is a notable way to continue a campaign that has already featured wins against Oregon, Hawaii, UNLV and San Diego State.
Freshman Chanda Bell earned the win in relief against LSU after she took the loss in the first game of the day's doubleheader despite 10 strikeouts. Home runs from Rachel Mitchell and Ashley Langoni provided all of LSU's runs in that opening 3-2 win, as homers have been a bugaboo for Bell (nine allowed in 59.1 innings). But with 79 strikeouts and a .182 batting-average against entering Sunday's finale, the native Hoosier seems to be further proof that Fresno State's Morgan Melloh isn't the only quality pitching export the state of Indiana has provided recently.
January, 14, 2009
01/14/09
4:56
PM ET
To paraphrase a quotation attributed to Dan Quayle, let us move forward to No. 16 in our softball preseason top 20 and not past to the back. Coincidentally, as the following team prepares to take the field in its new stadium this spring, 16 is the total number of the conference games it lost at its old home over the past four seasons.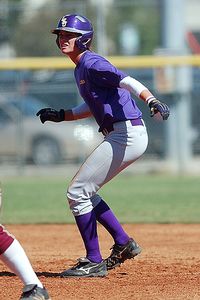 Chris Parent/LSU Media RelationsKirsten Shortridge gives LSU several new weapons.
16. LSU
Last season: 44-18 (lost to Louisiana-Lafayette in Baton Rouge regional)
Preseason talking point: Finding LSU in the top 20 might raise a few eyebrows, even toward this end of the rankings. With nine freshmen on a roster that's also missing three of last season's most productive hitters (Killian Roessner, Quinlan Duhon and Shannon Stein), this has the outward look of a rebuilding year for the Tigers in a top-heavy SEC.
And if any team is a perfect reflection of the perils inherent in observers' building up freshmen beyond what is reasonable, it's LSU. Outgoing is Starla Guffey, a highly touted recruit last season who left the team before the end of the campaign and isn't back this spring. Incoming is Kirsten Shortridge, an equally touted freshman at Baylor in 2007 who sought a fresh start of her own after two years in Waco, Texas.
In short, things don't always go according to plan.
But optimism about the outlook in Baton Rouge need not be entirely based on speculation independent of evidence. As one of the fastest players in the college game, Shortridge also gives the Tigers a good OBP weapon at the top of the order to set up fellow speedster Jazz Jackson and returning slugger Rachel Mitchell (not to mention Shortridge adds another arm in the circle). And sleepers Casey Faile (six extra-base hits in 48 at-bats) and Jessica Mouse (.374 OBP and a fabulous glove at third) did enough to suggest they're ready for bigger roles.
The first player from the East Coast to be named Gatorade National High School Player of the Year, Dani Hofer, also knows the weight of expectations. Now a senior, Hofer has lived up to her hype, but a wrist injury that lingered through the second half of last season prevented her from putting everything together. She didn't pitch for LSU in the fall but was throwing on the first day of practice in January. If she's healthy again, she might be the most overlooked ace out there and a heck of a security blanket for a young team.