Category archive:

Wake Forest Demon Deacons
September, 14, 2009
09/14/09
1:54
PM ET
STORRS, Conn. -- Sunday was a day No. 8 Wake Forest (7-1-0) will want to forget. A 4-2 loss against host Connecticut (4-2-0) not only ended the Demon Deacons' seven-game winning streak to open the season but doubled the number of goals the team allowed in those seven wins.
[+] Enlarge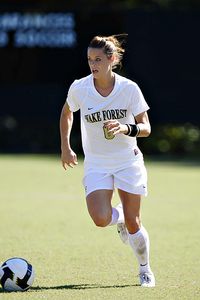 Brian WesterholtWake Forest coach Tony da Luz moved star Kaley Fountain from defender to forward this season to bolster the team's line up top.
But no matter how good a team is, bad days happen. Even if you're the best team in the world. Case in point, Wake Forest's loss came a year to the day after Barcelona drew 1-1 against Racing Santander at home, the first of five games at home that the eventual Champions League winners didn't win in Spain's La Liga.
Call it one more Barcelona lesson. After playing a more conservative 4-4-2 formation to survive in the ACC, long considered the nation's best conference, Wake Forest head coach Tony da Luz found himself watching endless hours of Barcelona games and wondering what was stopping his team from playing the same attractive, aggressive style scaled to the women's college game.
Eventually he stopped wondering and switched to a 4-3-3, with converted defender Kaley Fountain joining Jill Hutchinson and Allie Sadow up top.
"It's pretty close; it's our version,"da Luz said after Friday's 1-0 win against No. 24 Penn State of his effort at the sincerest form of flattery. "And also a big thing was we decided to move Kaley Fountain out of the back. And with her and Hutch and Allie Sadow, it's a pretty good threesome up top. Better than the two. I want to play more attacking soccer now, and get our backs involved. That's our model; we watched a lot of video of Barca. And every time you watch Barca play, it just puts you in a good mood as a coach. So you know, it's not perfect, but it's pretty good."
A senior, Fountain is a key. An international-caliber outside back (she played for the United States in last fall's Under-20 World Cup in Chile), she can be lethal on the flank in the attacking end, bringing speed, acceleration and power on her crosses and shots. "Kaley just gives us a whole different dimension up there," da Luz said. "She's just so athletic and she gets in great crosses. And off the ball she works so hard to pressure defenders; that's probably even more of a benefit than just on the attack. So yeah, I was definitely an idiot for three years."
The Demon Deacons have the talent to contend for second place in the ACC and a strong NCAA tournament seed. And the recovery from Sunday may begin before the team's next game at UAB. After all, Barcelona opens its Champions League defense Wednesday against Inter Milan and you can bet there will be some people in Winston-Salem, N.C., watching.
• Speaking of European influences, Connecticut may be ready to reclaim its place as Big East heavyweight in no small measure because of two arrivals from across the Atlantic.
The Huskies struggled to score goals last season, and haven't been a truly imposing offensive team since Kristen Graczyk and Jessica Gjertsen graduated following the 2004 season. But Finland's Linda Ruutu and England's Georgina Giddings, both newcomers, offer firepower to complement some quality set-up work out of Elise Fugowski and Melissa Busque. The difference between the offensively dour team on the field in a 1-0 opening loss against BYU and the team that beat Boston University and Wake Forest over the weekend was inescapable.
I'll have a lot more in a couple of weeks on Giddings as part of a British explosion in the college game, but the first two goals of her Connecticut career -- on two absolutely blistering shots from distance -- couldn't have come at a better time for a 19-year-old enjoying her new surroundings but also getting used to being an ocean away from home.
As Giddings explained, "To go home now and tell my parents I scored two goals in that kind of environment, and I'm starting to settle in a little bit more now, will be great."