Category archive:

Oklahoma Sooners
February, 8, 2010
02/08/10
10:33
AM ET
It's time to take a quick tour -- two by two this year -- through some of the best teams out there.
No. 7 California
Coming off a second consecutive appearance in a super regional, despite having to win back-to-back regionals on another team's field, Cal's momentum appears headed solidly in one direction. Not least because in addition to losing just two starters from last season's team, the Bears add Washington transfer Jace Williams, who managed a .914 OPS as a freshman for the Huskies in 2008, and a freshman class highlighted by the EA Sports All-America battery of Jolene Henderson and Lindsey Ziegenhirt.
[+] Enlarge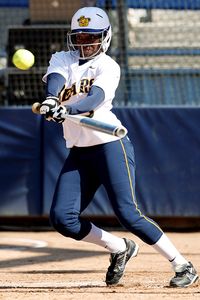 California AthleticsIn 19 conference games last season, Reid hit .377, seventh in the league, and stole 13 bases.
And you don't have to look very far in Berkeley to see that even in the country's best conference, newcomers can prosper without much of an apprenticeship.
The Pac-10 season can knock the wind out of just about any freshman. Like the SEC in football or the ACC in women's soccer, there are no easy games but ample opportunities for tailspins. So it's not without note that the conference grind is also where Cal freshman Jamia Reid caught her second wind during a successful debut for the Bears.
In 19 conference games last season, Reid hit .377, seventh in the league, and stole 13 bases, tied for the lead with Washington's Ashley Charters. The former came on the heels of a .352 batting average in her 37 nonconference games. Granted, the Pac-10 might not have featured its usual assortment of aces last season, and 19 games is a tiny sample size. But Reid still stood out, even in the company of other freshmen who wasted little time putting themselves among the elite.
In addition to Reid, five other freshman in the Pac-10 hit at least .300 for the entire season: Ashley Hansen (.400), Stanford; Kimi Pohlman (.360), Washington; Lini Koria (.352), Arizona; Katelyn Boyd (.308), Arizona State; Andrea Harrison (.303), UCLA. Of that quintet, only Pohlman's average improved during conference play, from .359 to .361.
No. 8 Oklahoma
Amber Flores spent her first three seasons at Oklahoma proving she's one of the nation's best players no matter where she plays -- second base, shortstop, outfield, wherever she's needed. Last season, her on-base percentage (.594) ranked second in the nation, trailing only Katie Cochran; Flores was seventh nationally in slugging percentage (both were career highs but right in line with her previous production).
It doesn't take very long to come to appreciate the slugger.
"She's just such a competitor," Oklahoma freshman Keilani Ricketts said of her first impressions. "And you can tell how much she loves the game; she just makes it look so easy."
Already a patient hitter, Flores will have that virtue tested without Samantha Ricketts behind her in the order (opponents intentionally walked Flores just four times last season). But just about the only thing the All-American doesn't do is pitch, and that is where Ricketts can provide some cover.
It's not entirely fair to lay Oklahoma's postseason disappointments at the feet of the pitching staff. In 2008, D.J. Mathis threw three NCAA tournament shutouts, and Mathis wasn't on the hook for the stunning 1-0, 11-inning loss against North Dakota State that threw open last year's regional in Norman, Okla. (she pitched 8.1 shutout innings in that game).
But it's also true that since Kami Keiter graduated after the 2005 season, no pitcher for the Sooners has put herself in the mix for the program's top five in career ERA. There have been some good pitchers recently; there haven't been great pitchers. That's a high bar to set, but it's what happens when you add a national championship to the trophy case.
With a four-person staff, including the much-sought freshman duo of Ricketts and Michelle Gascoigne, the resources at least appear to be in place for a change.
Graham Hays covers softball for ESPN.com. E-mail him at Graham.Hays@espn3.com.