From London to Akron, Zakuani drives the Zips
September, 15, 2008
09/15/08
2:24
PM ET
The Akron men's soccer team, which vaulted to No. 2 in the national rankings after a torrid start to the 2008 season, came back to earth after a weekend trip to New Mexico ended with a 1-0 loss to New Mexico and a 0-0 tie with Missouri State. The disappointing trip to New Mexico took the shine off an opening weekend during which the Zips beat then-No. 3 Notre Dame 3-0 and tied then-No. 5 Indiana 0-0.
But you'd never get that impression talking to Steve Zakuani.
The Zips' striker betrayed no cause for concern and insisted Akron was still confident. He summed up the weekend rather succinctly.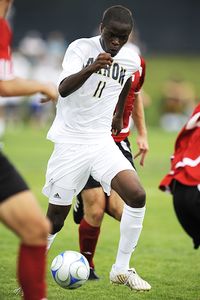 Jeff Harwell/Zips Sports Photography
Akron striker Steve Zakuani has led
the Zips to a No. 2 national ranking.
"If you don't score goals, you're not going to win games," Zakuani said.
Very true. And Akron can take solace in knowing the most grueling portion of its schedule is now complete. The Zips head back to Akron now for a three-game stretch that will take them through the month of September, and they only leave the state of Ohio once before Oct. 29, when they travel to Pennsylvania to play Penn State. The busy early-season travel schedule may have started to wear on Akron. Coach Caleb Porter admitted he thought fatigue caught up to his team a bit, especially in Sunday's game against Missouri State where he felt his players had "heavy legs."
Traveling long distances, though, is no big deal to Zakuani, especially not the relatively short distance from Akron to New Mexico.
The sophomore, who earned All-MAC and conference newcomer of the year honors last season, never imagined he'd be playing college soccer in Akron, Ohio at this stage of his life. In fact, Porter himself admits it was a stroke of luck the Congo-born, London-raised striker found his way to the Zips.
"He kind of fell into our lap," Porter said. "It was blind luck, really."
When his father got a job in England, Zakuani moved to London from Africa when he was just four years old. He eventually made his way into the Arsenal youth system as a boy, training with the North London club until he was 15.
"That's what made me the player I am today," Zakuani said of his time in the Arsenal youth side.
It wasn't until the spring of 2006 that Zakuani caught the attention of a newly-hired coach in the American Midwest. One of Porter's assistants showed him a tape of a youth team in England in order to observe a player, not Zakuani, that he thought the Zips might be interested in offering their remaining scholarship to. Since most American players had already signed with schools at that point, Porter was interested in finding international talent. When he watched the tape, his attention immediately turned to Zakuani.
"Steve was on the team," Porter said. "We were impressed and we initiated contact."
It didn't take much convincing.
"My parents are very pro-education," Zakuani said. "In England, you can't play soccer and get an education at the same time. And once I heard about Akron and talked to [Porter], I became sold on the idea."
And the Zips are sure glad he bought in, too. Zakuani has three goals and two assists in six games so far this season, including a goal and an assist in the win over the Irish and game-winning goals against West Virginia and Cincinnati. He's already made considerable strides from his freshman season, in which he netted six goals and handed out two assists.
"Last year I kind of paced myself and played it under-the-radar," Zakuani said. "Now, I'm trying to get the ball and make things happen."
"He's sophisticated on the ball, very fluid, very skillful," Porter said of Zakuani's strengths. "He has an ability to beat players on the ball that's uncanny. And he's still young, we've really only seen the tip of the iceberg as far as what he can do."
That kind of endorsement means it's a safe bet Zakuani will surpass his goal tally from his freshman season. The Hermann Trophy contender is already halfway there, and has uncovered a more clinical approach to his finishing.
"He's evolved and become a better finisher," Porter said. "He's getting the same chances now as he did last year, but he's putting them away."
Akron's not getting carried away with its start this season. Last year's team went 15-4-2, won the MAC regular-season title and MAC championship, but a loss to South Florida in the NCAA tournament has left a bitter taste in the mouths of this Zips team.
Which is why there's no sense of panic in talking with Porter and Zakuani after their disappointing weekend. They're focused on the finish, not the start, and realize their performances against teams like Notre Dame and IU are the types of performances -- the type that bring national attention -- that put a target on your back. And that target adds pressure the young Zips team is starting to feel. The question now is: How do they handle it?
"Teams know what we can do and are trying to stop us from playing [our game]," Zakuani said. "We're still confident though. We know we're as good as any other teams out there. We have that belief."