BU's goals hinge on finding a goalie
October, 8, 2008
10/08/08
3:43
PM ET
BOSTON -- It doesn't rise to the level of obsessing about Josh Beckett's health on the local angst scale, but many residents along one particular stretch of Commonwealth Avenue are anxious about one particular facet of this year's Boston University hockey team.
As the No. 9 Terriers prepare to host the Ice Breaker Invitational at Agganis Arena, all eyes of the red-and-white-clad BU faithful will be focused in net to see which of the three goaltenders takes up residence for Friday's season opener versus No. 5 North Dakota (7:30 p.m.). The Ice Breaker matinee -- and the first game of the 2008-09 season -- is UMass versus Michigan State (4:30 p.m.).
[+] Enlarge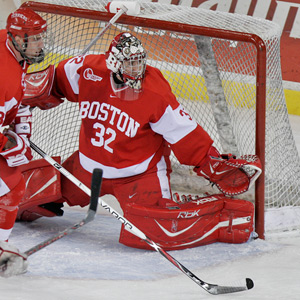 Dominick Reuter / Daily Free PressSophomore Adam Kraus is the oldest of the Terriers' three possiblities in goal this season.
If you're keeping score at home, the BU goalie candidates are sophomore Adam Kraus and freshmen Kieran Millan and Grant Rollheiser.
Equally interesting will be to see whether the guy in goal is someone different for Saturday's game against No. 11 Michigan State (7:30 p.m. ET). And who knows who will be in goal by the time the Hockey East opener against Merrimack rolls around on Oct. 17.
In case you missed it, coach Jack Parker finds himself with this unsettled situation because he parted ways with Brett Bennett (16-10-3, 2.63, .888) back in May and Karson Gillespie graduated.
"We'll evaluate during the week and then pick somebody for the first game and then make decisions from there," coach Jack Parker said after Sunday's 4-1 exhibition win over the University of New Brunswick. "I don't have any set idea that we're going to rotate guys or that we're going to try and settle on a No. 1 guy right away.
"Those who play well will be rewarded with further play."
That's as much of a threat as it is a declarative statement.
Four years ago, BU stumbled out of the blocks with a pair of losses at the Lefty McFadden Tournament and in the process, Parker went through all three of his goalies before finding and settling on John Curry -- who ended up being a mainstay over the next three seasons and still stands as the Terriers career leader in goals against average and save percentage.
So now Parker hopes that Kraus, who played in just two games last season (1-1, 4.04, .857), or one of the freshmen will establish themselves as the backstop of the present and future.
Against New Brunswick, an announced crowd of 3,069 got its first glimpse of Millan and Rollheiser. Each played roughly half of the game. Millan, who spent last year with the Spruce Grove Saints of the Alberta Junior Hockey League, faced nine shots and made eight saves. Rollheiser, from the British Columbia Hockey League's Trail Smoke Eaters, stopped all 15 shots he faced.
So how did they look in the eyes of the bench boss?
"Poised," Parker said. "I thought Kieran Millan played very well and the goal that went in on him was a dribbler off of our guy. And I thought Rollheiser made a couple of good saves in the third. I was pleased with both of them."
What he wasn't happy with was BU's play in its own end against New Brunswick. Too much time spent running around with the puck and not enough time getting it out of the zone.
A possible exception to Parker's defensive criticism was and is senior captain Matt Gilroy (6 goals, 15 assists, plus-17 in 2007-08).
"You can see why he is such a good player because he jumps in the play and he's pressing the play and I'm thinking, 'Oh, they've got a 2-on-1 here' and he's back before the guy gets over the red line," Parker said of his best defenseman. "He's got a good sense of when he can go and knowing when he's got to get back, and he's such a great skater."
Gilroy turned down what would have been a lucrative offer to turn pro in order to return and play with his brother Kevin -- one of 10 first-year players on the roster.
"The freshmen, you never know what they're going to do, and they responded great," Gilroy said after Sunday's exhibition. "We need them to have big years this year if we want to go anywhere. There's so many of them and they can help us out so much.
"We're a pretty offensive team, so our struggles are going to come … offense just comes naturally to us, especially the defensemen. The offense just comes to us, so we have to work on the D a little more."
And that starts in goal. On Friday. Ready or not.
David Albright covers college sports for ESPN.com and can be reached at espncaa@gmail.com.