Former Irish player Cinalli drafted to pros
October, 16, 2008
10/16/08
11:52
AM ET
It's not exactly dressing to the nines and shaking hands at the podium with David Stern, but Notre Dame volunteer assistant coach Amanda Cinalli's entry into the world of pro sports drafts proved memorable in a fashion far more familiar to the rest of us. Without a physical location for last week's Women's Professional Soccer draft, prospects like Cinalli scanned the league's Web site, along with fans, as picks were posted.
[+] Enlarge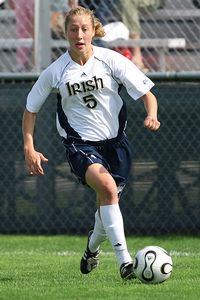 Matt CashoreAmanda Cinalli, shown playing for Notre Dame last season, was recently drafted into the Women's Professional Soccer league.
"It's kind of a funny story," Cinalli explained. "I was watching it online, and I had been watching it for about an hour and a half or so, and I was seeing [the names of] many of the people I knew and a couple of my friends. I was so excited for them, I was sending them texts and saying congrats. And then right before my name popped up, my Internet connection actually failed, so I was kind of in a rush to get it back on. Finally, after I got it back on, I refreshed the page, I saw the last three draft-pick names and I just saw my name." With the fifth pick of the fourth round, the St. Louis franchise added Cinalli to a draft class that included recent college stars Angie Woznuk, India Trotter and Joanna Lohman. "I actually started crying tears of joy," Cinalli said of perhaps the best mouse click of her life. "I couldn't believe it; I was just so excited." Cinalli started 86 games, scored 34 goals and made three trips to the Women's College Cup in her four years at Notre Dame, including back-to-back trips in 2006 and '07. But partly because of the shadows cast by teammates including Katie Thorlakson and Kerri Hanks, and partly because she possesses about as gentle a demeanor off the field as you're likely to find in major college sports -- she didn't bother to tell anyone in South Bend they were mispronouncing her last name until after she graduated -- she's long been overlooked. Now, that ability to play and interact without an ego is exactly what makes her ideal for a pro environment in which she'll have an opportunity to play alongside Hope Solo, Lori Chalupny and possibly Brazilian midfielder Daniela. So for someone who saw the last domestic pro league fall apart the year before she arrived at Notre Dame, what she saw on the computer screen last week was well worth the wait. "It was a lot of fun to watch when I could when I was younger," Cinalli said of the WUSA. "You see those people on TV and you look up to them and you one day want to be them. And it's just so surreal right now that I have an opportunity to do that."