Softball preseason No. 17: UMass
January, 14, 2009
01/14/09
10:50
AM ET
Next up in the softball preseason top 20 is No. 17, a number worn by New York Giants wide receiver Plaxico Burress. And after the way Burress' saga unfolded (constantly and often loudly) on television, radio and internet throughout the latter half of the NFL season, that makes it a number that reminds me exactly how much I enjoy college softball.
17. Massachusetts
Last season: 42-13 (Lost to Stanford in Amherst regional)
[+] Enlarge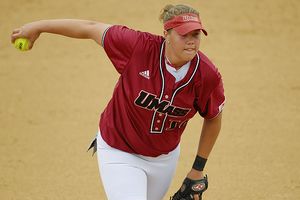 UMass Media RelationsSenior Brandice Balschmiter has allowed only 10 home runs in 818.2 career innings for UMass.
Preseason talking point: It's a moment already slipping into the mists of history, but Northwestern's memorable statement of resurgence under Kate Drohan at the 2006 Women's College World Series almost didn't happen. Hosting a super regional, the Wildcats dropped a 1-0 decision against Massachusetts in the opener and trailed 2-0 with one out in the sixth inning of the second game. After two bases-loaded walks tied the score in the sixth, a two-run double in the seventh won that game. A 9-0 win in the rubber match sent Northwestern to Oklahoma City and eventually the championship series.
And whether or not Massachusetts reaches Oklahoma City this year for the first time since 1998, Brandice Balschmiter is unquestionably five outs better than she was as the outstanding freshman who pitched every inning of that 2006 super regional.
Walks played a part in Balschmiter's undoing in Evanston, Ill., but there aren't many pitchers who have been more efficient over the past two seasons. After walking 102 batters in 289.1 innings as a freshman, she walked a total of 99 in 529.1 innings over her sophomore and junior seasons. And in 818.2 career innings, she's allowed only 10 home runs, or roughly one every 12 games. All of that on top of nearly 900 career strikeouts and a defense behind her with award-caliber gloves like Whitney Mollica at third and Carly Normandin in the outfield.
Even in a year when freshmen grabbed headlines across the country for their pitching exploits, five of the eight teams in last season's World Series arrived with senior aces. And from DePaul's Tracie Adix and Baylor's Lisa Ferguson in 2007 to Alabama's Stephanie VanBrakle in 2006 and Michigan's Jennie Ritter in 2005, one need not look too far into the annals history to find ample evidence that a senior ace is a good place to start when looking for World Series hopefuls beyond the usual Pac-10 suspects.
Random Quick Link
Although primarily an interesting update on Oregon adding lights to its field (though it won't play any Pac-10 games under them this season), Shawn Miller's article in the Eugene Register-Guard also offers a brief overview of Oregon's freshman class. The Ducks took a big hit when Jennifer Salling elected not to return to Eugene after playing for Canada in the Olympics and they don't factor into our preseason top 20, but they at least have some options in the circle with the addition of a pair of decorated freshmen from the Pacific Northwest.