Softball preseason No. 16: LSU
January, 14, 2009
01/14/09
4:56
PM ET
To paraphrase a quotation attributed to Dan Quayle, let us move forward to No. 16 in our softball preseason top 20 and not past to the back. Coincidentally, as the following team prepares to take the field in its new stadium this spring, 16 is the total number of the conference games it lost at its old home over the past four seasons.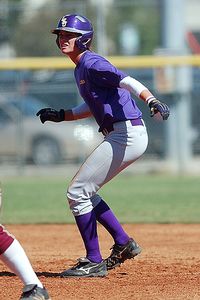 Chris Parent/LSU Media RelationsKirsten Shortridge gives LSU several new weapons.
16. LSU
Last season: 44-18 (lost to Louisiana-Lafayette in Baton Rouge regional)
Preseason talking point: Finding LSU in the top 20 might raise a few eyebrows, even toward this end of the rankings. With nine freshmen on a roster that's also missing three of last season's most productive hitters (Killian Roessner, Quinlan Duhon and Shannon Stein), this has the outward look of a rebuilding year for the Tigers in a top-heavy SEC.
And if any team is a perfect reflection of the perils inherent in observers' building up freshmen beyond what is reasonable, it's LSU. Outgoing is Starla Guffey, a highly touted recruit last season who left the team before the end of the campaign and isn't back this spring. Incoming is Kirsten Shortridge, an equally touted freshman at Baylor in 2007 who sought a fresh start of her own after two years in Waco, Texas.
In short, things don't always go according to plan.
But optimism about the outlook in Baton Rouge need not be entirely based on speculation independent of evidence. As one of the fastest players in the college game, Shortridge also gives the Tigers a good OBP weapon at the top of the order to set up fellow speedster Jazz Jackson and returning slugger Rachel Mitchell (not to mention Shortridge adds another arm in the circle). And sleepers Casey Faile (six extra-base hits in 48 at-bats) and Jessica Mouse (.374 OBP and a fabulous glove at third) did enough to suggest they're ready for bigger roles.
The first player from the East Coast to be named Gatorade National High School Player of the Year, Dani Hofer, also knows the weight of expectations. Now a senior, Hofer has lived up to her hype, but a wrist injury that lingered through the second half of last season prevented her from putting everything together. She didn't pitch for LSU in the fall but was throwing on the first day of practice in January. If she's healthy again, she might be the most overlooked ace out there and a heck of a security blanket for a young team.