Softball preseason No. 5: Northwestern
January, 30, 2009
01/30/09
10:08
AM ET
And then there were five in the preseason top 20, like the number of rings in the Olympic symbol (spoiler alert: foreshadowing).
5. Northwestern
Last season: 40-16 (Lost to Arizona State in the Tempe Super Regional)
Preseason talking point: There are all sorts of starting points when it comes to Northwestern this season. I could talk about the fact that the Wildcats return 1,297 of the 1,424 at-bats recorded last season -- more continuity than any of the 12 teams that finished with a better slugging percentage last season. The conversation could center on senior shortstop Tammy Williams, quite possibly the best hitter in the college game not named Kaitlin Cochran. Or there is ace Lauren Delaney, who owns the fourth-best strikeout rate of any returning pitcher in the country.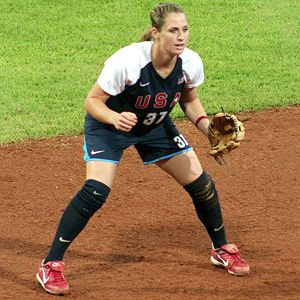 USA Softball Lauren Lappin brings with her to Northwestern experiences from Stanford and the Beijing Olympics.
But why talk about that when you can put new volunteer assistant coach Lauren Lappin, fresh off the 2008 Olympics, on the hot seat from chilly Evanston, Ill.?
Lappin was hit by a bout of bronchitis this week, making it difficult for her to talk over the phone. But since my typically stellar time-management skills left little wiggle room, she was a good enough sport to go the e-mail route.
Q: How did a kid from Southern California and a Stanford University graduate end up at cold, snowy, windy Northwestern?
A: This is a question I get A LOT! Trust me, I love California and I love Stanford even more. But I have always had a lot of respect for the Drohans [Northwestern coach Kate and twin sister and associate coach Caryl], and when I met them at the NFCA Coaches convention last year, I quickly learned why they have propelled Northwestern into the top of the college softball ranks. I wanted to find a situation in which I could get quality coaching experience and still be able to fulfill my commitments in the months following the Olympics. I also wanted to try something new; experience four seasons and the city life. It's been a great all-around experience.
Q: Is coaching something you always saw yourself gravitating toward, or is this an experiment of sorts to see if it's something you'd like to pursue?
A: Coaching is in my blood. My dad, uncle and brother are all high school coaches. I grew up being exposed to the coach's perspective and a solid understanding of what it takes to be a good coach. I definitely want to continue coaching, and Northwestern softball is giving me the wonderful opportunity to coach while I continue to compete as an athlete as well.
Q: What are your primary duties as a volunteer assistant?
A: My duties as the volunteer assistant include helping with the organization of camps/clinics as well as helping coach the slappers, catchers and middle infielders.
Q: To the extent that you've had time to get out of the office, what have you been able to sample or enjoy in the Chicago area?
A: My favorite things about Chicago have been the food, the live music, the snow and the high level of excitement around the development of youth softball.
Q: As someone who spent a lot of time at catcher and shortstop, what are your early impressions of Tammy Williams and Erin Dyer and their role as seniors?
[+] Enlarge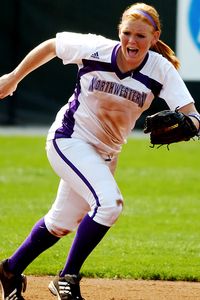 Stephen J. Carrera Tammy Williams will give the Wildcats a boost at the plate.
A: Tammy and Erin have been instrumental in helping our team build a solid foundation throughout this fall and winter. Their experience and success speak for themselves and I know that they are going to have amazing senior seasons. Since the day that I stepped on the field with these two athletes, they have been very open to continuing to become better players. That has been the case with the entire team, which makes our job as coaches so incredibly enjoyable!
Q: What did you take away from the Olympic experience and the chance to compete in Beijing?
A: The Olympic experience has added so much to my life as an athlete and person. Playing the sport that I love with USA across my chest with those fourteen other women was the experience of a lifetime. Although we wanted the gold more than anything, getting the silver medal definitely puts things in perspective and is an honor that I will cherish for the rest of my life. I really hope that softball is put back on the Olympic agenda so young female softball players all over the world can continue to dream of representing their country on the Olympic stage.
Q: As best I could tell, it looks like you played four games against Northwestern while at Stanford. And in the last game [during the 2006 season], your double keyed a late rally that enabled the Cardinal to come away with a win. Has anyone brought this up, and if not, how long until you play that card?
A: HAHAHA … I love this question! I think it goes without saying that there is a healthy rivalry between Northwestern and Stanford given the obvious similarities of the institutions. Well, I have to admit that I have played that card a few times in response to some banter about previous game results between the two schools. But, it is all in good fun!