Softball preseason No. 2: Alabama
February, 4, 2009
02/04/09
3:05
PM ET
We've reached No. 2 in the preseason top 20, which should take a good bit of the intrigue out of the identity of tomorrow's team. No. 2 is also the jersey retired by the Denver Nuggets in honor of Alex English, who famously (or not) played Amazing Grace Smith in the 1987 movie "Amazing Grace and Chuck." English starred opposite Gregory Peck, who was in "Cape Fear" with Robert De Niro. De Niro was in "Goodfellas" with Joe Pesci, who was in "JFK" with … Kevin Bacon.
2. Alabama
Last season: 58-8 (Lost to Arizona State in the College World Series national championship series)
Preseason talking point: The SEC may still be looking for its first national championship, but that's the only experience missing in Tuscaloosa this spring.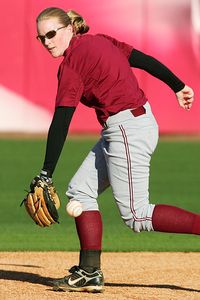 Alex Gilbert /UA Athletics Lauren Parker is ready to go after offseason shoulder surgery.
In discussing the overall increase in talent in the conference during its 12 seasons of competition, Alabama coach Pat Murphy, who is not a guy prone to hyperbole, offered a bold assessment of his current quintet of seniors.
"I can probably realistically say our five seniors we have on this year's team are the best at their position ever in our program, which -- I can't believe I'm saying it," Murphy said. "But we could have the best catcher we've ever had, we could have the best center fielder we've ever had, we have the best second baseman, the best shortstop, the best third baseman. … The talent, even like four years ago, when I look at who was in those spots, they were great kids, but athletically and talentwise, this group is even better."
For the record, that's catcher Ashley Holcombe, centerfielder Brittany Rogers, second baseman Lauren Parker, shortstop Kellie Eubanks and third baseman Kelley Montalvo, who have combined for 783 starts in their Alabama careers.
In sizing up Arizona State's returning tandem of Kaitlin Cochran and Krista Donnenwirth, we saw that that no two returning teammates on a top-tier team created more runs per game last season than Rogers and current junior Charlotte Morgan. But substitute Montalvo for Morgan, and the Crimson Tide would still have a duo that ranked third.
And if you'll pardon some excessive abuse of numbers, Rogers and Parker would have come in behind only the Sun Devils' duo, if you used Parker's 2007 numbers.
A transfer who arrived from Baylor after her freshman season, Parker hit .457 with 45 RBIs in 138 at-bats in 2007, her first season on the field with the Tide. But a shoulder injury that slowed her toward the end of that season limited her again last season. By the postseason, she was strictly a designated player -- and a banged-up one at that.
After another offseason surgery on the problematic left shoulder, she's ready to go this spring. In an attempt to keep her that way, both at the plate and at second base, Murphy is trying to alternate her between offense and defense on an every-other-day basis in practice. And while Alabama is too deep for any one player, save perhaps pitcher Kelsi Dunne, to hold make-or-break power over the season, it's difficult to understate Parker's potential impact on what could be the nation's most prolific offense.
"If we can keep her healthy for as long as possible, it's going to help us a lot," Murphy offered in a valiant stab at just such understatement.
Quick Link
If you want to write a book on how to build a championship-caliber softball program from scratch, you should first worry about folks in Tuscaloosa suggesting you plagiarized the team's media guide. Perhaps because he's been there from the beginning, first as an assistant and then as head coach since the 1999 season, Murphy is as easily identifiable with a program as any coach this side of Mike Candrea. And the scenes of players hand-delivering season tickets that Tommy Deas describes in the Tuscaloosa News are every bit as much a part of Murphy's imprint as his on-field willingness to master traditional fast-pitch strategy and at the same time think outside the box.