Softball preseason No. 1: Florida
February, 5, 2009
02/05/09
12:27
PM ET
With hours until the first pitch of the season, we've finally reached No. 1 in the preseason top 20 countdown. Enjoy the games and let's see what happens on the road to Oklahoma City.
1. Florida
Last season: 70-5 (Lost to Texas A&M in the Women's College World Series)
Preseason talking point: It wasn't the case when the Chicago Bulls went 72-10 during the 1995-96 season. It wasn't viewed as such when 2007's New England Patriots completed a 16-0 regular season. And it wasn't a debate when the Seattle Mariners won 116 games in 2001.
[+] Enlarge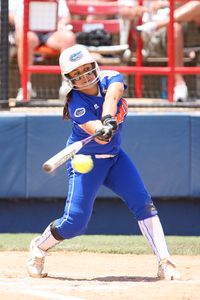 J.P. Wilson/Icon SMIAja Paculba had 61 runs and 37 RBIs in 223 at-bats as a freshman last season.
But Florida's record-setting 70 wins on the softball diamond last season may have been less the culmination of perfection than the opening act for bigger and better things. Granted, a shorter schedule means the Gators won't challenge their own numerical milestone this season, but with eight batting-order regulars and both pitchers back from 2008, there's every reason to think last year's team was ahead of schedule.
"There's no question; I mean, any coach who would say 70 is a goal or 65 is a goal, to win, is crazy," Gators coach Tim Walton said. "It was never the goal to win that many games. The goal, obviously, every day is to play as good as you possibly can and play to win, but I felt like we were ahead of schedule. And I felt like once we got into SEC play, probably about the first month, it was like, 'Wow, this team … is playing together a lot better than I really anticipated we were going to do.'"
That's because what Walton anticipated at the onset was what any coach might, namely the kind of growing pains typically associated with a lineup that included an all-freshman keystone combination in Megan Bush and Aja Paculba, another freshman in designated player Tiffany DeFelice and only one senior anywhere on the diamond.
Instead, he found a team either mature beyond its years or oblivious to anything beyond its dugout.
"We had kids that it didn't matter where we played," Walton said. "Whether it be at the College World Series or whether it be home in Gainesville, they were very, very well-prepared in their minds to be successful."
And it's remarkable how close the Gators came to even more. All five losses came by a single run, including four in extra innings. Ace Stacey Nelson and standout freshman Stephanie Brombacher combined to limit opponents to two or fewer runs 63 times in 75 starts. And that meant a team that excelled in the field and had its best season ever at the plate (of the seven best single-season batting averages in program history, four were recorded last season) didn't have to worry about margins of error all that often.
But it's just those parchment-thin margins of error that creep up to slip between a team and a championship in the postseason, like the 16 runners the Gators left on base in World Series losses against Louisiana-Lafayette and Texas A&M. Walton's team has proved it can bludgeon the competition over the course of the regular season. Now the Gators' coach, who savors the opportunity to bounce ideas off championship colleagues such as Urban Meyer, Billy Donovan and Becky Burleigh in Gainesville, wants them to begin working with the scalpel they'll need for postseason precision.
"I think you try and establish a different mindset -- the mindset being that we know what it takes to get to a certain level," Walton said of his focus entering the season. "And we know what it takes when you get to that level, what's needed to take the next step. And I think it helps we had such a young team last year, that it gives us some motivation, some fuel. And it also shows them that maybe they weren't working as hard as they needed to and that they maybe need to put forth a little bit different type of effort. I think that's what we gained the most from last year."
Last year the Gators set records, but the best may be yet to come.