Teams to watch, Lone Star State bout and more
March, 3, 2009
03/03/09
2:33
PM ET
• There will be a lot of talk about the top of the ticket at this weekend's tournament hosted by the University of Alabama, which features a pair of games between No. 1 Washington and No. 3 Alabama. But Baylor, along with Georgia, will also be on hand in Tuscaloosa, and the Bears are starting to look like a team to watch.
Glenn Moore's team wrapped up a perfect weekend Sunday, albeit against unranked competition in Louisiana Tech, Louisiana-Monroe and Rutgers, and sits at 17-3 overall. A year after the Bears struggled to find quality innings in the circle following Lisa Ferguson's graduation, Whitney Canion is out of the gates quickly in the race for top freshman pitching honors. Canion is 10-2 with 117 strikeouts in 81 2/3 innings, including 15 strikeouts and a win in 13 innings against then-No. 1 Florida last month. To put those numbers in some perspective, last season's staff combined for 192 strikeouts in 306 1/3 innings.
• Houston slipped out of the Top 25 last week, and a month into the season, it's still looking for its second shutout of the post-Angel Shamblin era in the circle. But the Cougars did register one of last weekend's notable results in a 3-2 win against Michigan at the weather-shortened Leadoff Classic. Bailee Lott picked up the win for the Cougars, and with an offense averaging five runs per game against a quality schedule, they still have the tools to help out a pitching staff in rebuilding mode.
[+] Enlarge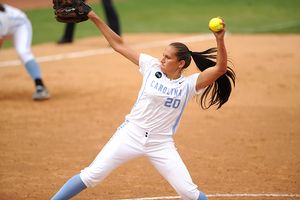 Jeff Camarti/UNC Athletic Communications North Carolina's Danielle Spaulding has struck out 98 batters in 47 innings this season.
Texas A&M visits Houston in perhaps the best midweek offering on the national schedule, with the Aggies fresh off taking two of three from Arizona.
But beyond what should be an intriguing game in the battle for Lone Star bragging rights, it's also the third annual "Striking Out Breast Cancer" game at Houston's Cougar Softball Stadium. Cougar players will wear pink jerseys and batting helmets, which will be autographed and auctioned as part of a silent auction, with proceeds going to the Houston affiliate of the Susan G. Komen for the Cure charity.
For the third time in as many events, Veronica Nordstrom will throw out the ceremonial first pitch to her daughter, Elaina. The elder Nordstrom is a cancer survivor, and in last year's event, Elaina hit a walk-off grand slam against Texas.
• It's not easy to believe (or maybe that's just me who wonders where February went), but North Carolina kicks off ACC play with an important three-game set against Florida State in just six days. That series caps off a run of seven games in five days for the Tar Heels, who play Elon, Georgetown, Michigan State and Princeton this weekend.
The Tar Heels were washed out at the Tennessee classic last weekend, costing them a marquee game against the host Lady Vols, but the team from Chapel Hill has been rolling since a pair of one-run defeats in the opening week. Even the one loss in the interim, a 4-2 setback against Fresno State at the Cathedral City Classic, couldn't stop the Tar Heels for long. Trailing Oregon State a few hours after the Fresno game, UNC rallied for four runs in the top of the seventh and secured a 5-2 win.
That doesn't seem like the sign of a team stuck on last season's postseason disaster, which saw North Carolina go two-and-barbeque on its own field in regionals.
But perhaps it is indicative of a team that knows it can count on its runs to stand up behind Danielle Spaulding and Lisa Norris. The pitchers have allowed just 11 earned runs in 92 1/3 innings this season combined, splitting duties almost exactly equally.
"They're so solid when they go out on the mound," Papa said. "They're two really quality pitchers. They could be starters on any team, the No. 1 on any team. It's just that we have a good complement. And they all like each other and they get along well."
Spaulding, in particular, has been almost unhittable, allowing just 19 hits -- and only four extra-base hits -- in 47 innings, while striking out 98. The Californian throws the ball hard enough, reaching the mid-to-upper 60s in Cathedral City when there was a gun on her, but her ability to move the ball in both the vertical and horizontal planes is what catches the eye.
"My favorite and best pitch is the rise ball," Spaulding said. "I probably throw that 85 percent of the time. … Even when it's not on, I still throw it, just because that's my pitch. I mean, I usually always get a strike with that. That and the curveball is my other go-to pitch."
• And finally, I'm going to try to aggregate the weekly award winners in this space on a regular basis, so we'll see how that goes. For the most recent week of competition:
ACC
Pitcher: Karla Wilburn, Virginia
Player: Sarah Tacke, Virginia
Atlantic 10
Pitcher: Brandice Balschmiter, Massachusetts
Player: Carly Normandin, Massachusetts
Big 12
Pitcher: Rhiannon Kliesing, Texas A&M
Player: Holly Ridley, Texas A&M
Big East
Pitcher: Brittany Gardner, Syracuse
Player: Colby Wherry, Louisville
Big Ten
Pitcher: Kim Reeder, Ohio State
Player: Lindsey Hansen, Michigan State
Big West
Pitcher: Anna Cahn, Cal Poly
Player: Kristin Pocock, Long Beach State; Nicole Matson, Pacific (shared)
Mountain West
Pitcher: Kelli Eubanks, Colorado State
Player: Jessica Camello, San Diego State
Pac-10
Pitcher: Donna Kerr, UCLA
Player: Renee Welty, Arizona State
SEC
Pitcher: Stacey Nelson, Florida
Player: Francesca Enea, Florida
WAC
Pitcher: Mallary Darby, Nevada
Player: Tanisha Milca, Hawaii