Northwestern, Williams happy to be home
March, 19, 2009
03/19/09
1:41
PM ET
Five and a half weeks after they played their first game of the season, the Northwestern Wildcats finally got to practice outside in Evanston, Ill., on Tuesday.
Cast as softball vagabonds, Northwestern spends essentially the first month and a half of every season shuttling to and from Chicago O'Hare International Airport every weekend. For All-America shortstop Tammy Williams this season, that works out to 33 hits, 20 games, five states and a bunch of flight attendant "buh-byes" before the back of her glove first surfed the dirt at Sharon J. Drysdale Field.
[+] Enlarge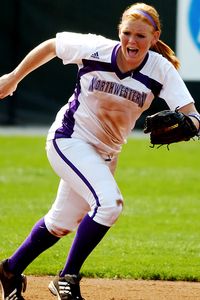 Stephen J. Carrera Tammy Williams has shined away from home this season, but is ready to get back to Evanston.
"Definitely by the end of preseason, you're not really ready to get back on that plane three days after you get off," Williams admitted. "I think our team has done a really good job this year of just coming out and knowing that you're going to get back on that plane, just go play a few games and then you're going to come right back. I think this has probably been the best we've done since I've been here at Northwestern.
"But it's good to be home."
That's where the Wildcats will open the Big Ten season this weekend, weather permitting, of course. And it's not just any series that will ring in the league. Big Ten football has Michigan-Ohio State and basketball has Indiana-Purdue (or at least used to in a meaningful form), but softball is all about Northwestern-Michigan. Last year was the first time in four years that neither made it to the Women's College World Series, and since the event went to a best-of-three final series in 2005, it's the Big Ten -- not the SEC or Big 12 -- that's second to the Pac-10 in both appearances (2) and national championships (1). All thanks to its two heavyweights.
Northwestern and Michigan are the only two programs with winning records in the Big Ten tournament, and they've split first and second place in the regular season three of the past four years.
"I think my freshman year, I knew Michigan was a rival, [but] didn't really understand -- you can't really understand until you're actually there playing against them," Williams said as she readied for her final regular-season rivalry renewal. "And I think every year, they're a great team and it's always a good game. So it's fun to come out and know that you're not just going to blow anyone out of the water."
The Wolverines can count on seeing a heavy dose of Lauren Delaney, Northwestern's junior ace, who has thrown all but 10 of the team's 134.2 innings this season. But Williams and the rest of the Wildcats are preparing for arguably the best one-two punch in the country in Jordan Taylor and Nikki Nemitz. Both Michigan pitchers have terrific strikeout rates and impeccable control, but as might be expected of a 5-foot-7 southpaw from just north of Detroit (Nemitz) and a 6-1 right-hander from just north of Los Angeles (Taylor), they go about earning those numbers in different ways.
"They throw two different styles, and you just have to kind of come in not knowing which one you're going to face because they're both good pitchers," Williams said. "So we're just kind of working this week, knowing we could face both, and maybe we face both. So [it's] just kind of getting in there, getting comfortable and really going for your pitch."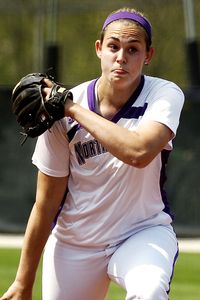 Courtesy of Northwestern Athletics Lauren Delaney has plenty of experience under her belt going into the Michigan matchup.
Williams, whose .493 batting average and 1.323 OPS will surely rank at or near the top of the charts when the NCAA releases the first official statistical leaders next week, is always a key to Northwestern's generating runs. But it's getting tougher to pitch around her. Batting in the No. 2 hole immediately after Williams, sophomore Robin Thompson went 5-for-11 with four runs and a stolen base as Northwestern took three of four against Oklahoma and Tennessee in its last action two weeks ago.
"RT is incredible; she's an incredible athlete. As much as I hate to admit it, she is faster than me," Williams said with a laugh of her partner at the top of the order and on the left side of the infield. "I mean, she has incredible speed. So just adding that to the top of the lineup, just putting that extra pressure on the defense is something that has really elevated our team to the next level this year."
It hasn't been the steadiest season for Northwestern, with wins such as those against Tennessee, Oklahoma and Arizona balanced against surprising losses to Kansas and Long Island, but back on familiar turf against a familiar foe, it's time to start fresh.
• Elsewhere in the Big Ten, likely contender Iowa spends one more weekend out of conference, while Purdue hosts Wisconsin and Minnesota visits Indiana. But if early scheduling is one reason Michigan-Northwestern won't definitively decide the conference race, another reason is down in Columbus, where Ohio State debuts a renovated Buckeye Field in its home opener against Michigan State.
Ohio State coach Linda Kalafatis earned career win No. 700 last week, and this year's team needed just 23 games to reach 20 wins, the quickest ever to that benchmark.
Kim Reeder and Lindsay Bodeker are splitting the load in the circle with equally impressive strikeout-to-walk ratio (combined 30 walks in 121.2 innings), but one big difference this season is the power at the plate. Sam Marder is up to her usual tricks, but it's going to be more difficult for league opponents to call for intentional walks this time around. Last season, Marder had 23 of her team's 67 extra-base hits. This season, her teammates already have 47 extra-base hits, paced by Courtney Pruner (.656 slugging percentage) and Tory Haddad (.673 slugging percentage).
Washington's Ashley Charters got all the ink for coming back from hip surgery, but Pruner's return from the surgery that kept her out of action last season has been equally instrumental in her team's success.