LSU's Hofer ends career on high note
April, 29, 2009
04/29/09
2:52
PM ET
Leave it to a person who wants to pursue a future in marketing to find the appropriate spin to put on one bright moment in a season and a career cut short by injury.
And leave it to Dani Hofer to make sure her final pitch was a strike.
The only senior on LSU's roster this season, Hofer was honored before Sunday's home finale against South Carolina, as so many seniors around the country have been over the past few weeks. But the photo op with her parents and coach Yvette Girouard before the game wasn't the end of the celebration. Unable to play this season because of a career-ending wrist condition, Hofer stepped into the circle to start the game and threw one pitch before giving way to junior Cody Trahan. Fittingly, Trahan inherited an 0-1 count.
[+] Enlarge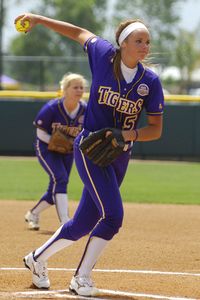 LSU Athletics Dani Hofer threw one pitch her senior season but made it count.
"It was the first time I was actually able to step on that side of the field and have the fans behind me and just be a part of the team on the field," Hofer said. "So it felt amazing.
"It's been an honor to be here for four years, so it's a good way to go out, I guess."
By the end of her sophomore season in 2007, Hofer had emerged as one of the best pitchers in the nation. The first prep player from east of the Mississippi to win Gatorade National Player of the Year honors, she went from Florida to LSU accompanied by sizable expectations. And as one of three pitchers on last season's ESPN.com preseason All-America team, keeping good company with Angela Tincher and Katie Burkhart, she seemed well on her way to living up to the advance billing and potentially leading the Tigers back to Oklahoma City.
But after battling a wrist injury throughout her junior season -- she still managed to grind out a 19-8 record with a 1.88 ERA, including a win in an NCAA tournament elimination game against East Carolina -- she underwent offseason surgery. When pain persisted and slowed her rehab, she eventually was diagnosed with Reflex Sympathetic Dystrophy, a condition in which, according to the Reflex Sympathetic Dystrophy Syndrome Association Web site, "nerves misfire, sending constant pain signals to the brain."
Between the pain associated with pitching and the risk of doing permanent damage to the wrist, Hofer had to hang up her spikes months earlier than she had hoped.
Asked by Girouard to lend whatever leadership she can from the sideline, Hofer has watched and offered advice as Trahan and freshman Brittany Mack have assumed great responsibilities in the circle and kept the Tigers in the hunt in an SEC as deep as it's ever been.
"Cody's definitely had to step up and take over the leadership on the mound, and I feel like she's done a great job," Hofer said. "She didn't know that she'd have to do that this season, so I feel like she's done a great job kind of taking over that role. And with Brittany Mack, at the beginning of the year, no one thought she was even going to throw this season because they thought I'd be out there throwing too."
But back in the circle Sunday, she found herself once more in the mindset of an ace.
"I felt like I stepped on the mound to throw a whole game," Hofer said. "My dad was joking with me; he was like, 'It seemed like you were going back to throw another pitch instead of just handing the ball off.' I didn't realize that I did that, but I probably did. You just kind of get into a groove, and it just seemed so natural for me to be out there throwing that I didn't really just want to throw one pitch."
• An abbreviated look at some of the weekend's big games:
Dartmouth at Cornell
(Best-of-three series)
An NCAA tournament bid is on the line in the Ivy League championship. The Big Red have dominated the league and have 40 wins overall but split with Dartmouth on the road.
Portland State at Loyola Marymount
(Four games)
If Portland State wins two, it will win the Pacific Coast Softball Conference title and an NCAA tournament bid. If Loyola Marymount wins all four, it will still be alive for the same, depending on how Sacramento State and San Diego fare.
Ohio State at Northwestern
(Two games)
Northwestern ace Lauren Delaney has been charged with 24 walks in her past 14.1 innings, but she can just as easily take away what she gives when she's on.
Iowa at Michigan
(Two games)
The Wolverines have managed just eight earned runs in 40.1 innings against Iowa ace Brittany Weil during her stellar career.
Alabama at Tennessee
(Three games)
Will we see more of Jessica Spigner in the circle after the super freshman's five innings of one-hit relief against Georgia last week?
Louisville at Notre Dame
(Two games)
Notre Dame could use at least a win for extra bubble insurance, and Louisville is still in the running for a seed in the NCAA tournament.
Morehead State at Jacksonville State
(Three games)
Jacksonville State is looking at a solid at-large profile, but with a three-game lead on the team visiting for three games this weekend, it would be nice to wrap up hosting chores for the conference tournament.
BYU at San Diego State
(Three games)
A starter in all 10 league games so far, Aztecs freshman Felicia Reifschneider is hitting .077 -- with a .400 on-base percentage. Nifty.
Arizona at Stanford
(Two games)
Stanford is 1-8-1 against Arizona thus far in Missy Penna's career (although she's not on the hook for all those decisions). Can Stanford, sixth in hitting in conference play, give its ace enough run support to change that?
Arizona State at California
(Two games)
Only Oregon has allowed more unearned runs than California in Pac-10 play. A win or two this weekend would do wonders for Cal's NCAA tournament seeding hopes.