Nelson leaves lasting mark on Florida
June, 3, 2009
06/03/09
2:03
AM ET
OKLAHOMA CITY -- In the end, Stacey Nelson did exactly what anyone who had watched her for the past four seasons would have expected her to do at her career's low point.
Seconds after her college career came to an abrupt and unsatisfying end with a loss to Washington in the Women's College World Series championship series Tuesday, Nelson, along with teammate Francesca Enea, comforted Ali Gardiner, the senior who had struck out to end the game.
[+] Enlarge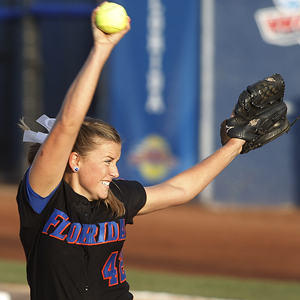 AP PhotoEnjoy seeing Stacey Nelson's No. 42 -- Tim Walton said it won't be worn by another under his watch.
Pitching is an ego business, especially in big-time college softball, in which the ace pitches almost every game and her name is the only one that gets a loss attached to it in the box score. But Nelson, always quirky, never seemed interested in staring down hitters, pouting about strike zones or generally playing the diva.
She just pitched. And won. A lot.
Before this season, Tim Walton recounted how, when he first started working with Nelson (who had been recruited before he took the job in Gainesville), he immediately knew she was a tremendous, fun-loving person. He didn't know whether she was a great pitcher. Four seasons later, he has no doubts on either count.
"Obviously, No. 42 won't be back for us next year," Walton said. "We will feel that because not only is she a great pitcher, but she is also one of the most outstanding people you will ever meet. I already told her this, but there will not be the No. 42 worn in the sport of softball as long as I'm the coach there. She just meant that much to our program, and we would have not been here in the last two years without this young lady."
Among the top 10 in wins in NCAA history, Nelson deserves a place in the game's lore. Unfortunately, Florida's exits short of a championship the past two seasons place her in an elite group of players who weren't able to cap All-American careers with success in Oklahoma City -- alongside aces such as Cat Osterman, Monica Abbott and Angela Tincher, of recent vintage.
But as with each of those pitchers, the sport is better for having had Nelson. And true to form, she seemed to appreciate that she was better for it, regardless of the past two days.
"Losing sucks, especially on this stage," Nelson said. "It's the things that you have learned playing the game that you really take into the rest of your life. And I am not going to remember -- well, I will remember that we came in second, but what I am going to remember are the 20 great girls that I had on my team, playing with them for four years, building the best relationships I've ever had, playing for a coach like Tim Walton.
"There's a lot of pain that comes with this loss, but I'm always going to remember my time at Florida as the best time of my life."
Now, like Texas after Osterman, Tennessee after Abbott and Virginia Tech after Tincher, Florida must move on. Unlike each of those programs, it will be a mild surprise if Walton's team isn't back here next season, even if it has to suffer through a season with double-digit losses like everyone else. There is a clear plan of succession in the circle, where Stephanie Brombacher will enter her junior season undefeated as a college pitcher.
More importantly, there is a coach who has stocked his roster with more talent than a lineup card can hold. Gardiner, Kim Waleszonia and all of the seniors will be missed for what they brought to the team. But from a coldly analytical perspective, the Gators have replacements ready at every position.
If Brombacher is even good -- and there's reason to think she can be great -- she should have all the support she needs from a lineup that will include Enea, Aja Paculba, Kelsey Bruder and Megan Bush, in addition to expanded roles for players such as Alicia Sisco and Michelle Moultrie.
Walton likes to keep his program insulated from the media and the outside world, but he's going to have to continue putting up with prying eyes. As long as he's around, Florida isn't a program that's going to slip off any radars.
• The whole debate about the SEC and the Pac-10 strikes me as a little pointless. Clearly, the Pac-10 has more championships and isn't going to exit the stage in Oklahoma City anytime soon. And anyone suggesting the SEC has surpassed it is out of their minds. But at the same time, anyone who suggests that just because the SEC hasn't won a national championship, it's somehow inferior is almost equally out of their minds.
Florida missed out on the SEC's best chance to date to add a title to its résumé. But the most basic truth is the SEC and Pac-10 are two really good leagues. As softball fans, it seems like savoring that ought to have more value than worrying about which one is best.
The only "best" that really matters is the team title Washington earned Tuesday.