North Carolina is starting season on right path
September, 7, 2009
09/07/09
7:39
AM ET
SOUTH BEND, Ind. -- Perhaps No. 1 North Carolina isn't invincible, but any margin for error against the top-ranked team is increasingly miniscule. Against No. 2 Notre Dame, it lasted 23 seconds.
In less time than Sylvia Hatchell's basketball Tar Heels might take to get off a shot, Courtney Jones put home a cross from Tobin Heath in the opening minute of North Carolina's eventual 6-0 rout of the Fighting Irish on Friday in the first women's game at new Alumni Stadium.
7-2 and 6-0.
[+] Enlarge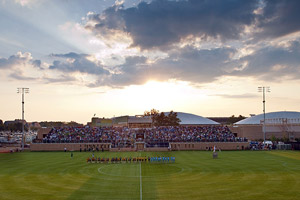 Courtesy of Notre Dame Athletics Notre Dame's Alumni Stadium is a sight to be seen.
Those are the scores North Carolina has posted against first UCLA and now Notre Dame.
Independent of each other, either result might be an anomaly; they certainly don't spell the end of either losing team's season. But those two score lines against those two teams make it easier to envision this North Carolina team as one of historical consequence.
"You're always afraid to talk about that because this game is so bizarre," North Carolina coach Anson Dorrance cautioned after Friday's game. As if on cue, the Tar Heels then dominated possession against Marquette on Sunday but needed a phenomenal second-half shot from freshman Alyssa Rich to escape with a 1-0 win.
But against the best teams, the Tar Heels already show a gear no other team possesses.
"I think what we're trying to do is we're trying to play the game as fast as we can," Dorrance continued. "And obviously the role models we're given are the [English Premier League] teams. I mean, they play at a pace that is just unfathomable.
"We've gotten our kids to watch the EPL a bit, and I think they can get a sense of what the potential of the women's game is. That's our standard. We want to play as fast as Arsenal and some of the top teams in the world, and I think at times we do. And obviously, there's no comparison -- I don't pretend that we would ever be on the field with a team of that caliber. We are trying to play at that speed; we're trying to play the game at a sprint."
• Time and again during the weekend, North Carolina's Whitney Engen showed why, in my mind, she's the best defender in the country. She's also a relative newcomer to the back line in college, having played forward her first two seasons in Chapel Hill. Might Lauren Fowlkes, a midfielder far more often than a member of the back line in her first two seasons at Notre Dame, follow a similar path to becoming one of the game's best defenders?
Fighting Irish coach Randy Waldrum is still in full tinkering mode while looking for the right fits to replace players such as Kerri Hanks, Brittany Bock (who represented the alumni in the stands Sunday), Carrie Dew and Elise Weber. And while there are no guarantees the lineup next weekend against Santa Clara and Stanford will look the same as it did Sunday, he seemed to find something worth trying again with Fowlkes at center back and familiar defender Jessica Schuveiller pushed forward into the midfield.
"I thought it was much better today for all three of those," Waldrum said of Fowlkes, Schuveiller and defender Hayley Ford. "They're all three key people for us, but the question is how do you get those three good players on the field that's going to be the best for you. And I think in some instances, we're still trying to find out way in some positions."
Like Engen, Fowlkes is physically gifted, mentally tough and relentless. And if she finds a home anchoring the back line, one need only look at the Tar Heels to see the impact it could have.