USC seniors solidifying spot in water polo history
December, 3, 2009
12/03/09
11:37
AM ET
Amassing a 98-7 record over the course of a collegiate career is an accomplishment in itself for any student-athlete. But that record isn't enough for the seniors on Southern California's men's water polo team.
As their final season as Trojans comes to an end this weekend, the senior class, led by Olympian J.W. Krumpholz, will try to become back-to-back NCAA champions. With two wins in the NCAA tournament, the class would reach the 100-win mark and secure a second straight national championship.
Three seniors -- Krumpholz, Shea Buckner and Matt Sagehorn -- were recently named to the All-Mountain Pacific Sports Federation teams. Krumpholz, who won a silver medal as a member of the 2008 U.S. Olympic water polo team, was named to his second straight All-MPSF first team. Buckney and Sagehorn were named to the All-MPSF second team and honorable-mention list, respectively.
[+] Enlarge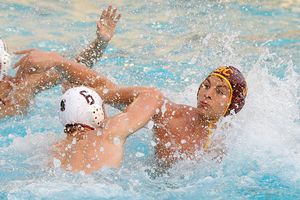 Courtesy of USC Sports InformationJ.W. Krumpholz and USC hope to repeat as men's water polo national champions on Sunday.
"We have tough players that hate to lose," coach Jovan Vavic said. "J.W. has really carried the team. His work ethic is absolutely outstanding."
The Trojans begin their quest to repeat as NCAA champions Saturday against Princeton. The four-team NCAA tournament also includes UCLA and Loyola Marymount. All games will take place in Princeton, N.J.
The top-seeded Trojans finished the season 24-2 (8-0 MPSF) and are looking for their third championship in the past five years.
The Trojans' success has not come without adversity. Last year, redshirt junior Kyle Wooten was seriously injured while diving into a pool.
"He was goofing around and landed awkwardly," Vavic said. "Luckily he didn't get paralyzed, but it was very close."
At the time of the accident, Vavic was recruiting in Europe, but all of Wooten's teammates went to the hospital to show their support. Wooten is now back with the team, but is primarily a leader outside the pool.
"Kyle is one of those guys who helps the team with organizing and, in some ways, is the emotional leader."
As his team prepares to defend its championship, Vavic's biggest concern is complacency.
"When you win so many games, it is difficult to keep them hungry," Vavic said. "Sometimes we didn't work hard enough and we just went through the motion, and I didn't allow that. There's nothing that's a sub for great desire."
Vavic attributes his recruiting successes to the location of the university. Southern California, especially Orange County, is loaded with talent, Vavic said. Of the 41 athletes on the current roster, 33 are from California.
USC has the experience of having played each of the teams in the NCAA tournament in the regular season. The Trojans beat Princeton 14-3 on Oct. 9 and beat Loyola Marymount 11-6 on Sept. 6.
The Trojans split their four regular-season meetings with rival UCLA; three of the four games were won by a one-goal margin. The Bruins won the most recent matchup 10-6 in the MPSF semifinals on Nov. 28.
"The senior class is special and has been carrying the team the last three years," Vavic said.
And with two more wins, the Trojans' senior class will solidify their spot in water polo history.