Notre Dame falls at the hands of UNC again
December, 5, 2009
12/05/09
12:46
AM ET
COLLEGE STATION, Texas -- Notre Dame reached the College Cup in each of the past four seasons. Four times coach Randy Waldrum looked to follow up on the national championship he won in 2004 and thereby lift the Fighting Irish to a place only one program has ever gone in winning more than two national titles.
All four times the Fighting Irish came up short. Three times Waldrum came up against that aforementioned program. And all three times North Carolina came away with one-goal wins, the most recent was Friday's 1-0 semifinal result.
[+] Enlarge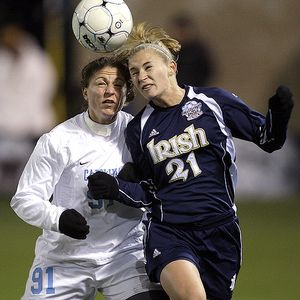 AP Photo/Bob Levey Notre Dame fought but couldn't pull off a win against North Carolina in the College Cup on Friday.
Since 2006, Notre Dame is 2-1 against North Carolina in settings other than the College Cup. It is 0-3 over that same span in that most meaningful setting.
In truth, this was never going to be the year the Fighting Irish solved their College Cup jinx against the Tar Heels. Waldrum's team is young, and if the early-season 6-0 home loss against North Carolina was a misleading score, it wasn't by much. Getting the pieces to match the puzzle well enough to make a fourth consecutive trip here was an accomplishment of its own, and arguably Waldrum's best coaching job in South Bend.
And he wasn't beating around the bush about the would-have-been or could-have-been aspects of a semifinal that remained scoreless until the final minutes.
"They deserved to win tonight," Waldrum said of the Tar Heels in a refrain he reiterated with some feeling more than once. "They were clearly the better team tonight."
Waldrum also went on to say that North Carolina remains the standard every program is trying to reach. But that's not quite the same thing as saying his program should be judged against the standard of North Carolina's entire history. The three one-goal losses in the past four years are distinct from all the titles North Carolina won before.
"I don't want you guys to write this in a negative way because it's not negative, but I'm not sure there's not a lot of other teams in the country now that are equally as good," Waldrum said of the North Carolina program. "I think you've got to look to look at Carolina in the first 20, 25 years of what they've done, and I think you look at Carolina in the last 10 years -- or five or six years or whatever the case may be -- and I think you've got a lot of teams that can boast of a lot of success against them in the last few years.
"They're always going to be good; they're always going to win and compete for national championships. But I think there's a lot of good programs in the country, and because of their history, we'll always -- everybody will always be kind of judged against that."
But in Waldrum's eyes, the gap has closed to the point where North Carolina's history -- ancient and more modern -- doesn't necessarily offer a road map for a future that begins next season with a team loaded with returning talent.
"I thought then, in the early years I was [at Notre Dame], back in the late '90s and the early 2000s, I thought they were clearly better," Waldrum said. "I just thought the gap was still pretty large. We didn't have the depth to compete with them. I thought we had probably, you know, 11, 12 players that could compete. But if it had to go deeper -- which you have to go deeper against Carolina because they use so many different players -- I felt the gap was a lot larger then.
"But I think our history has been great with them the last -- probably since about 2006. I think our kids at that point have realized that they can compete with them."