Alabama rebuilds its batting order
February, 8, 2010
02/08/10
6:16
PM ET
It's time to take a quick tour -- two by two this year -- through some of the best teams out there.
No. 5 Alabama
[+] Enlarge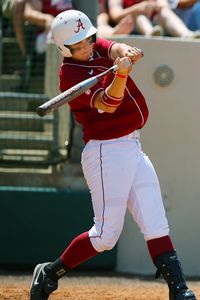 Alabama Athletics for ESPN.comPlayer of the Year candidate Charlotte Morgan could see action at first base, pitcher or designated player.
Crimson Tide fans won't soon forget last year's seniors. Kellie Eubanks, Ashley Holcombe, Kelley Montalvo, Lauren Parker and Brittany Rogers might have fallen short of bringing Alabama -- and the SEC -- its first national championship. But following in the footsetps of legends like Kelly Kretschman and Stephanie VanBrakle, the quintet cemented the program's place as a giant in the sport and one of the toughest tickets in Tuscaloosa.
But forgive Alabama fans if they push those names at least temporarily to the back of their minds; it's going to take some frontal-lobe space to follow the new team.
Alabama coach Pat Murphy can commiserate.
"We're really not even close for a cemented lineup because we lost so many kids," Murphy said in late January. "And [the graduated players] have been there -- like Brittany was the leadoff for four years -- so we've just got to pick and choose. We could have a different lineup 50 games probably. Whoever is hot or whoever is doing what they need to do, that's probably who is going to be in there."
What the five seniors meant to the team can't really be completely quantified. But we can give it a shot: 241 hits, 62 extra-base hits, 153 RBIs, 197 runs, 97 steals.
The extra-base hit mark represented 39.7 percent of the team's total -- and that was the smallest percentage of the team's totals among those five stats.
So why is Alabama still championship material and the No. 5 team here, a ranking actually lower than both official preseason polls? Because Murphy didn't stop recruiting when last year's seniors signed on, and all those lineup options he talks about are as much a sign of abundance as apprehension.
The Crimson Tide still have returning ace Kelsi Dunne in the circle and Player of the Year candidate Charlotte Morgan to pencil in at first base, pitcher or designated player. They also have Cassie Reilly-Boccia, who tied Morgan and Montalvo for the team lead in on-base percentage and led the team with 16 doubles. They still have Jazlyn Lunceford, whose grand-slam heroics in the World Series didn't come of nowhere, but instead out of a 1.075 OPS in part-time duty. And they still have Jennifer Fenton, who trailed only Morgan in batting average and Rogers in steals.
And with freshman Courtney Conley, one of a number of expected contributors in the incoming class, they have someone who sounds a heck of a lot like those who just left.
"I think mentally she is very, very good, very mature," Murphy said of Conley. "Her confidence is very good. She's one of those freshmen that, when people come to watch us, they don't believe she's a freshman. And that's what you love to hear as a coach. So she's ahead of the game in that respect. She carries herself very well. She treats it like it's her profession and she does a really good job. She works really hard. She knows she's got things to work on but she's just very prepared.
"You'll see the lights on [in the batting cages] and she's out there by herself. That's pretty good as a freshman."
No. 6 UCLA
After exiting the NCAA tournament before the World Series, formerly a place that seemed the program's birthright, in two of the last three seasons, UCLA may benefit from entering a season with at least a passable opportunity to play the "doubt" card.
On talent alone, it's difficult to argue against the Bruins. They ranked ninth in the NCAA in runs per game last season, third in slugging percentage and backed up that lineup with their best fielding numbers of the decade (the latter an especially noticeable improvement on recent seasons). They return all but one player from that mix, and as good as Amanda Kamekona was, getting Samantha Camuso back after a shoulder injury kept her out all of last season effectively negates even that loss.
And while the Bruins barely cracked the top 50 in team ERA last season and have just two shutouts in their last 17 NCAA tournament games, pitching looks like a potential strength with the additions of Washington transfer Aleah Macon and freshman Destiny Rodino. But now the Bruins need to prove the sum is equal to the parts.
Graham Hays covers softball for ESPN.com. E-mail him at Graham.Hays@espn3.com.