Freshman pitchers show promise
February, 10, 2010
02/10/10
10:15
AM ET
A child shall lead many of them. The question is how far?
A season ago, offenses threatened a coup in college softball. The nation's two best pitchers, Danielle Lawrie and Stacey Nelson, eventually quieted the unrest in leading Washington and Florida, respectively, to the final series in the Women's College World Series, but they were largely exceptions to the rule.
Georgia, Arizona and Arizona State reached Oklahoma City on the strength of potent lineups and passable pitching. North Dakota State and Jacksonville State made surprising runs to super regionals by slugging their way past traditional powers with too many pitching questions in Oklahoma and Tennessee, respectively. And on and on it went.
If 1816 has come down through history as the year without summer, 2009 was softball's year without aces.
Enter a freshman class that brings with it not just way too much to fit in an average dorm room, as most freshmen do, but the potential to restore pitching primacy.
Half of the top 10 teams in the ESPN.com/USA Softball preseason poll will likely feature a freshman pitching significant innings, if not serving outright as a de facto ace.
[+] Enlarge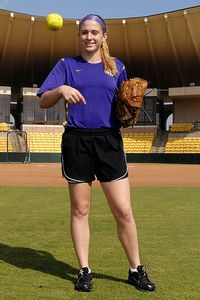 Steve Franz, LSU SIRachele Fico is no stranger to national attention, but the collegiate stage is something entirely new for the pitcher.
Among the most prominent new faces are Arizona's Kenzie Fowler, Oklahoma's Keiliani Ricketts, California's Jolene Henderson, LSU's Rachele Fico, Stanford's Teagan Gerhart and UCLA's Destiny Rodino. But they aren't alone. Programs just outside the rankings should get lifts from freshmen pitchers, such as Brittany O'Donnell at Notre Dame, and even programs well set at the top of the rotation, Alabama and Florida among them, should get lifts from talented newcomers.
All of which means either history is about to change or Oklahoma City is going to be without a lot of familiar teams come the last week of May.
Not since UCLA's Amanda Freed earned a save against Washington in 1999 has a freshman been the last pitcher in the circle for a championship team when it clinched the title. Even getting to the Women's College World Series is a challenge. Cat Osterman and Monica Abbott did it in each of their final three seasons with Texas and Tennessee, respectively, but not as freshmen. Jennie Finch made the trip with Arizona but lost her only start in Oklahoma City.
It seems pitching in the environment that top programs inhabit in college softball is a whole new game, even for the most gifted of prodigies.
"It's a lot different because I really have to hit my spots more, because when I make one mistake it can be a huge difference," Ricketts said, summing up of the on-field challenge.
Ricketts, the EA Sports/ESPN RISE National Player of the Year last season at Archbishop Mitty High School in California, has an edge some of her peers might not when it comes to knowing what's ahead. Her older sister, Stephanie, is currently a pitcher at Hawaii and another, Samantha, is beginning her first season as a graduate assistant at Oklahoma after wrapping up one of the most prolific offensive careers in Big 12 history for the Sooners.
The siblings have talked to her about what she needs to to do to stay on top of her academic work while missing classes for travel and games. And they've talked to her about the difference between top-level travel ball and its college equivalent, something she got a taste of in fall practice and the exhibition games teams play before the onset of winter. But even with the forewarning, there is really no substitute for living through it, especially in the circle.
"I think the mental part of it is the biggest jump for most kids," Alabama coach Pat Murphy said. "They can mow over a high school team pretty easy, I think. They've got to worry about the first three hitters, and then after that, they can basically take a break and just throw stuff by people. And that's not going to happen in college."
Murphy has a talented freshman of his own in Lauren Sewell. With a returning ace in junior Kelsi Dunne, as well as a proven winner in Charlotte Morgan and a promising sophomore in Amanda Locke, he also has the luxury of bringing Sewell along at a gradual pace.
He'll generally throw a freshman into the fire in the fall, stacking a lineup against her in scrimmages to let her get a taste of how deep a college batting order can be, but he prefers to pick and choose advantageous matchups in the spring to establish a sense of success and build up confidence.
The flip side of that, as Murphy acknowledged, is seeing how a pitcher deals with the adversity, a test likely to come sooner rather than later for any freshman asked to fill a significant role.
Now one of the best pitchers in the world and one of the newest members of Team USA, Eileen Canney helped lead Northwestern to the final series in Oklahoma City as a junior in 2006. A two-time winner of Big Ten Pitcher of the Year, she was immediately successful in college, winning freshman-of-the-year honors in the league and striking out 194 in 174.2 innings. But the second game of her college career, a start against Kansas, stands out for less pleasant reasons.
"I got completely rocked," Canney said. "I gave up, I think, like three our four home runs. It was absolutely terrible; I couldn't even make it out of the inning. So from that point on, I had experienced a really bad situation. But it was like that was my turning point. From that point on, I knew that I had to kind of turn the switch, take it up a notch and be better. Make sure I didn't have any misses because against these college teams, you can't really afford as many misses as you can get away with sometimes in high school, especially being a power pitcher.
"But I personally believe as hard as failure is, that is one of the best ways to learn what you are capable of doing and to be better in the end."
Canney gave up five runs in the first inning of that game, but she didn't come out. She kept throwing, giving up four more runs in the fourth inning and two more in the fifth before the mercy rule finally kicked in. In her next start, she allowed just two earned runs in 6.2 innings and struck out seven in an upset win against No. 8 Stanford.
At some point, something similar will happen to all of this season's wunderkinds. How they deal with it in the moment and how they put it behind them once the moment is over will go a long way toward determining what they'll be able to offer their team in a setting like the postseason.
"I think the important thing is that [a freshman] has got to learn how to finish a game," Kentucky coach Rachel Lawson said. "I think too quickly coaches bring in a freshman and when they get in a little bit of trouble they pull them out, they bail them out. And I think learning how to close a game is just as important as learning how to throw a great curveball or something.
"So I think to bring them along, they're going to have to get some confidence. And the only way that they can do that is, one, to be able to pitch in big-game situations and, two, to be successful in learning how to finish. And that's a fine line. You don't want them to stay out there and just get beat up and lose confidence that way. So you have to have an intuition for what they can handle and what they can do."
These are, after all, mostly 18-year-old kids. As Canney pointed out, by the time softball season arrives, they've had a long time to work on mechanics with the best pitching coaches out there and sweat through the demands of strength and conditioning coaches. So as much as adjusting in the circle is a challenge, it is in some ways perhaps the easier part of the equation. Away from home, overwhelmed by classwork or tempted by newfound freedoms, freshmen are, well, freshmen.
"I was kind of nervous about coming in here and making friends and stuff, but everyone here has been really great," Ricketts said.
Let the journey begin.
Graham Hays covers softball for ESPN.com. E-mail him at Graham.Hays@espn3.com.