Huskies poised to defend title
February, 12, 2010
02/12/10
11:31
AM ET
No. 1 Washington
For more on what makes the defending champion the favorite to become the first team to defend its title with the same No. 1 pitcher since UCLA with Keira Goerl in 2003 and 2004 -- and the first program other than UCLA and Arizona to win back-to-back titles of any kind -- check out the second of five burning questions for the 2010 season.
No. 2 Michigan
[+] Enlarge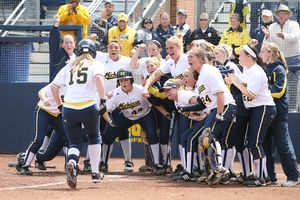 Courtesy Jon LeFaive/Wolverine Photo Michigan looks to be a contender again this season.
"All things being equal" is not a phrase many teams at this level of national contention have much use for when it comes to pitching. Depth in the circle is nice from February through about Memorial Day -- although as Washington, Arizona State and Arizona proved the last three seasons, it's far from a necessity for teams intent on winning a championship. But by the time the season culminates with the World Series, there haven't been a lot of examples in recent seasons of teams still splitting innings on a one-for-one basis.
Then there's Michigan, which alternated starts between Nikki Nemitz and Jordan Taylor all season, including regionals, super regionals and all three games in Oklahoma City. By the end of the season, Nemitz had made 40 appearances with 30 starts and Taylor had made 38 appearances with 29 starts. The two were separated by just 25 innings (215.1 to 190.1), 21 strikeouts (306 to 285) and roughly 3/10ths of a point in ERA (1.07 to 1.40).
They also came on in relief of each other on 20 occasions, giving coach Carol Hutchins both the blessing of the most balanced elite pitching staff in the country and the curse of easy second-guessing.
"I'm the only one that makes the decision without knowing how the outcome's going to be," Hutchins said during last season's super regional. "And everybody watching it gets to judge it. But you go with -- I don't ever make that decision in a vacuum. I sit right next to [pitching coach Jen Brundage], and she calls the pitches, so I know when those pitches are working and when they're a little flat. Jen calls a pitch, and I watch my pitchers react to everything, whether it's what's called or what happens on the mound. The first thing I watch is their reaction. So I look to see if I feel they're confident or they're getting uptight -- the things that occur in the game that really only you know because you work with those kids every day. And then ultimately, just go with your gut. And I've learned over the years, better to make it too early than too late."
It doesn't hurt that in addition to being easy to distinguish in any number of superficial ways -- Nemitz is the 5-foot-7 local product from Michigan who hits, while Taylor is the 6-foot-1 California import who doesn't need a bat -- the two offer Hutchins two completely different looks. Despite her size, Nemitz is a power pitcher who thrives up in the zone, while Taylor is the one who fools hitters, her long release point giving them even fewer fractions of a second to pick up spin and location.
There are other teams, like Alabama, that spread the innings around throughout the season and postseason. There are even others, like Florida State, that do it on essentially equal footing. But nobody has done it quite as well over the past two years as Hutchins. Because while equal footing seems like it ought to be the most natural of states, it's not the easiest thing to pull off with a pair of pitchers.
"We get on each other's nerves sometimes," Nemitz said last spring. "We're always together -- pitchers are always together. If you were with someone all the time, you'd get on their nerves. But it's great, because she's a great person, a great girl, hilarious. We mesh well. And if people butted heads, I don't know if it would work out as well."
Graham Hays covers softball for ESPN.com. E-mail him at Graham.Hays@espn3.com.