Arizona notches impressive start
February, 15, 2010
02/15/10
8:39
PM ET
TEMPE, Ariz. -- Arizona freshman pitching sensation Kenzie Fowler's official collegiate debut came Friday in a one-hit, eight-strikeout, five-inning shutout against Purdue. But that was only a soft launch compared with Saturday morning's starting assignment against Northwestern.
Arizona and Northwestern, the two programs that played for the national championship in 2006, have played in February in each of the past six seasons, the past five times at the Kajikawa Classic. The games usually live up to the high-profile billing (the past four have been decided by a total of seven runs, with each team winning twice), and this season's encounter proved no exception when Arizona All-American Brittany Lastrapes delivered a walk-off, two-out, full-count, game-winning hit in a 4-3 win.
[+] Enlarge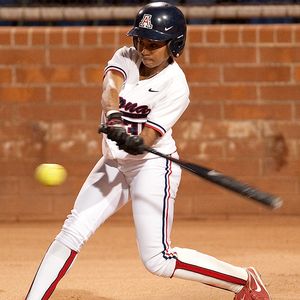 Luke Adams/Arizona AthleticsBrittany Lastrapes delivered the game-winning hit in Arizona's 4-3 win over Northwestern at the Kajikawa Classic.
The results also seem to indicate Arizona won't be duplicating last season's mediocre 2.98 team ERA again anytime in, say, the next four years. Like her counterpart Saturday, Northwestern's Lauren Delaney, Fowler struggled some with control and some more with a strike zone that stayed still about as long as a 6-year-old on a Halloween sugar rush. But by the end of the game, she had 18 strikeouts and watched two of the three earned runs with which she was charged bounce off Lastrapes' back and over the wall for a fluky home run by Michelle Batts in the fourth inning (then again, Batts hit a total of five home runs in five games this weekend, so perhaps she earned softball's version of a shooter's roll in basketball).
"That was a great game to be able to go through early in the year for her," Arizona coach Mike Candrea said of Fowler. "Those are the type of games you have to win, and I told her, 'That's what Pac-10 games are all about, so you've got to get used to it.' But she understands there are good walks and there are walks and then there's walks that aren't good."
Candrea and Fowler talked for several minutes in the outfield after the game, walking a few steps, stopping and talking some more. He said later that she remains a work in progress, but as much as he ever betrays any emotion, you get the feeling it's work he's going to enjoy.
"I think the thing I like about her is she's very level-headed, doesn't overthink and just enjoys playing the game," Candrea said. "I think she's got very, very good composure on the mound, where our kids like playing behind her. So that demeanor, I think, is a huge thing. Sometimes that takes forever to get out of young kids, but she's got it. She's used to having the ball and having the ball in big games, and she embraces that. She doesn't sit around and worry about it."
Fowler was impressive, but she nonetheless appeared headed for her first loss until her teammates rallied to score three runs in the seventh against Delaney. After opening the season with a no-hitter against Cal State Fullerton, Northwestern's ace surrendered only a Lastrapes double through the first six innings of her second start. But two walks and a hit by pitch, as well as a strikeout and a force at the plate, set the stage for the walk-off drama.

As good as Northwestern's lineup is, the team's fate in terms of championship contention realistically rests with Delaney. That's a lot of pressure for one player, but that's the lot of a senior who, when she's on, can be as untouchable as any pitcher this side of Danielle Lawrie.

"Lauren pitched [against Fullerton] like she's been pitching the last four months, and that's with great focus, really great work ethic," Wildcats coach Kate Drohan said after the no-hitter. "And I just see some really great things with her in practice and what she's doing away from the games that really showed nicely [Friday]."

To that end, the finish against Arizona deserves to be placed within the context of the weekend. In addition to the no-hitter, Delaney bounced back from Saturday's disappointment to post a remarkably effective line in the finale (albeit in a 2-1 loss against Creighton). She needed just 89 pitches, 63 of them strikes, to get through seven innings of one-hit ball against the Bluejays.

Drohan said the coaching staff, specifically pitching coach Tori Nyberg, worked with Delaney in the offseason to simplify her mechanics and simplify "everything." She's not going to have pinpoint control, but if she can get back in range of the 2.6 batters per seven innings she walked as a sophomore, it's going to be difficult for opponents to finish the job with their bats.

Graham Hays covers softball for ESPN.com. E-mail him at Graham.Hays@espn3.com.