Kentucky's Smith savors final season
February, 17, 2010
02/17/10
11:58
AM ET
TEMPE, Ariz. -- The Kajikawa Classic is one of the tournaments where the softball season begins each year, which means in turn that it's also where softball careers begin to end.
[+] Enlarge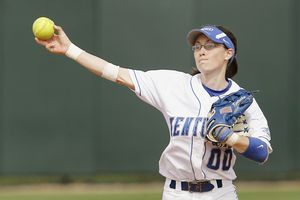 KU Media Relations for ESPN.comKentucky's Natalie Smith is a .318 career hitter with just 38 strikeouts in 509 career at-bats.
Welcome to Kentucky senior Natalie Smith's world.
For Kentucky, the weekend brought a signature win against Arizona State and a successful start to a potentially special season. For Smith, an Arizona native, it offered a chance to pass 'Go' one more time, and if not collect $200, then perhaps at least some laundry money.
"The first game I had not only direct family here but I had a lot of extended family, friends," Smith said of a 5-2 win against the Sun Devils, only the Pac-10 power's third nonconference loss at Farrington Stadium since the start of the 2006 season "It was really nice to just win in front of a home crowd. It felt really good to beat ASU; I'm not going to lie. I grew up watching them, so coming here, that was who we were gunning for and it was really exciting."
The coffehouse-chic glasses she wears on softball diamonds more familiar with brightly colored ribbons or glittered headbands help, but Smith seems the sort capable of wrapping her mind around the competing strands of optimism and introspection at play for seniors across the country. For instance, not everyone would come up with something like this in reflecting on the best parts of moving to SEC country to play softball at a high level.
"I really enjoy getting to see the South," Smith said. "Getting just to travel in that area as part of the package has really been a cool experience."
Smith is a four-year starter for the Wildcats, a .318 career hitter with just 38 strikeouts in 509 career at-bats and a steady, vocal presence with the glove at second base. She nevertheless plays in the shadow of keystone partner Molly Johnson, Kentucky's All-American senior shortstop. In short, she's both very good and very like so many players around the country who go about their playing days largely anonymous outside their own fan bases. They just have to hope the pieces fall in place for a senior season to remember.
The Wildcats stumbled in their finale, dropping a decisive 6-1 decision to California Saturday evening, but they still emerged from the desert with three wins in five starts. In earning SEC Player of the Week honors after hitting three home runs, sophomore Brittany Cervantes showed potential to follow up a good freshman season by becoming an anchor in the heart of the batting order. And while sophomore Chanda Bell took the loss against Cal, she looked like an ace with 14 strikeouts against the Sun Devils and 13 more in a two-hit shutout against Cal State Fullerton.
"The first two seasons were just, they were really tough to get through," Smith said of the time before Bell's arrival. "It's a long year in the SEC conference and we just didn't have the pitching, we didn't have the experience. And it is just an amazing feeling being behind someone that you know is going to hit their spots, that you know is in the game -- head in the game all the time, just a great athlete. I can't say enough about Chanda Bell. She has helped turn this program into the program it is and to what it's going to be. It's top notch. And I absolutely love playing with her. she's a great girl on and off the field, and I just can't say enough about her."
And so Kentucky and hundreds of other teams are off and running. And Smith and hundreds of other seniors are aware of the finish line at the end.
"I'm just trying to go with it one day at a time, but it's always in the back of my mind," Smith said. "It makes you want to give it all on the field even more because you know it's your last year and this is the last chance that you really have to compete. I'm going to miss it, but so far it's been a pretty great start."
Graham Hays covers softball for ESPN.com. E-mail him at Graham.Hays@espn3.com.