NDSU makes indoor practice work
February, 18, 2010
02/18/10
3:03
PM ET
TEMPE, Ariz. -- Those who settled in what's now North Dakota, be they indigenous Native Americans or those of European descent who followed centuries later, must have been a little resourceful and a lot stubborn to make life work in a place where minus 30 degrees isn't cold enough to beat the record low on any January day.
[+] Enlarge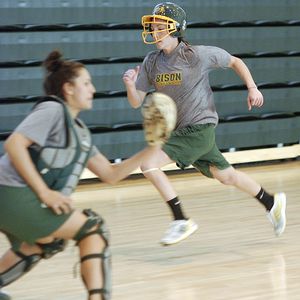 Eric Miller NDSU's Taylor Lynn sprints while Maryssa McKenzie awaits the tag during the team's recent indoor practice.
The kind of people who would nod approvingly as North Dakota State assistant coach Jamie Trachsel builds one of the nation's best defenses in seemingly inhospitable softball territory. With tennis balls, a bit of racquetball and the squeak of the gym floor filling in for the thrill of the grass, the Bison don't just get by. They get ahead.
North Dakota State was the Cinderella story of last season's NCAA tournament. A team that played its first 45 games on the road while waiting for things to thaw out back home in Fargo -- and that was a typical schedule -- came within two games of the Women's College World Series after knocking off national power and former national champion Oklahoma en route to a regional title.
And with every position player save the catcher returning this season, the Bison hope to stick around the scene. Arizona eventually pulled away for a 6-0 win when the two teams met last week during the season-opening Kajikawa Classic, but Wildcats coach Mike Candrea, who played the Bison last season as well, entered and departed impressed by a team that went 3-2 on the weekend under coach Darren Mueller's watch.
[+] Enlarge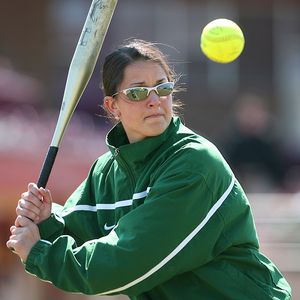 Courtesy of Eric Miller PhotoNDSU assistant coach Jamie Trachsel runs warm-up drills before the Kajikawa Classic.
"He has done a heck of a job with that program and I think they're very competitive," Candrea said. "I think they're one of those teams that if you don't know them and you start playing the name game, you're going to get your butt beat because they can play."
The pitching circle is frequently the first place to look for answers when an unfamiliar name cracks softball's upper echelon. A dominant ace who perhaps slipped through the recruiting cracks or wanted to stay close to home can transform an average program into a contender overnight. But as clutch as pitcher Andi Padilla was as a senior last season, she wasn't an overpowering presence.
To see where the Bison excelled, you had to look behind the circle, where North Dakota State ranked eighth in the nation in fielding percentage. A team that spent its entire preseason inside and played almost exclusively on unfamiliar fields trailed only seven warm-weather schools. Among its Summit League peers, only one other team ranked in the top 150 in fielding percentage, Centenary at No. 66. "We get a few practices in our dome, and outside that, we practice in a gym," Trachsel said of the challenges. "But we don't know any different; that's the thing. We don't know any different, and we can't make excuses about it, so we just do what we can."
And what they can do defensively is the domain of the 31-year-old assistant who Mueller entrusts with that part of the game. A native of Duluth, Minn. -- where the average annual snowfall makes Fargo look almost temperate by comparison -- Trachsel played college softball at St. Cloud State and earned all-region distinction at the Div. II school. But the roots of her defensive wizardry are in a different sport, one far more befitting the long winter months of the Upper Midwest.
For while her softball coaching career has forced her into competitive retirement, she's a nine-time national champion in racquetball, winning her first junior title before she turned 10. When other kids were gravitating to swimming, gymnastics or other more familiar athletic endeavors, she was camped out at the local racquetball courts, playing or just watching adults to pick up the nuances of a game that still prove useful in a completely different sport.
"It's good for your hand-eye coordination and your footwork and your speed and stuff like that," Trachsel said. "And the biggest thing is you start to read angles -- you see the angle of the bat, you see when someone starts to open up their hips and where the hands are going to come through. I think that's the biggest thing."
The Bison will sometimes forgo their gloves entirely for indoor practices, instead facing Trachsel barehanded as she hits tennis balls at them -- and you get the sense the competitor in her enjoys making sure it's "at" and not "to" them. The goal is to make 21 outs without an error, the equivalent of an actual game, and there is no grading on a curve. Bobble a ball for even a moment and it's an error. Make back-to-back errors or misplay a ball in the first or last "inning" -- when momentum is most precarious -- and you might stand around watching your teammates run extra sprints for your mistake.
"If you can do that, and even mentally if you can do that, you feel like you can catch anything," Trachsel said. "We focus a lot on the fundamentals and obviously the application. And we do a lot of mental stuff; I put together a lot of challenges just to keep things fresh. You can always prepare for game situations in that sense, and championships and games are mostly won and lost in your mind. So I think we don't beat ourselves very often. We'll generally make someone beat [us], and if they do that, you give them credit."
The challenges don't end when the Bison finally do get a look at actual grass and dirt, as in the trip to Arizona. Indoor practices may stretch deep into the season back home, but the team does what it can to maximize every minute available on the road.
"Let's say we go to Kansas; we'll leave Wednesday night," Trachsel said. "We'll sleep overnight on the bus, we'll get in and eat breakfast in the morning and we'll practice from 11 to 1 on their field and then just kind of take the rest of the day instead of using Thursday all day as a travel day anyway. You don't sleep great, but at least you get a chance to practice. And we use our warm-ups as practice. It's not just about the games. We have to utilize the time, if it's 10, 15 minutes or if it's five reps or 30 reps we can get in. Especially in the first month, we have to utilize that."
North Dakota State's players and fans were easy to spot in Tempe, both for the bright greens and yellows of their jerseys and t-shirts and the pale gleam of skin unaccustomed to hours in the sun. Yet time and again, the Bison came up with the defensive gems of a team very much at home in the field. Third baseman Brea Konz snared multiple line drives seemingly headed for the corner. Leftfielder Elisa Victa raced into foul territory, sized up the approaching bullpen wall and made a catch as she reached over the fence. They also made the routine plays and finished the weekend with just four errors.
The demands of her coaching career have curtailed Trachsel's competitive racquetball career (although a few of her softball players have taken up the sport recently). She played in her last national tournament four years ago. And there are time she misses trading one passion for another.
"I miss being really good at something; that's what I miss," Trachsel said. "Like you walk in somewhere feeling like you're one of the best -- that's a good feeling. That's what I miss about it, just being great at something."
Why bother pointing out that perhaps she still is? After all, it takes a certain stubbornness to succeed in a North Dakota winter.
Graham Hays covers softball for ESPN.com. E-mail him at Graham.Hays@espn3.com.