Lawrie keeps Huskies on track
March, 2, 2010
03/02/10
4:08
PM ET
CATHEDRAL CITY, Calif. -- Danielle Lawrie and Washington had to wait until the final series at the Women's College World Series last year to make their championship official against Florida, but the Huskies and their ace staked a claim to national supremacy first last year by beating the Gators 1-0 in extra innings in Cathedral City in February.
[+] Enlarge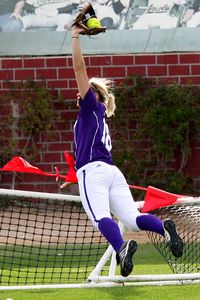 Sara EulerNorthwestern's Jordan Wheeler made an impressive catch to rob Stanford's Alissa Haber of a home run during the recent Cathedral City Classic.
Another year brought another statement in the desert from the game's best player.
This time near-perfection wasn't Lawrie's mode of expression. In fact, the first ball she threw in the tournament's showcase game against No. 9 Oklahoma came right back into the field of play when leadoff hitter Haley Nix ripped a double down the right-field line. Nix eventually came around to score, just the second earned run Lawrie had allowed up to that point (coming out of the weekend, she's allowed nine in 56 innings).
Lawrie's response was both instructive and swift. She deposited a Keilani Ricketts pitch into the deepest recesses of center field with a runner on in the bottom of the first. It was her eighth home run of the season, all of them to center field.
One way or another, she seemed to say with one swing, she was going to make sure Washington won the game. It did by a 7-4 score.
"She's just, I feel like, a woman amongst girls when she's out there," Oklahoma coach Patty Gasso said. "You can feel her poise; you can feel her command. She doesn't get rattled if something doesn't go her way. It's almost like she's determined to make it right."
There is athletic arrogance to the way Lawrie carries herself in uniform, the same supreme confidence that so many peers in women's sports from Diana Taurasi to Cat Osterman to Candace Parker seem to sweat in place of perspiration.
Talking during the season-opening Kajikawa Classic, Huskies coach Heather Tarr intimated her team might have soaked in the spoils of victory a bit during the fall season, which comes early courtesy of Washington's quarter system and rainy season. But if you're looking for reasons why the Huskies could become the first team to repeat with the same No. 1 pitcher since UCLA in 2003 and 2004, start with said returning pitcher.
"From the day we started back up, specifically like in January, you could tell in her eyes she was over it," Tarr said of Lawrie, who among a variety of such topics, seems to visibly disdain putting her own success in perspective when asked about it. "Everybody else followed and that's really where it was at from January on."
Tarr spent part of her otherwise hectic offseason seeking counsel, in book form, about how best to go about her new existence from some of the most successful coaches in sports: Jim Tressel and Pat Riley.
"There's a couple of really good chapters in both of those books that we used a lot in the fall that talk about [how] dealing with success is a lot more difficult than dealing with failure," Tarr said. "Failure is easier to put behind you and get to the next thing. Success is a lot more difficult to move forward from and get to the next thing."
As any number of coaches could attest, it helps to have a star who seems perpetually more interested in exacting revenge on any slight or failure than in dwelling on success.
Best Defensive Play: Jordan Wheeler, Northwestern
Continuing the subjective awards from the tournament with one for which Fresno State shortstop Haley Gilleland and Oklahoma State shortstop Mariah Gearhart made strong bids. But Wheeler's Rodney McCray impression (YouTube it) to rob Stanford's Alissa Haber of a home run takes top billing.
"I don't even think about where the fence is; we're just going for it," Wheeler said of the snag seen here. "We decided before this game that we were going all-out and every single one of us was going to play that way. That's kind of what was going through my head. I didn't think about where it was. I had [center fielder] Kelly Dyer behind me telling me, 'Catch, catch, catch' the whole way and I just went for it [and] landed on the other side of the fence."
Northwestern dropped out of the Top 25 this week, and that's fair game for a team with a losing record. But Wheeler's catch may represent more than just a nice highlight. Northwestern pushed Arizona and UCLA to the limit in the first three weeks and beat Cal and Stanford in large part because they didn't quit after tough defeats. If this isn't one of the nation's best 25 teams by the end of the season, I'll forsake tri-tips entirely at next year's Classic.
Graham Hays covers softball for ESPN.com. E-mail him at Graham.Hays@espn3.com.