Freshmen at top of softball class
April, 14, 2010
04/14/10
4:59
PM ET
Oklahoma coach Patty Gasso might as well have been speaking for the entire college softball community after a game at a tournament earlier this season in California.
[+] Enlarge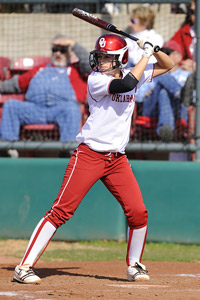 Oklahoma Athletics Oklahoma's Jessica Shults is among a large segment of freshman standouts this season.
"She is above and beyond what I thought she would bring us this freshman year," Gasso said.
The "she" in question in that case was Sooners freshman catcher/first baseman Jessica Shults, but the sentiment applies to an astonishingly large segment of the softball population. There are always standout freshmen who excel, but youth is particularly well served this spring.
• As of April 11, freshman hitters owned 10 of the top 30 slugging percentages in Division I. Texas A&M's Meagan May leads the Big 12 in slugging, Oregon's Sam Pappas is second in the Pac-10 in slugging, and while the SEC slugging lead is solidly in the hands of upperclassmen, Tennessee's Raven Chavanne and Kat Dotson and Alabama's Kayla Braud all rank in the top 5 in batting average as freshmen.
• In this week's USA Softball/ESPN.com Top 25, 11 teams had freshman pitchers filling prominent roles, including four teams in the top 10 for whom a freshman either led in innings pitched or split starts evenly (Arizona's Kenzie Fowler, Georgia Tech's Hope Rush, Oklahoma State's Kat Espinosa and Stanford's Teagan Gerhart).
When Gasso made her comment, Shults had just punctuated a 6-1 win over Oregon State with a three-run home run to close the scoring. It was her second home run of the day -- the first came in a 7-4 loss against Washington ace Danielle Lawrie, still one of just seven home runs the reigning USA Softball Player of the Year has allowed in 162 1/3 innings this season. (Lawrie has allowed just 23 earned runs this season, and four of them were driven in by Shults on two hits in that game.)
And yet taking Lawrie deep might not have been the most precocious thing she did that day. As the Sooners shook hands and congratulated each other after the nightcap win against Oregon State, Shults tried to chest-bump her coach, who aside from an occasional harangue directed an umpire's way, is as abundant a source of emotion as the Oklahoma landscape is of shade in summer. At least on this count, Shults had finally met her match.
"She's just a goof like that," Gasso said of the near-bump. "Just a very bubbly, free personality that's a breath of fresh air, really."
Fast forward to this weekend's pivotal Big 12 showdown between Oklahoma and Texas in Austin (ESPN, ESPN3.com Sunday, 3 p.m. ET), and Shults is still at it. She trails only Amber Flores in slugging percentage for the Sooners, and her .702 mark is good for fifth overall in the Big 12. With 22 walks against 25 strikeouts and an on-base percentage well above .400, she's no free swinger, either. And all of that comes with the added pressure of protecting Flores as Oklahoma's cleanup hitter.
"She just looks like a veteran," Gasso said back in late February. "I'm waiting to see her stumble. We've been in huge games [in the season's opening weeks] and she seems to get better as the game is bigger. It's really fun and exciting to see what our future holds. She's a spark and she's just very poised. And I think our players really enjoy -- she helps spark our team, and I think our players really step up around her."
The series against the Longhorns is a freshman showcase. Both teams lean heavily on freshman aces: Ricketts for Oklahoma and Blaire Luna for Texas. And there are big freshman bats beyond Shults in Sooners teammate Brianna Turang and Longhorns standout Taylor Hoagland. All five make the list of freshmen worth watching -- and considering for All-America honors -- as the regular season winds to a close. Among the contenders:
(All stats through games of April 12, except Oklahoma, through games of April 10)
Graham Hays covers softball for ESPN.com. E-mail him at Graham.Hays@espn3.com.