UMass ace Plourde throws heat
April, 22, 2010
04/22/10
3:18
PM ET
HAMDEN, Conn. -- As you listened to Massachusetts coach Elaine Sortino talk about the general evolution of pitcher Sara Plourde this season, it sounded like the sophomore ace must have had a rough day at the office during Tuesday's game against Quinnipiac.
[+] Enlarge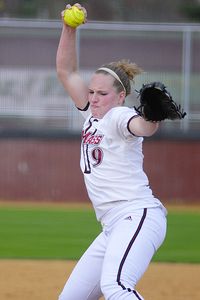 UMass Media Relations for ESPN.comUMass' Sara Plourde has pitched three seven-inning no-hitters this season.
"She's always been very, very strong-minded," Sortino said. "But the thing that she's worked on is her speed -- which she didn't have today, her movement -- which she didn't have very well today. But she managed to just get it where it needed to go."
Quinnipiac might agree with all of that -- except everything in the middle.
Despite, in her coach's words, struggling more than in any game so far this season, Plourde pitched her third seven-inning no-hitter of the campaign -- and her second in the past 11 days -- in a 6-0 win. She opened the game with three consecutive balls and eventually walked the leadoff hitter -- and then set down 21 of the final 22 batters.
"She didn't have her best pitch, she didn't have her second-best pitch, and she really had to struggle to get outs," Sortino said. "And the thing about her is she's unflappable. She's a gamer. She works through it. She stays with it no matter what. That's a nice demeanor for somebody that has such an effect on the game."
Plourde also struck out eight Bobcats, giving her 399 strikeouts for the season and moving her within 31 (or in Plourde-ese, a good weekend) of second place on the school's single-season list. And when the person you're chasing for first and second is former Olympian Danielle Henderson, and the person most recently passed is current Team USA hopeful Brandice Balschmiter, that's company worth keeping.
It was Balschmiter who guided the Minutewomen to within a win of the Women's College World Series as a freshman in 2006, and who last season nearly eliminated eventual champion Washington in regionals during an epic 15-inning duel against Danielle Lawrie. Replacing her in the circle should have been enough of a challenge. Replacing her in the record books is remarkable. And in addition to a typically solid, balanced lineup, it's why Massachusetts remains elite, ranked No. 22 in the nation.
"Brandice, I mean she threw hard; they both throw hard," centerfielder Carly Normandin said. "[Plourde], definitely though, I can see the pitches really breaking. People miss by like six inches, so it's unbelievable to see that."
Normandin owns a unique perspective on her young teammate, one that goes beyond the view from center field. She can commiserate with the 630 batters who have come up empty this season against Plourde; she's been there. Normandin spent last summer playing for the Stratford Brakettes, the renowned amateur team whose all-time player register reads like a softball hall of fame, from Bertha Tickey to Cat Osterman.
And Normandin was one of only three players to get a hit off Plourde when the pitcher led the Stratford Breakers to a 1-0 win that eliminated the Brakettes from the inaugural Women's Major Softball National Championship on the Brakettes' home field last August.
"It's different from my point of view, being on her team and watching her throw to other hitters and be behind her defensively," Normandin said. "But up at the plate, you really see the pitches moving. It's really tough to hit. Especially her rise ball; you think it's going to be a strike and it just goes up. It's a tough pitch to hit."
With due respect to the Breakers, that wasn't the Mets beating the Yankees. That was the Hackensack Bulls beating the Yankees. The Brakettes, a team Plourde grew up wanting to play for, might not have fielded their best team last year, but it still included hitters like Normandin, former Massachusetts standout Denise Denis, former LSU All-American Killian Roessner and current Kentucky All-American Molly Johnson.
And after a quiet freshman season in which she battled a rib injury and backed up Balschmiter, that one game might well have announced Plourde's arrival.
"It was more like a test, like a challenge to see what you can do with the defense behind you," Plourde said. "After that game, when we won, it felt really good, knowing they're a really good team and I pitched against them."
She's pitched against a lot of really good teams this season, including NC State, Missouri, Illinois State, Louisiana-Lafayette, San Diego State, Texas A&M, Fordham and Charlotte. She's also pitched against a lot of other teams because, well, she's pitched a lot of games. For the most part, Massachusetts' rotation lacks any moving parts.
The team has thrown 229.1 innings, and Plourde has thrown 210 of them.
She leads the nation in strikeouts per seven innings by a relatively slim margin -- 13.3 to 13.1 -- over Atlantic 10 rival Jen Mineau of Fordham, but she's also more than 28 strikeouts clear of Mineau or anyone else for the lead in total strikeouts. There might be some concern about fatigue as Massachusetts gears up for another postseason run (although it's worth noting that Tuesday's supposedly "off" effort came on four days' rest, more than she's had on all but four occasions). But Sortino, at least, isn't worried.
"Sara is the best athlete on the team," Sortino said. "And by that I mean she's the strongest in the weight room, she's the most durable -- when we run hills, Sara leads the pack. So if you're going for long distance and endurance, nobody is going to beat her. God bless her, she's a strong kid."
Graham Hays covers softball for ESPN.com. E-mail him at Graham.Hays@espn3.com.