Lady Bisons excited about first-ever tourney
May, 19, 2010
05/19/10
9:32
AM ET
When the names of the four teams playing in Tuscaloosa, Ala., first flashed on the screen during the nationally televised NCAA tournament selection show, most eyes likely settled on the host.
After all, not only is Alabama one of the most recognizable brand names in softball, but the Crimson Tide also earned the designation of the field's No. 1 overall seed.
But as easy as the names of Alcorn State, UAB and Lipscomb were to overlook, some eyes still lingered on them. 
[+] Enlarge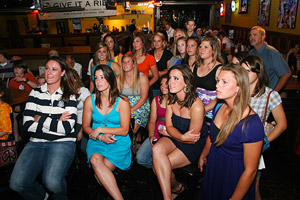 Larry PeckLipscomb's softball team gets its shot at the NCAA tournament for the first time ever.
Minutes before the selection show started, Lipscomb senior Kellie Sirus tried to put into words what it would feel like to see that last one on the screen, marking the first time any softball team from the small school of about 3,000 students in Nashville reached the tournament. 
"I think it's going to be awesome to see our name up there for the first time," Sirus said. "We've been dreaming of this moment, where we've been working to get all year -- all four years that I've been here. Every team is working every day and night to get to the NCAA tournament and regionals, so I think it's going to be an awesome feeling to see our name pop up on the screen."
The Lady Bisons didn't have to sweat out a long Sunday on the bubble. They clinched an automatic bid to the NCAA tournament by winning the Atlantic Sun Conference tournament, duplicating the regular-season title they won in dominant fashion by amassing an 18-2 record in the league as part of an overall record of 48-11. The latter tied them with Alabama for the most wins in Division I. 
That's a far cry from the state of things when Sirus and four other current seniors took the field for the first time during the 2007 season (another current senior, Alaina Jacobson, joined the class one year later via transfer). The season before the current seniors arrived, Lipscomb managed only a 14-34 record. Coming from Florida prep success, Sirus wasn't sure what to expect.
"I was kind of nervous, like, 'I don't know how I feel about this; I don't like losing.'" Sirus recalled. "It wasn't the best program or the best place, but right when I met all of our freshman class and all of the other girls on the team -- after that freshman year, I knew that we were going to turn into a great team and become something really special just because of all the talent that we did have. … But when I first got there, it definitely wasn't a program that I had envisioned going to a regional or winning a conference championship. 
"We were just trying to win as many games as we could when I first came."
That was also coach Kristin Ryman's second season in charge, and it's no stretch of the language to say she and the team have grown together. Ryman is a former Lipscomb player, but the paint is still drying on the "former" part of that for someone who played her last inning in 2003 and was coaching former teammates two years later. 
"I think [Ryman and assistant coach Lexi Myers] have done a great job at maturing each year, just as all of us players have, too, with their coaching," Sirus said. "Knowing what works best for our team, and each year we've gotten better because they've discovered new ways to approach us or deal with us that brings the best player out in us, too."
With a dominant ace in Atlantic Sun Player of the Year Whitney Kiihnl and bats like Abby Keese (1.052 OPS) and Sirus (1.257 OPS), Lipscomb can compete with anyone, as it did in beating Kentucky and California earlier this season. Its chances of emerging as this season's Cinderella took a hit when it landed in Alabama's regional, but all the Lady Bisons want is a chance. 
And for seniors like Sirus at Lipscomb and dozens at other schools, that's precisely what four years of work has earned them.  
"We've known that this team was going to be something special and going to really do something this season and go far and just make our school proud and make everybody proud," Sirus said. "And show everybody that, you know, we might be a small D-1 school, but we have a lot to offer and a lot to show all the bigger schools."
Graham Hays covers women's college softball for ESPN.com. E-mail him at Graham.Hays@espn3.com. Follow him on Twitter: @grahamhays.