Majam makes name for herself
May, 29, 2010
05/29/10
7:49
PM ET
TUSCALOOSA, Ala. -- The road is where the greatest acts grind out a path to stardom. Day after day, buses, hotels and gigs blend together in a gumbo of hotel keycards, complimentary coffee and unwashed laundry. And all in pursuit of bigger stages and overdue recognition.
[+] Enlarge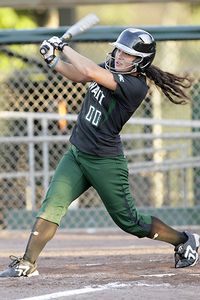 UH Sports Media Relations Kelly Majam has set the tone for the Hawaii all season.
Well, whenever the tour she's currently headlining ends, be it as soon as Sunday afternoon or a week and a half from now in Oklahoma City, Hawaii redshirt freshman Kelly Majam will head home having gone from the softball equivalent of a hip indie act to mainstream star.
"I knew Kelly was a special player," Hawaii coach Bob Coolen said. "She was recruited by a lot of high-powered SEC, Big 12, the BCS programs, and she chose Hawaii."
From the WAC tournament in Las Cruces, N.M., to an NCAA regional in Palo Alto, Calif., and now a super regional in Tuscaloosa, Majam and the Rainbow Wahine have reprised their roles of softball's traveling road show, just as they did at this time of year three years ago.
During the ongoing three-week trip, Majam is hitting .500 (13-of-26) with five home runs, giving her 30 for the season, good enough to take over the national home run lead from Georgia Tech's Jen Yee. No wonder "Mele Kalikimaka" wasn't exactly the sentiment that crossed Coolen's mind when Majam tore her ACL in November 2008 and had to sit out what would have been her true freshman season the following spring.
"It killed me; it was like my Christmas present was gone," Coolen said of the injury.
"I knew she was going to be my table-setter. I knew she was going to make the lineup. … I was relying a lot on Kelly Majam to sort of set the table and show how good we could be. And it didn't happen her freshman -- her true freshman year. So we sort of went through a year where we had eight seniors graduate and everyone expected us this year to not be where we are right now."
Where they are is a win away from the program's first trip to the Women's College World Series. Sparked by a home run and a double from Majam, No. 16 Hawaii rallied from an 8-0 run-rule loss against No. 1 Alabama in the opening game of the Tuscaloosa Super Regional and evened the best-of-three series with an 8-7 win.
For a couple of hours Saturday, Hawaii appeared on the verge of falling well short of the moment. Alabama ace Kelsi Dunne shut them out in the first game, allowing just two hits in five innings. And when Alabama scored a run in the top of the first inning of the second game. travel plans for Oklahoma City seemed the order of the day for the home team. But after going hitless with a strikeout in two at-bats in the first game, Majam led off the bottom of the first inning of the second game a home run to tie things at 1-1.
An inning later, with runners on second and third, Alabama coach Patrick Murphy understandably elected to intentionally walk Majam, only to see true freshman Jessica Iwata, Majam's protection in the No. 2 hole for the last 49 games, deliver a grand slam. And after Alabama brought a record crowd of 3,218 to the peak of frenzy with a six-run sixth inning that tied the game at 7-7, Majam answered with the double that set up Iwata's sac fly to drive n the eventual winning run.
"I think the first game there was a little bit of maybe [being] star-struck, just from the crowd and the TV and stuff like that,' Majam said of her team. "And we settled down. We didn't play the way that we usually play the first game. That's not how we usually play. And we came out the second game hitting and playing better defense."
A night earlier, Washington ace Danielle Lawrie offered one of the more impressive all-time displays of an individual taking over a game when she shut out Oklahoma in back-to-back games. What Majam did in the second game in Tuscaloosa wasn't on that level, but it did feel a lot like one player steadying an entire team.
"As the leadoff batter, it's my job to get our whole team going," Majam said. "And usually when I get a good hit, my whole team is behind me, so that's how we have been playing all year. It's contagious; our hitting is contagious. So just getting on base is my goal, and hitting home runs, even better."
Coolen made waves this week in suggesting he didn't know much about Dunne, one of the nation's best-known pitchers, and didn't want to know much in advance. By contrast, Murphy would happily scour tape or scouting reports, but try as he might, he said he could find little in the way of useful reports and even less video to better understand Majam's strengths.
After Saturday, Majam has gone mainstream.
• Alabama hardly has reason to despair. Disappointment of the loss aside, the Crimson Tide did score 15 runs in just 11 innings at the plate Saturday. Most notably, Jennifer Fenton (4-of-6) led the bottom four hitters in the batting order in contributing nine hits and four RBIs. And if you're really an Alabama fan looking for good omens, consider that in becoming just the second No. 1 seed to lose a super regional game (they only date to 2005), the Crimson Tide join a club that previously only included Michigan. And all the Wolverines did after dropping the second game of a 2005 super regional against Washington was go on to win the national title.
Graham Hays covers women's college softball for ESPN.com. E-mail him at Graham.Hays@espn3.com. Follow him on Twitter: @grahamhays.