Lawrie exits WCWS stage
June, 5, 2010
06/05/10
8:16
PM ET
OKLAHOMA CITY, Okla. -- All Danielle Lawrie could do as her college career came to a close was watch from the on-deck circle, a player without peer at controlling the action left powerless by a perfect storm of defensive lapses, controversial calls and talented foes.
Arizona's 4-3 win eliminated defending champion Washington, forcing the best player in college softball out of Oklahoma City.
[+] Enlarge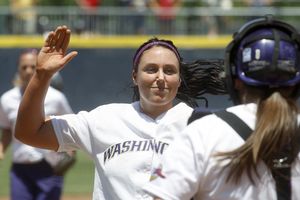 AP Photo/Sue OgrockiWashington's Danielle Lawrie finished her career with 136-42 record and 1,860 strikeouts.
Wildcats coach Mike Candrea is as familiar with Lawrie as any coach outside of Washington's dugout, having coached against her for four seasons in the Pac-10 and another year while both traded the 2008 college season for Olympic duty. When the game was over he passed up her outstretched hand and offered instead an embrace, the respect earned over years of competition obvious on both sides.
"She's a competitor," Candrea said. "If you watch her career -- I've seen it both internationally and where she's at today -- she's a young lady that I think has a lot to be proud of for where she's come in this game."
It was more than three years ago, during one of the first weekends of the college season at a tournament near Palm Springs, that I first saw Lawrie pitch in person. A lot of the details true in that moment in time have changed. She wasn't a former Olympian back then or the two-time reigning USA Softball Player of the Year.
For that matter, she was blonde.
But there was very little different about the demeanor with which she went about her business that weekend against opponents like Michigan State than during last year's march to a national championship or Saturday's start against Arizona.
"You can't just have the physical tools," Washington coach Heather Tarr said at the time of her then-sophomore coming off a super regional loss as a freshman against Cat Osterman. "She's obviously very strong and possesses some great, great skills physically, but the fact that she wants the ball and she wants to beat whoever it is that she's facing, that's a huge factor. She's got that little X-factor in her that gets her going."
Make no mistake, a pitcher can have all the will in the world and it won't take you to a national championship without, as Candrea rattled off in listing Lawrie's pitching attributes, the ability to throw the ball close to 70 mph and mix in pinpoint control and an offspeed pitch that had even former Arizona star Taryne Mowatt tweeting in envy Saturday.
Lawrie has physical gifts as a pitcher that set her apart from most of her peers. But that was only part of becoming one of the best of all time.
Washington fans will long remember Saturday's game as a series of botched calls by umpires and missed opportunities in the field. Lawrie allowed just one earned run. But from last week's super-regional comeback to last year's championship, the bigger picture is that nobody got more out of a career than the Canadian ace.
"I'm leaving at peace; I'm OK with it," Lawrie said. "I mean, obviously I'm upset, but God damn, the stress that I've been putting on myself lately -- I wanted to win, obviously, but right now I'm at peace. I'm happy."
Tigers hope for brighter WCWS future
Missouri is now 1-10 in five appearances in the Women's College World Series, the fewest wins of any program with at least that many trips. (Long Beach State is next at 5-10.) The problem the last two seasons, the only two appearances that fall under coach Ehren Earleywine's tenure, was offense. The Tigers scored just seven runs in four games between 2009 and 2010, capped off by Saturday's 5-0 loss against Florida.
But for a team that loses just three seniors, pitching offers hope of brighter times in Oklahoma City. Most doubted the Tigers would get here this season after losing ace Chelsea Thomas to a midseason injury. Instead, Kristin Nottelmann proved herself a capable No. 1 pitcher and should team with Thomas next season for an elite duo.
"Not to say that she wasn't a good pitcher before, but I think she really grew up this year and got to pitch in the bright lights and on the big stage," Earleywine said of Nottelmann. "So next year, that just deepens our pitching staff. And obviously the name of this game is pitching."
Graham Hays covers women's college softball for ESPN.com. E-mail him at Graham.Hays@espn3.com. Follow him on Twitter: @grahamhays.