New tournament structure has detractors
December, 5, 2010
12/05/10
6:28
PM ET
CARY, N.C. -- Barring a reversal of policy, no team will ever be able to match what Notre Dame accomplished on the road to winning the national championship this season.
[+] Enlarge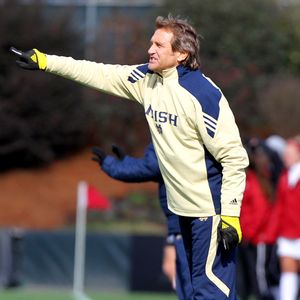 Andy Mead/YCJ/Icon SMIRandy Waldrum has voiced his concerns about playing so many games in such a short timeframe.
Seeded fourth in their quadrant of the bracket, Notre Dame became just the third team to win back-to-back road games in the Sweet 16 and Elite Eight, beating North Carolina in Chapel Hill the weekend before Thanksgiving and Oklahoma State the following weekend in Stillwater to earn a trip to Cary for the College Cup.
Next year, at least one of those wins would be at a neutral site.
Beginning in 2011, the NCAA tournament will shift to a 1-1-2-2 format for postseason weekends, with 32 teams hosting first-round games the first weekend, 16 teams hosting second-round games the following weekend and four teams hosting both the Sweet 16 and Elite Eight over Thanksgiving weekend.
Currently, the only weekend with multiple games prior to the College Cup is the opening one, in which 16 teams host four-team pods for the first two rounds (first-round games on Friday, second-round games on Sunday).
After expressing his concern about the effect that even playing two games in one weekend has on the quality of the championship game under the current format, Notre Dame coach Randy Waldrum didn't mince words when asked about the new format, which will require the two teams competing for the title to play four games in, presumably, 10 days.
"I think the 1-1-2-2 format is ridiculous," Waldrum said the day before his team beat Stanford for the title. "It just makes no sense. In order for us to have 16 more teams host a first-round game, it makes no sense for us to put our championship in that regard."
The value of those additional 16 first-round sites seems to be the core of the debate. Dr. Lisa Campos, chairperson of the NCAA women's soccer committee, explained the group's rationale.
"As a committee, we were really looking at what's going to be best for the sport of women's soccer?" Campos said. "Obviously, we want greater exposure, we wanted an opportunity for more teams to host first round, to be a first-round site, and just to give more growth to women's soccer was really what the underlying decision was."
In such a scenario, a program like Texas A&M, routinely either first or second in the nation in attendance, might not have had to travel to Minnesota for the opening weekend despite being seeded fourth in its quadrant of the bracket. In an effort to minimize travel costs, after seeding the top 16 teams in the field of 64, the NCAA relies heavily on geography to determine the first-round pairings. Without enough geographically-friendly options to bus to College Station, Texas A&M was sent to Minnesota, along with nearer-by North Dakota State and Creighton.
Likewise, a program like UNC-Greensboro, which would find it difficult to ever host under the current format, given its proximity to traditional seeds like North Carolina, Virginia and others, might get an opportunity to play at least a first-round game in front of the local community.
Of course, as far as exposure, it's debatable just how much more attention a team like Connecticut would receive playing one game at home in Storrs, as opposed to potentially two games just 75 minutes away at Boston College, where the Huskies were sent this season. Given the role geography already plays in the bracket, there is no shortage of similar scenarios.
And at what price? As Waldrum noted, there are already logistical nightmares for the four teams asked to travel on short notice over Thanksgiving weekend for the quarterfinals, one of the busiest travel weekends of the year. Unable to secure enough seats on commercial flights for the trip to Oklahoma State, Notre Dame was able to charter a flight for its quarterfinal. But the size of the available plane meant some on the 25-player roster for the Fighting Irish didn't get to make the trip.
And as some in college administration are annually eager to point out when defending the bowl system in college football, but strangely not other sports, the closer you get to December, the more likely it is that players from the three teams traveling for the third and fourth rounds will miss preparation for finals.
"We're supposed to be about the student-athlete welfare," Waldrum said. "And we should not be playing two back-to-back Final Fours -- because if you look at the bracket this year, that's basically what you would have. You would have two weekends of back-to-back Final Four [type] games at the worst time of year academically for our kids, close to December, close to finals, close to when they need to be in class as much as they can be. And that's what we're supposed to be about, and yet here we are, going to compound the travel at the time, compound the number of games.
"I don't think it's good for the welfare of student-athletes. I think it should stay the way it is."
At least for 2011, it appears it will not. And it remains to be seen whether a change aimed at increasing the game's exposure will actually hurt the regular-season product, making it more dangerous for top teams to schedule each other when only four teams will earn the right to host beyond the first two rounds -- whereas under the current format, at least teams Nos. 5-8 could host a Sweet 16 game with a few high-profile losses on their résumés.
In the end, it comes down to a gamble on extra exposure as the women's college game looks to gain a further foothold on the fall sports calendar.
"When you look at the new format, now more teams are going to be able to host at their own institutions, where right now, it's a little bit limited with the 16 [opening-weekend] hosts," Campos said. "Not saying anything was wrong with [the current system], but we're just trying to improve the process and the overall student-athlete experience. For a student-athlete, there's less opportunities right now for those student-athletes to play at home in front of their home crowds."
Doing it by sacrificing the bracket's competitive integrity and the logistical sanity of those teams that earn their way through it seems like a steep stake to risk.