On becoming legends
December, 6, 2010
12/06/10
3:21
PM ET
Editor's note: ESPNU.com got inside access to the women's College Cup. Follow us on Twitter (@ESPNUcom) and on Facebook. Ellin Bartindale is a junior defender for Notre Dame.
[+] Enlarge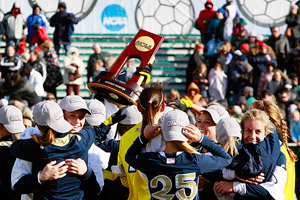 (AP Photo/Gerry BroomeNotre Dame's third national championship was especially sweet.
Never have 25 minutes gone so slowly, but now we are on the last 30 seconds. We actually did it. 25 seconds. It is really happening. 20 seconds. My hands are numb. 15 seconds. I am jumping up and down and STARING that clock down. 10 seconds. I make eye contact with Haley [Chamberlain]. We did it. 9, 8, 7. We are all jumping forward. 6, 5, 4. We are on the field at this point, as Rose [Augustin] juggles the ball while the final whistle blows. I am in a mad sprint onto the field. My teammates are all jumping and screaming in the middle of the field hugging each other. It is craziness as I try and wrap my mind around this. We did it. This moment that I have dreamed about my entire life has happened. Those legends, the 1995 and 2004 teams, which we idolize on the walls of our locker room and hear about from Coach [Randy Waldrum] are now my peers.
Championship T-shirts are handed out. The ones that we watched North Carolina put on last year, and now they are ours. The euphoria overtakes us and it is all a blur.
How to convey the feelings of the last few weeks in a few paragraphs? Perhaps I can share moments … moments remembered like a dream … moments that add up to a season and culminating victory that I will never forget.
The home wins against to-40 ranked teams like New Mexico and USC … so sweet to beat the Trojans the week before the football team did. Going to North Carolina, our nemesis, our archrival. Coming away with a convincing victory in their house, yet Coach [Anson] Dorrance's final gracious gesture to me and my teammates was as kind as it was unexpected. Going out to Stillwater for Thanksgiving.
And then the Final Four … and we were in the unfamiliar role of underdogs. Coach prepared us perfectly for each match building us up against UNC and Stanford, making sure we didn't take the OSUs (Oklahoma and Ohio) too lightly. That Saturday before the finals there were signs in the air, signs of victory if one were watching. The local church was Sacred Heart just like the Basilica at home. The ceiling filled with gold stars like the basilica, but the sky was Carolina blue rather than navy. But Carolina was not there. The uncharacteristic Irish snowfall that blanketed the ground.
And it was game time and the team played flawlessly. First to every ball, unselfish and controlling, playing the beautiful game. But an incredible goalie stood in our way until the 63rd minute when she couldn't stop yet another shot. She did turned away two more after the goal, but our defense was solid as usual. We were the national champions. [University President] Father [John] Jenkins was there and prayed a prayer of Thanksgiving afterward. [Athletics Director Jack] Swarbrick phoned back to South Bend to tell them to turn on the lighted No. 1 on top of Grace Hall so it will greet us when we return. Hearing Jess [Schuveiller] tell us that the victory was everyone's, that players that play 90 minutes and those that don't play any. The look on Coach's face after we won.
The first two National Championship teams are legends to us. They are talked about all the time and their photos adorn the wall in our beautiful new Alumni Stadium. We will join their ranks. We will never forget today. Thank you, Notre Dame Our Mother.