Press finishes career on top
January, 8, 2011
01/08/11
12:27
AM ET
There is no shame in finishing second to a worthy opponent. Christen Press knows that better than she might like, as a part of two Stanford women's soccer teams that reached the national championship game unbeaten, only to fall against teams that played better on those particular days.
[+] Enlarge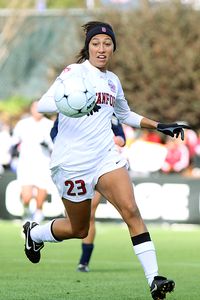 Andy Mead/YCJ/Icon SMIChristen Press led the country with a goal per game.
But now it's the rest of the college soccer world that can take solace in knowing there's no shame in finishing second to Press, winner of the Hermann Trophy as the nation's best player.
In a field of finalists that included Notre Dame junior forward Melissa Henderson, who earned a deserving nod as the College Cup's Most Outstanding Player en route to a national title; and Cal senior forward Alex Morgan, who scored what proved to be the goal that clinched World Cup qualification for the United States national team; Press was nevertheless the clear choice, and the right choice for the Hermann.
From the first game in the heat and humidity of August to a final played one day after snow squalls rolled through Cary, N.C., and interrupted Stanford's practice, the Cardinal were the team to beat and Press the player that made them so. That Notre Dame hit its stride in time to play brilliant postseason soccer didn't change that, but instead only emphasized that the question of the season, left unanswered until its final 90 minutes, was: Could anyone stop Stanford? And could anyone stop Press?
The Fighting Irish won the title; Press defined the season.
The numbers alone are staggering. Press was the only player in Division I to average a goal per game this season, finishing with 26 goals in 26 games. And -- not that there were a lot of soft spots on a schedule that included 19 games against NCAA tournament teams -- but she produced those goals consistently, scoring at least once in all but seven games. That she finished her career as Stanford's all-time leader in goals and assists might not have direct bearing on an award meant to honor the best of a single season, but those milestones do reveal something about the versatility that made her such a headache for opponents as a senior. While she was the nation's leading goal scorer this season, she tied for the national lead in assists as a junior. Even this season, asked to carry the weight of finishing so many goals, she managed eight assists, a playmaking mark exceeded by no more than 50 or so of the thousands of Division I players.
Stanford missed out on the program's first national championship, but the Cardinal did make history thanks to Press. For the first time, a program other than North Carolina produced back-to-back Hermann wins by different players, Press' win coming on the heels of Kelley O'Hara capturing the award last season. And, numbers aside, the most impressive aspect of Press' performance as a goal-scoring machine this season might have been her adaptability to the circumstances under which it came. After all, there are few more timeless themes in team sports than the perils of going from complement or understudy to the leading role. A handful of memorable performers -- Steve Young following Joe Montana, Diana Taurasi following Sue Bird and Swin Cash, Casey Nogueira following Heather O'Reilly -- manage it to championship effect. Fewer still do it with the grace and skill Press displayed in taking the reins, and taking the full brunt of opposing defenses.
Like those others, she didn't just clear the bar; she raised it higher for whomever comes next.
Press made almost everything she did look effortless, be it running by anyone and everyone, dancing around defenders in the box with the ball at her feet or unleashing a shot on frame from outside the 18-yard box. Nobody who wins the Hermann looks like a fish out of water on a soccer field, but something about Press made it particularly easy to miss both the effort behind her grace and the competitive fury behind the often-smiling visage.
"Everyone's always talking: 'Wow, Christen's so good, she's so fast, she's so smart.' And I feel like everyone just thinks those things are a given," Stanford senior Allison McCann said at the College Cup. "But the amazing thing about Christen is she's earned all of that. She's the first one out to practice and the last one staying after, doing extra shooting, asking for extra video.
"She does everything to make herself that great. The reason she is that incredible is because of how hard she's worked."
Nobody need feel wronged finishing second in this race. Press is finally alone in first, and that's precisely where she belongs as she exits the college stage.