Penn State regains lead in semifinals
March, 19, 2011
03/19/11
9:15
AM ET
PHILADELPHIA -- Being put in a difficult situation can bring out the best in people, and after Friday night's semifinals and wrestlebacks, the same can be said about the Penn State Nittany Lions at the NCAA Division I wrestling championships.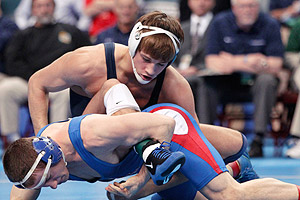 AP PhotoFreshman David Taylor has come up big for Penn State.
After suffering several setbacks in the quarterfinals and relinquishing the team lead to Cornell, the Big Ten champions broke through in the semifinals and consolation bracket to take a commanding lead over second-place Cornell 92.5-75.0.
Freshman standout David Taylor remained undefeated after handing American's second-seeded Steve Fittery his first loss of the season in the 157-pound semifinal 7-1.
The real fireworks for Penn State came at 184 pounds when No. 9 Quentin Wright tossed Iowa's 12th-seeded Grant Gambrall to his back for a second-period pin that brought the Wells Fargo Center crowd to its feet.
Cornell began the night with a slim ½-point advantage and four semifinalists. However, the Big Red came up empty other than 2010 national champion Kyle Dake's win over No. 8 Ganbayar Sanjaa of American at 149 pounds 4-0.
Second-seeded Mack Lewnes (174 pounds) was bounced to the consolations by Stanford's seventh-seeded Nick Amuchastegui 5-2, and No. 3 Steve Bosak (184 pounds) followed that up with a loss to No. 2 Robert Hamlin of Lehigh 4-2 in sudden victory.
The bleeding would not stop at 197 pounds either, where top-seeded Cam Simaz was stunned by Kent State's fourth-seeded Dustin Kilgore in a back and forth tussle 10-9.
Third-place Iowa advanced No. 2 Matt McDonough to the finals at 125 pounds and currently sits one point behind Cornell.
McDonough will face off against top-seeded Anthony Robles of Arizona State in Saturday night's final after Robles scored a 4-2 decision over Utah Valley's Ben Kjar.
In the 133-pound semifinals, No. 1 Jordan Oliver of Oklahoma State put the clamps on Wisconsin's fourth-seeded Tyler Graff 5-2. His opponent will be a familiar foe in the form of No. 2 Andrew Hochstrasser from Boise State. Hochstrasser defeated 2010 national runner-up Andrew Long of Penn State 7-4.
The night really got going at 141 pounds where top-seeded Kellen Russell of Michigan needed an 18-second riding time advantage to upend 2010 NCAA runner-up Montell Marion of Iowa. It is the first time Russell has qualified for the finals. He will meet No. 3 Boris Novachkov of Cal Poly, who dominated No. 2 Mike Thorn of Minnesota 9-3.
At 149 pounds, Dake will match up with Penn State's second-seeded Frank Molinaro. The match could be a critical point in deciding the team title if Cornell is still with striking distance.
Standing across the mat from Taylor on Saturday night at 157 pounds will be a familiar face to the Penn State faithful -- Bubba Jenkins. A 2008 national runner-up for the Nittany Lions in 2008, Jenkins transferred to Arizona State and now looks for some payback against his former team.
Nebraska's Jordan Burroughs was business as usual in the semifinals. The undefeated senior took care of No. 5 Colt Sponseller from Ohio State 14-6. Now the 2009 NCAA champ turns his sights to Oklahoma's Tyler Caldwell, who upset defending champion Andrew Howe of Wisconsin. Burroughs is looking to become Nebraska's first two-time NCAA champion in wrestling.
Redemption is the theme at 174 pounds for No. 1 Jon Reader of Iowa State. The Cyclone senior failed to place in last year's tournament but came back with the goal of winning the national title. He sits one match away after disposing of No. 5 Chris Henrich of Virginia 4-3. Reader will meet Amuchastegui for the crown Saturday.
Undefeated Clayton Foster of Oklahoma State will be Kilgore's opponent after stifling No. 3 Trevor Brandvold of Wisconsin in the 197-pound semifinals 4-3.
Finally, the heavyweight matchup should be a real treat when No. 1 Zach Rey of Lehigh looks to avenge his only loss of the year to No. 3 Ryan Flores of American. Rey defeated Missouri's fifth-seeded Dom Bradley 2-1, while Flores eased to a 4-0 win over No. 2 Jarod Trice of Central Michigan.
Saturday morning will be the medal round for all wrestlers still in consolation play, and depending how the placing goes, the team title could be locked up before Saturday night's championship matches.
The medal round begins at 11 a.m. ET; Saturday night's championship matches begin at 7:30 p.m. ET. Both can be seen on ESPN and ESPN3.com.
Jason McDonnell is covering the NCAA wrestling championships for ESPN.com and ESPN Mobile. Follow along on your mobile device here.