Familiar face leads UCLA's youth movement
October, 16, 2011
10/16/11
11:06
PM ET
Few athletes have demonstrated talent beyond their years quite like young Sydney Leroux.
Yet as she concludes her college career and tries to lead UCLA back to the College Cup, the asset that might ultimately separate success from disappointment is the wisdom of her years.
[+] Enlarge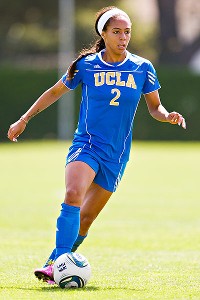 Scott Chandler UCLA has benefited from an influx of freshmen this season, but the mainstay for the Bruins has been senior Sydney Leroux.
At 14 years old, Leroux was the youngest player in the 2004 Under-19 Women's World Cup when she took the field for Canada. At 18 years old, she started all season as a freshman for a UCLA team that didn't lose a game with her in the lineup, missing the team's eventual College Cup loss because she was occupied with winning the Golden Ball for the United States, her adopted home, in the 2008 Under-20 World Cup.
It seems like she has been around the scene forever, a feeling only heightened now that she's surrounded by teammates who almost literally just got here yesterday. UCLA regularly starts five freshmen and often plays 10 of them during the course of a game -- of the 143 starts made through the team's first 13 games this season, 70 came from freshmen.
A trip to the Bay Area this past weekend offered a cold dose of reality for the previously unbeaten and once-drawn Bruins, producing a 0-all draw at California and a 4-1 loss at No. 1 Stanford, but something is working for a team that began the season ranked No. 16 and entered the game against the Cardinal ranked No. 3 despite its inexperience.
Coming off a disappointing 2010 season in which an injury-plagued team managed just a 13-8-2 record and a Sweet 16 NCAA tournament exit, not to mention an offseason in which Jill Ellis surprised many by stepping down as coach, starting from scratch might have been cause for trepidation. Few doubted what the incoming class would have in the future, but a senior's only chance to win comes in the present.
Yet Leroux saw opportunity.
"It wasn't so much that I was worried; I was more excited," Leroux said. "Last year we had a tough run, and we knew that we needed some new players. Luckily, I'd gotten a chance to play with some of them or against them in the [Under-20] World Cups. I was excited. I think we needed a young spark and that excitement that sometimes you lose as you go through sophomore, junior into your senior year. I think you lose that excitement you have as a freshman."
In her case, another part of the recent past might have helped shape her outlook. In addition to UCLA's struggles last season, Leroux was a co-captain on the United States team that exited the 2010 Under-20 World Cup in stunning fashion, bounced by Nigeria in a quarterfinal penalty shootout. As she brings up without being prompted, she took and missed the final penalty for the Americans on that day in Germany, securing a captain's double whammy of tangible and intangible blame, fair or not.
She said the experience made her a better person and a better soccer player. People say that kind of thing a lot. At least through the prism of leadership on a soccer field, Leroux's actions suggest they were more than words.
"There have been times that we forget that we are just freshmen, and we have to earn our spot on the team just like everyone else," freshman Samantha Mewis said. "I think Syd has had to do a couple of hard things to make us realize that, but you definitely need someone like that on the team. We all look up to her and we all respect her."
B.J. Snow is in his first year as coach at UCLA, but he's been a key part of the program, as well as the youth national team, throughout Leroux's career. He's seen the maturation manifest itself in her game.
"Where I think her growth has been the most fun to watch is to see her soccer-playing ability, her technical ability, adapt to the point where she doesn't have to rely on her athleticism," Snow said. "It comes to a point, especially when you're going to try to reach the levels of the full national team, that your athleticism only takes you so far. And her decision to start putting in the work to make herself a better overall player, to be a student of the game, to study tape, to stay after practice to work on finishing, all those types of things, that's the thing that's fun to watch."
It will be fun to watch UCLA's talented newcomers make that same climb in the years to come. For now, Leroux just needs them to come far enough to let her take them the rest of the way.
"Our final pass is not there yet," Leroux said of a team with four goals in its past five games. "It's also because there's a lot of freshmen and the game is a lot faster. Sometimes it's hard -- sometimes even for me, I have trouble finding that final pass. I think once we get that, and once we get one of those really good wins where it's like a 3-0 game, I think that's going to open the gates."
She speaks from experience. A player who once defied age now has an opportunity to use it to her advantage.
Graham Hays covers women's college soccer and softball for ESPN.com. Email him at Graham.Hays@espn.com. Follow him on Twitter: @grahamhays.
Follow ESPN.com's college sports coverage on Twitter @ESPN_College and on Facebook.