Previewing Stanford-Florida State
November, 29, 2011
11/29/11
12:35
PM ET
It may be the weekend that decides the national championship in women's soccer, but No. 1 seed Stanford and No. 1 seed Florida State lend a little international flair to one College Cup semifinal in Kennesaw, Ga. Following in the footsteps of former stars like Sel Kuralay (Australia), Sanna Talonen (Finland) and Mami Yamaguchi (Japan), current Seminoles Janice Cayman (Belgium), Ines Jaurena (France) and Dagny Brynjarsdottir (Iceland) are all key figures for a team playing more like its No. 1 seed at the moment than its sixth-place ACC finish. The overall No. 1 seed, Stanford answers with Teresa Noyola and Alina Garciamendez, who while both born in the United States played for Mexico in last summer's Women's World Cup.
How No. 1 Stanford (23-0-1) got to Kennesaw
(NCAA tournament wins: Montana, California, No. 4 Boston College, No. 2 Oklahoma State)
Stanford's run of College Cups began, at least in part, when it cajoled former star Kelley O'Hara to leave Georgia for the West Coast (granted, Palo Alto is not a tough sell). Now the Cardinal head to Georgia for a fourth consecutive appearance in the semifinals because the system proved to be bigger than any one player, including alums like 2009 Hermann Trophy winner O'Hara and 2010 winner Christen Press. The current seniors lost just one regular-season game in their careers, and that came four seasons ago. This year's team ranked fourth in the nation in scoring offense and second in goals-against average, both marks tops among teams in the College Cup.
Stanford players to watch
Camille Levin: The psychology major is a master of multiple personalities on the field, excelling anywhere coach Paul Ratcliffe asks her to play. And he asks her to play just about everywhere. As an outside back, she's a fearless tackler and half of the most dangerous pair of fullbacks in the nation, along with Rachel Quon. In the midfield, where she often shifts during the course of a game, she's a creative playmaker with a forward's finishing touch.
Lindsay Taylor: At some point this weekend, you're going to hear about Taylor's talents as a finisher, so we might as well get the meme going. Ratcliffe talks about it, teammates talk about it, and opponents lament it. She has terrific range from outside the box and a nose for the back of the net inside it. She leads the team with 20 goals this season, and No. 20, the overtime winner against Oklahoma State, moved her past Julie Foudy for fourth all time at Stanford.
[+] Enlarge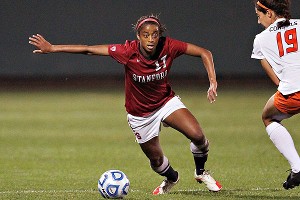 Rick Bale/Stanford AthleticsStanford has relied on Lindsay Taylor's goals this season and it will likely be no different at the College Cup.
Teresa Noyola: No other player in the College Cup has more assists than the engine of Stanford's midfield, an avid Barcelona fan who very much fills an Andres Iniesta-like role for the Cardinal. With four College Cups and a trip to the 2011 Women's World Cup with Mexico under her belt, she's as experienced as a player can be at this level.
Question for the Cardinal to answer: How will they fare so far from home?
Yes, it's picking at the smallest of nits, but the Cardinal don't leave much at which to pick. And as good as they have been all season, they have not, at least to date, been nearly as prolific away from the comforts of home. In nine regular-season road games, they scored more than two goals just twice, drew 0-0 at Maryland and needed overtime to register a 1-0 win at Washington. Is the resulting 8-0-1 road record, with a 17-3 scoring margin, cause for concern? Maybe not, but Stanford has exited the past three College Cups on the wrong end of 1-0 scores (twice in finals), despite entering each of those events ranked among the top six in the nation in scoring offense.
How No. 1 Florida State (18-6-1) got to Kennesaw
(NCAA tournament wins: Samford, Portland, Louisville, No. 2 Virginia)
Even with a couple of players stretching to make it to 5 feet, the Seminoles were tall enough to ride a roller coaster of a season to the College Cup. Ranked No. 5 in the preseason, they found themselves on the outskirts of the Top 25 and within shouting distance of failing to qualify for the ACC tournament, only to climb back to an NCAA No. 1 seed after winning the conference tournament for the first time in program history. Even with that seed, they're the only team in Kennesaw that had to go on the road to get there, beating Portland and Louisville in Memphis after scheduling conflicts sent them packing from Tallahassee for the second and third rounds.
Florida State players to watch

Toni Pressley: The Seminoles allowed more goals this season than any of the other semifinalists, but they may have the best defender in the field. The 5-foot-10 Pressley is imposing enough to disrupt any target forwards (and potentially some FCS running backs) and athletic enough to hold her ground against the most nimble of strikers. Every look at goal is valuable in the College Cup, and Pressley's free kicks give the Seminoles an added offensive tool.
[+] Enlarge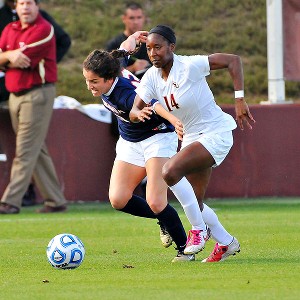 Larry Novey/FSU Sports InfoFlorida State missed Tiffany McCarty during last season's campaign; the Seminoles' leading scorer this season redshirted in 2010.
Tiffany McCarty: A season that ends in the quarterfinals isn't a disappointment most places, but there was something missing from a Florida State team that exited last season's NCAA tournament in a 5-0 loss at Stanford in the fourth round. Namely, goals. No player reached double digits in goals for the first time since 2004-05. Not coincidentally, McCarty missed the campaign with an injury. She doesn't just poach goals against weak opponents. Of her team-high 18 goals, eight came against ranked opponents, which doesn't even include a Sweet 16 goal against Louisville.
Tori Huster: She's the kind of player you can't fully appreciate until you see her play in person or on television -- and you will see her, popping up time and again when the opportunity arises to either stifle an opponent's buildup or prolong the same for the Seminoles. She has six goals and four assists, but her greatest work goes unrecognized in the box score.
Question for the Seminoles to answer: Is the defense an asset or a liability?
The Seminoles didn't just allow more goals than any of the other semifinalists, they allowed more goals in 10 ACC games (17) than any of other three teams did all season. But through seven postseason games in the ACC and NCAA tournaments, they've allowed just three goals -- and the lone tally against them to this point in the NCAA tournament came when Portland scored in the 85th minute of a game it trailed by three goals. Much of the goal damage was done during a midseason stretch in which Pressley was pushed up the field as the Seminoles battled offensive stagnation (and partly during a stretch when freshman midfielder Brynjarsdottir was out of the lineup). All the dominos are upright again in front of talented redshirt sophomore keeper Kelsey Wys.
Graham Hays covers women's college soccer and softball for ESPN.com. Email him at Graham.Hays@espn.com. Follow him on Twitter: @grahamhays.
Follow ESPN.com's college sports coverage on Twitter @ESPN_College and on Facebook.