Beth Torina takes charge of LSU Tigers
January, 17, 2012
01/17/12
4:49
PM ET
Editor's note: Graham Hays is counting down to the start of the 2012 college softball season with a look at each of the teams in his top 20. Check back daily for updates.

No. 19 LSU
Last year: 40-18 overall, 19-9 SEC (eliminated in College Station regional)
Who returns: Just about everyone who played in 2011. The Tigers only had three seniors a season ago, and neither Jessica Mouse nor Ashley Applegate were factors because of injuries from that group. Mouse transferred to South Florida for her final season, but Applegate returns as one of eight fourth- or fifth-year seniors. The centerpieces are senior pitcher Brittany Mack (20-7, 1.74 ERA) and junior pitcher Rachele Fico (14-10, 2.40 ERA). Outfielder Simone Heyward returns after a freshman campaign in which she led the team with a .294 batting average and 23 stolen bases.
Who departs: You might have heard, but the Tigers have a new coach in former Florida International boss Beth Torina. Hall of Famer Yvette Girouard retired at the end of last season, setting off a softball soap opera that saw Alabama coach Patrick Murphy accept the job at LSU, only to subsequently reconsider on the eve of his introductory press conference and return to the Crimson Tide program he built into a national power. Girouard's departure (and to some extent, Murphy's non-arrival) are the biggest changes for this team, but there were a few roster shifts. In addition to Mouse's transfer and starter Tiffany Shaw's, Anissa Young transferred to Cal State Fullerton for her final season. On a power-starved team, losing Young's 10 home runs is a big blow.
[+] Enlarge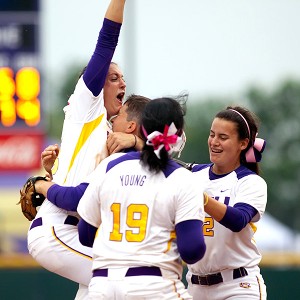 John Korduner / Icon SMILSU will be led by a new coach in 2012, but several key contributors return for the Tigers.
Who arrives: The most significant arrival is Torina, named Sun Belt Coach of the Year twice in her four years at Florida International. Familiar with SEC territory from both that stint and her playing days at the University of Florida, she also assists Gators coach Tim Walton in his summer job coaching the USSSA Pride in National Pro Fastpitch.
Preseason question: Will the pitchers smooth the transfer of power?
When Torina arrived at Florida International in 2008 for her first head coaching job, she inherited a team that had just finished 22-35 in a mid-major conference with pitchers who walked (215) almost as many hitters as they struck out (224). She left after three consecutive seasons of 30-plus wins with team ERAs of 2.69 or better.
So while the circumstances of her arrival in Baton Rouge were interesting, to say the least, and life in a conference like the SEC will present its share of pressure for a young coach, she knows as well as anyone that any coach's life is significantly less stressful when it doesn't involve worrying about the circle.
"Our pitching staff, I think, is our strength," Torina said of a group that ranked third in ERA in conference play in 2011. "Brittany Mack, Rachele Fico, Meghan Patterson, the three of them are definitely going to keep us in every ballgame we play. I think they will do some fantastic things on the mound. I think it is the strongest staff I've ever had the privilege of working with. I've really enjoyed my time with them, and they've been really open to making a few changes and adjustments.
"But ultimately, they're so talented, I just try not to screw them up."
Reminded that her pitching staff the past summer with the Pride included Cat Osterman, Danielle Lawrie, Sarah Pauly and Jordan Taylor, Torina amended her praise to the best college staff she's worked with.
Then she chuckled and offered an addendum her SEC peers already know but won't want to hear.
"I think a couple of these guys could survive pretty well in the pro league, though, honestly," Torina said.
The SEC reloads rather than rebuilds, but in losing veteran pitchers like Alabama's Kelsi Dunne and Florida's Stephanie Brombacher to graduation, in addition to Georgia's Alison Owen sitting out the season after transferring to Mississippi State, it's a conference where pitching is a question mark for some familiar names. That isn't the case with Mack, whom Torina called one of the greatest competitors she's worked with, and Fico, who combined to throw 592 innings the past two seasons.
Patterson, too, is an intriguing prospect. While much of her work as a freshman came against lesser opponents (she totaled just 5.1 innings in SEC play), striking out 91 batters in 53.2 innings is impressive stuff.
Run creation is an open question for LSU, as it has been in recent seasons, and one that will need an answer if it is to hold its own against championship-caliber teams like those at the top of the SEC (the Tigers are 6-17 against Alabama, Florida, Georgia and Tennessee the past two seasons). But with the stable foundation she inherited from Girouard, particularly in the circle, Torina can go about building trust with her new charges and building a better offense.
"That's something you do have to earn," Torina said of trust from her players. "I think by giving them some small things, some changes they can make, and hoping that they have some success with us will get them to respect us and trust us even more. And I think a lot of them are really starting to see some of these changes they've made pay off. "