Cowgirls eye return WCWS trip
January, 18, 2012
01/18/12
2:32
PM ET
Editor's note: Graham Hays is counting down to the start of the 2012 college softball season with a look at each of the teams in his top 20. Check back daily for updates.

No. 18 Oklahoma State
Last year: 42-20 overall, 8-10 Big 12 (eliminated in Women's College World Series)
Who returns: It won't be difficult to find Cowgirls with stories to tell about advancing to the Women's College World Series a season ago, the program's first trip in more than a decade. Seven players who started both games played in Oklahoma City return this season. Senior first baseman Julie Ward (.322 BA, 1.000 OPS), senior shortstop Chelsea Garcia (.333 BA, .976 OPS) and sophomore utility player Ari Morrison (.310 BA, .723 OPS) lead the way offensively, while junior ace Kat Espinosa (23-10, 2.20 ERA) and sophomore Simone Freeman (123 strikeouts in 108 innings) return in the circle. Senior Sammy Jo Diffendaffer retains the unofficial title of college softball's best name.
Who departs: When you trot out the clichés about senior leadership, it's because people like third baseman Mariah Gearhart and second baseman Alysia Hamilton keep lending them credence. Gearhart and Hamilton were the pulse of this team a season ago, big personalities who made their teammates better. They were also pretty good on the tangible side of the ledger, leading the Cowgirls in batting average and on-base percentage and playing flawless defense behind a pitching staff that relied on the gloves behind it as much as on strikeouts.
[+] Enlarge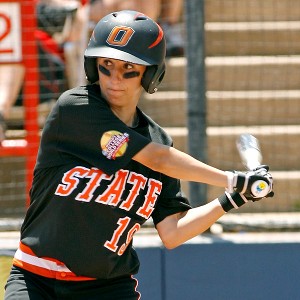 J.P. Wilson/Icon SMIOklahoma State returned to the WCWS in 2011, but exited Oklahoma City after two games.
Who arrives: Like Gearhart, who was a shortstop when she arrived in Stillwater, freshman Gessenia DeLaCruz will move a few feet to her right and play third base (at least until Garcia has departed). Head coach Rich Wieligman also expects Shelby Davis to step into a starting role in the outfield after being named Gatorade Player of the Year in Kansas as a senior in high school.
Preseason question: Where does Oklahoma State go from here?
Ranking Oklahoma State is one of the more perplexing preseason tasks. On one hand, the Cowgirls return all those starters from a team that reached the Women's College World Series -- and did so the hard way, beating Georgia Tech once and Tennessee twice in the Knoxville regional. On the other hand, it's a team that had a losing Big 12 record after it closed the regular season with six consecutive defeats against Missouri, Texas A&M and Nebraska.
So did Oklahoma State get hot at the right time or unlock the secret to sustained success?
If the answer is the latter, two infielders may once again lead the way.
Oklahoma State has played 180 games since the beginning of Garcia's freshman season. She started all 180 of them. After a slow start at the plate her first season, she hit .312 as a sophomore and .333 as a junior. Two starts behind Garcia for her career, Ward slugged .530 as a freshman, .650 as a sophomore and .590 last season. All the while, they were part of a defense that ranked either first or second in the Big 12 in each of the past three seasons.
"They've learned to approach the game at the same level, which is a high level but being consistent with that approach, not having many valleys or not falling off from that," Wieligman said. "I think that's the sign of a successful team, that they can come in and play the game consistently and not get too high or too low. I think Chelsea and Julie both do a pretty good job of that."
That's not to put sole responsibility for Oklahoma State's success on the shoulders of two seniors. Lord knows, in a conference that features pitchers Whitney Canion, Mel Dumezich, Blaire Luna, Keilani Ricketts and Chelsea Thomas, hitters have enough to worry about as it is. To that end, the Cowgirls have an ace of their own to call on, with Espinosa's toughness and pitch movement filling in for eye-popping strikeout numbers. And Freeman, an Australian who spent last season getting used to both a new level of softball and a new country, should be a bigger factor this season. It's going to take production from all of the aforementioned names, along with a career year from at least one other contributor to give this team the firepower to once again be a factor in conference play and beyond (as it was, only Kansas and Iowa State scored fewer runs in Big 12 play).
But if a team is going to be more than the sum of its parts, it starts at the top. Gearhart and Hamilton proved that last season.
"We've got to find people who are willing to dig down deep like they did and wanted to win like that and had that energy and were able to bring it on a consistent level every game," Wieligman said. "I don't know who is going to do it. We need to have somebody do it; the successful teams always continue that level of energy and passion for the game. We've just got to figure it out and hopefully we can find it."