Dumezich leads way for talented Texas A&M
January, 20, 2012
01/20/12
9:37
AM ET
Editor's note: Graham Hays is counting down to the start of the 2012 college softball season with a look at each of the teams in his top 20. Check back daily for updates.

No. 16 Texas A&M
Last year: 44-15, 13-5 Big 12 (eliminated in Tempe Super Regional)

Who returns: Arizona State went 10-0 in the NCAA tournament last season, and in only four of those games did an opponent come within two runs of the eventual national champions. Texas A&M did it twice -- and did it on Arizona State's home field both times. So it carries extra weight to note that the Aggies return eight starters from those games against the Sun Devils. The list of returnees includes pitcher Mel Dumezich, two-time Big 12 Defensive Player of the Year Natalie Villarreal (who hit .335 with a .967 OPS to go with her glovework) and shortstop Brittany Walker, a Florida transfer who finished strong.
In a different sense, Texas A&M may also benefit from the return of Meagan May. The All-American played 48 games and slugged .743 as a sophomore last season, but circumstances made it difficult for her to recapture her freshman-year form. May was involved in a serious car accident in June of 2010 that necessitated multiple surgeries related to head injuries. Once back on the diamond, a broken finger on the eve of conference play cost her half the Big 12 season.
[+] Enlarge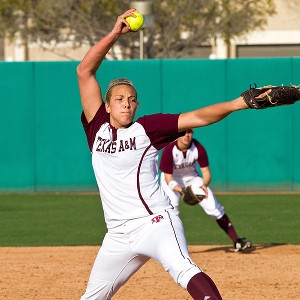 Courtesy of Texas A&M athleticsTexas A&M coach Jo Evans expects junior Mel Dumezich to have a breakout season for the Aggies.
"I can see her now getting herself back to where she was as a freshman and just feeling a lot more comfortable," Texas A&M coach Jo Evans said. "She's a great receiver, she knows how to call a game, she has great presence behind the plate and knows how to work with her pitchers. And offensively, she can be as good as anybody."
Who departs: Able to focus on hitting after also carrying a substantial load in the circle earlier in her career, Rhiannon Kliesing emerged as one of the Big 12's most consistent run producers. She saved the best for last, leading the team in batting average (.348), home runs (18), RBIs (53) and OPS (1.248) as a senior. Fellow graduate Kelsey Spittler's numbers don't jump off the page to the same degree, but she led the team with a .354 average in Big 12 play.
Who arrives: With so much depth returning, it isn't going to be easy for any of this season's five freshmen to find immediate playing time.
Preseason question: Is Mel Dumezich the Big 12's overlooked ace?
It isn't easy for a Big 12 pitcher to do something unique.
Earn a place on the U.S. national team while still in school? That's good, but there are three Big 12 pitchers who also wear the Team USA uniform in their spare time: Baylor's Whitney Canion, Oklahoma's Keilani Ricketts and Missouri's Chelsea Thomas.
Strike out hitters by the hundreds? Impressive, but the aforementioned trio, along with Texas ace Blaire Luna, topped 300 strikeouts.
Return with College World Series experience? Sorry, add Oklahoma State's Kat Espinosa to Canion, Ricketts and Thomas on a crowded list.
But if you want evidence that Dumezich belongs in any conversation about Big 12 aces, consider that last season she was named both Texas A&M's most valuable player, an accolade determined by the coaches, and its most inspirational player, an honor voted on by her teammates. By Evans' recollection, it's the first time in her 26 years of coaching that a player ever won both in the same season. And Dumezich did it as a sophomore.
"She's always wanted the ball, but last year she became that take-charge kind of pitcher," Evans said. "She didn't just focus on her role in the circle; she actually let herself sort of express the emotion that she feels when she plays, the passion. She's just an inspirational leader for us."
Dumezich went 19-3 with a 1.97 ERA as a freshman in 2010, but she totaled just 153.2 innings as the de facto No. 2 pitcher, or at least No. 1B, for much of the season. She started 37 games and pitched 247.1 innings as a sophomore, lowering her ERA to 1.92 despite the extra work and boosting her strikeout rate to better than a strikeout per inning. She was at her best in the big moments, posting a 12-4 record and 1.58 ERA in Big 12 play and going toe to toe with Dallas Escobedo in the super regional, allowing just seven runs in two games against an Arizona State lineup that went on to score 34 runs in six games in the World Series.
"She wasn't afraid to go right at hitters, and she has such great movement that she can be really challenging to hit against," Evans said of Dumezich's increased strikeout rate. "I think it had more to do with, 'Hey, I'm the No. 1, the ace, and I want the ball.' It was just that mindset."
Just for good measure, she also slugged .517 with 10 home runs in her time at the plate. And if Evans is right about that part of her game, the team may need a new award.
"She had some things to work out with her swing, and she's just gotten a lot better," Evans said. "She knows her swing better, she knows the offensive side of the game better and you can just see her getting more and more confident. I think this year she has potential to have a breakout year at the plate."