Ducks look to take next step
January, 23, 2012
01/23/12
10:50
AM ET
Editor's note: Graham Hays is counting down to the start of the 2012 college softball season with a look at each of the teams in his top 20. Check back daily for updates.

No. 15 Oregon
Last year: 42-16, 11-10 Pac-10 (eliminated in Gainesville Super Regional)

Who returns: Eight of the 10 players who totaled at least 100 plate appearances are back along with two pitchers responsible for 50 of the staff's 58 starts in 2011, so continuity isn't going to be a problem. Alexa Peterson and Courtney Ceo, a pair of sophomores, are the leading returning hitters. Peterson led all returnees in slugging percentage (.516), was second in on-base percentage (.434) and got stronger in Pac-10 play despite the defensive demands of catching. Also returning is junior outfielder Samantha Pappas, a productive hitter by almost any standard last season -- except perhaps the standard she set for herself as a freshman with an 1.113 OPS.
[+] Enlarge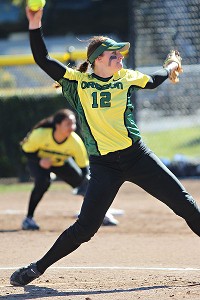 Geoff ThurnerOregon expects big things from Jessica Moore this season.
"I think she kept on looking for pitches that she wanted to hit instead of pitches she was going to get," Oregon coach Mike White said. "That's the big challenge. You see it frequently where a lot of players will have great freshmen years because they tend to think a lot less and just do it. Then they come in sophomore year and they don't adjust or they start thinking too much. But Sam is a talent; there's no doubt about it. Just like her freshman year, she showed that she was probably a player to watch for the player of the year.
"If Sam produces like she can, Sam and [junior outfielder] Allie Burger, this team is going to go a long way."
Who departs: The big loss is Monique Fuiava, who closed out her career last season as Oregon's best power threat. The Ducks also lose two pitchers who provided depth behind starters Jessica Moore and Samantha Skillingstad. Brittany Rumfelt graduated, and Mikayla Endicott transferred to Ohio State.
Who arrives: Two names to know are Karissa Hovinga and Janie Takeda. A pitcher with extensive experience on Canadian junior national teams, including a stint in the recent Junior World Championship in South Africa, Hovinga should be able to eat up innings to keep Moore fresh for conference play. Takeda could push for a starting spot in the outfield and will bring additional speed and a good glove to the lineup.
Preseason question: How does Oregon get over the remaining hurdle?

Oregon has come a long way in just two seasons with White at the helm. The program with the longest World Series drought in the Pac-12, including new softball member Utah, reached a super regional in each of White's first two seasons and last season recorded its first winning conference record since 1989.
The catch is that progress in college softball is more like climbing a mountain than running a marathon. Those final few steps to the summit, with the air at its thinnest and the incline at its steepest, are as tough as the sum of all those that preceded them.
"I think two trips to the super regionals has set in place an expectation for us and a kind of taste of what it's like to get that far in the tournament," White said. "But it's also a great goal of ours now to get to the next step, which is going to be the College World Series. We realize there's a big jump from being in the top 15 to the top eight."
No matter how much offensive numbers soar in college softball, a pitcher capable of winning games by herself and giving her teammates an opportunity to win them against other aces is a tried and true recipe for success. Moore looked like that pitcher for long stretches last season as a sophomore, going 24-11 with a 1.90 ERA and 224 strikeouts in 206.2 innings to put herself in the conversation with Pac-12 foes such as Arizona State's Dallas Escobedo, Arizona's Kenzie Fowler, Stanford's Teagan Gerhart and Cal's Jolene Henderson. A small-school prep product out of California, Moore could be a late bloomer in a sport where aces are often tracked from middle school.
"I'm expecting more from Jessica this year," White said. "I think Jessica could be even better than what she's shown in the last two years. She has the ability to throw with anybody in the country as far as her movement, her velocity, her change of speed. She's got all the tools. Now we just need her to tighten it up, kind of like how Danielle Lawrie did."
One area of improvement Moore noted last season was composure, not letting errors behind her be a distraction. She needs to build on that, but the Ducks also need to give her fewer opportunities to do so. No Pac-12 team was even close to their league-worst 79 errors or .951 fielding percentage. Those miscues led to 44 unearned runs. By comparison, national champion Arizona State allowed just nine unearned runs in 66 games.
The Sun Devils were a defensive mess when coach Clint Myers arrived. Changing that was one key to becoming regular visitors to Oklahoma City.
"We're certainly working on some mechanical things, some fundamentals that allow us to make those plays, but a lot of it is mental," White said. "You've got to understand that you are going to make errors, but it's not usually the one error that hurts you. It's the three or four in a game. That's what we've been guilty of in the past."