Pitching will be Michigan's key
January, 23, 2012
01/23/12
8:22
PM ET
Editor's note: Graham Hays is counting down to the start of the 2012 college softball season with a look at each of the teams in his top 20. Check back daily for updates.

No. 14 Michigan
Last year: 53-6 overall, 18-2 Big Ten (eliminated in Ann Arbor Regional)

Who returns: Fans of the Wolverines will point out the answer is more than might be expected of a team ranked outside the top 10 despite winning 53 games a season ago. Seven players who started at least 47 games last season return, including five regulars who hit better than .300.
[+] Enlarge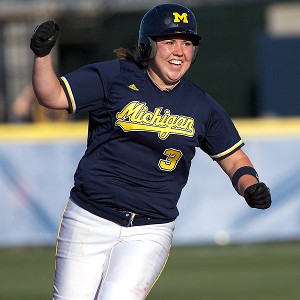 J.P. Wilson/Icon SMISenior third baseman Amanda Chidester has been a versatile contributor for Michigan.
Any catalog of familiar names begins with senior third baseman Amanda Chidester, who finally gets to open a season playing the same position she played the previous campaign. In her first season at the hot corner after playing catcher, second base and outfield, Chidester more than held her own defensively and hit .423 with 75 RBIs and a 1.199 OPS. Second baseman Ashley Lane (18 HR, 71 RBIs) and outfielder Bree Evans (.951) may push for All-America honors of their own.
Michigan also adds a former starter to the list of returnees from last season. Redshirt junior Stephanie Kirkpatrick played just 10 games last season before injuries knocked her out of action. She has started 111 games in two-plus seasons in Ann Arbor and committed only 14 errors.
Who departs: Jordan Taylor finished her career as Michigan's all-time leader in wins, innings pitched, winning percentage and strikeouts. For good measure, she even left as the leader in saves for the Wolverines. And the Californian was never a more central figure in the circle than in her final season. After splitting starts with Nikki Nemitz for three seasons, she threw a career-high 241.1 innings in 2011. Michigan also loses a big bat (not to mention its main batting practice attraction) with the departure of Dorian Shaw. Even with a somewhat frustrating conference season, Shaw slugged .701 with a .595 on-base percentage in 2011.
Who arrives: The focus will be on a pair of freshman pitchers, but more on them momentarily. Catcher Lauren Sweet is a potential impact player in her own right. A prep All-American and California's Miss Softball in 2011, she may have trouble displacing sophomore incumbent Caitlin Blanchard behind the plate, but whether there or in the outfield, she can be a contributor.
Preseason question: What will the pitching look like?

It's the question everyone is asking about Michigan this season. Really, everyone.
"We're solid on the mound, but are we good enough to be an elite team on the mound?" coach Carol Hutchins said. "I don't know. I'm about to find out."
Taylor is Michigan's career leader in innings pitched. Nemitz is seventh on the list. Jennie Ritter, the pitcher of record when the team won the national championship in 2005, is second in innings pitched. Those three pitchers combined to throw 2,402 innings over nine consecutive seasons in which at least one of them was in the circle. Add in Lorilyn Wilson, a bridge between Ritter and Nemitz, and four pitchers more or less defined the program for nearly a decade (include Marissa Young and Nicole Motycka and you can just about go back to the start of the century).
In other words, uncertainty in the circle may not be unexplored territory for Michigan, but it has been a while since it came this way.
It is not a complete changing of the guard. Stephanie Speierman went 18-1 with a 1.88 ERA as a sophomore last season and has earned her shot to take on a larger role. But Speierman also pitched just 26 innings in Big Ten play and made just one relief appearance in the team's four games in an NCAA tournament regional.
Enter freshmen Sara Driesenga and Haylie Wagner, who share some connections with their predecessors. One is from Michigan (Driesenga) and one from California (Wagner), just like Nemitz and Taylor. One is a righty (Driesenga) and one is a southpaw (Wagner), just like Nemitz and Taylor.
But whatever trials and tribulation await this season, they at least appear to have the necessary tools to establish their own identities.
"Both my freshmen, I'm so impressed with their maturity and their work ethic," Hutchins said. "Tremendous and really, I think, above average."
There were other matters on which the coach was less sanguine. Driesenga still needs to hone her repertoire beyond the drop ball. Wagner, who didn't pitch at all last fall as a result of physical wear and tear and the resulting bad mechanics, is only now regaining the form that made her a success in softball's toughest prep environment. And as is the case for any freshman pitcher, doubly so in this case, the college game simply takes some getting used to.
"Every pitch is so important," Hutchins said. "The game hasn't changed; the pace and the intensity changes, the ability to go pitch to pitch to pitch, every pitch. One letup and what have you got? You got a home run. The mental strain on these kids is amazing. Everybody they're pitching against can hit. ... They have to learn to stay with it."
The two freshmen could play almost as big a role in replacing Shaw as Taylor, with both expected to hit regularly and play some first base when not in the circle.
But who is on first isn't the question anyone in Ann Arbor is asking.