A make or break year for Longhorns?
January, 25, 2012
01/25/12
9:09
AM ET
Editor's note: Graham Hays is counting down to the start of the 2012 college softball season with a look at each of the teams in his top 20. Check back daily for updates.

No. 13 Texas
Last year: 46-10 overall, 14-5 Big 12 (eliminated in Austin Regional)

Who returns: Just about everyone returns for the Longhorns. Whether that's a point in their favor or a strike against them depends on what part of last season's synopsis above first catches your eye.
But we're getting ahead of ourselves. Of the 1,440 at-bats recorded by Texas hitters last season, 1,230 are represented in burnt orange this season. Senior Lexy Bennett (1.302 OPS, 41 RBIs) is one of the most productive hitters in the conference, if not one of the five or 10 best in the country. She enters her final season with 172 hits in 162 career games, including 60 extra-base hits. Taylor Hoagland, a regular in the mix for USA Softball, isn't far behind Bennett (in 2011, Hoagland had a 1.181 OPS and a single-season school record 15 HRs). Shortstop Taylor Thom didn't exactly slow down as her freshman season wore on; instead, she led the Big 12 with a .448 average in conference play and hit .352 overall.
[+] Enlarge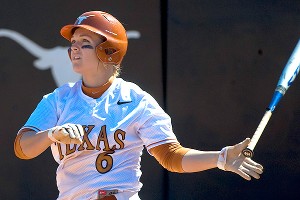 Courtesy of Texas Athletics Photography Taylor Hoagland and Texas hope they can finish what they start in 2012.
In the circle, Blaire Luna returns after going 28-7 with a 1.27 ERA and 316 strikeouts as a sophomore. That gives her 720 strikeouts in two seasons, already good for third all time at Texas.
Who departs: If you're going to lose just one starter, it would be tough to lose one more important than Amy Hooks. Her graduation leaves the Longhorns with some offense to replace (to the tune of 13 home runs). But more importantly, it leaves them in need of a new catcher to replace one who received most of her 214 career starts behind the dish and called her own game.
Who arrives: As might be expected given the returnees, Texas doesn't welcome a particularly large group of newcomers. Coach Connie Clark said freshman Gabby Smith is the hardest thrower on the team, but it's not clear how much of her immediate contributions will come in the circle and how much will come as a utility first baseman.
Preseason question: Is this a make-or-break year for Texas?

To get back to where this began, what do you see when you look at Texas?
Do you see a team that returns most of the key players responsible for an 89-25 record the past two seasons? Do you see a team that lost just five times in the ultra-competitive Big 12 last season and slugged .591 with a .416 on-base percentage in a conference with the deepest pitching in the country?
Or do you see a team that faded down the stretch the past two seasons and crashed out of the NCAA tournament both times in regionals it hosted in Austin?
Clearly, given that Texas opens on the outer fringes of the top 20 in the ESPN.com/USA Softball Top 25, a lot of people are taking the "fool me once" approach to this group. Everyone remembers the postseason losses to BYU and East Carolina two seasons ago and to Houston and Louisiana-Lafayette last season. That includes the Longhorns.
"The mindset going into the year is on how we learn from last year, without focusing on last year for too long of a period of time and knowing we have a 2012 team ready to go," Clark said. "But certainly, I think you have to be able to learn from coming off an earlier exit than we wanted or we expected with a quality team. The offseason was spent trying to go through everything with a fine-tooth comb. …
"We're looking at what we're doing in regards to competitive spirit; what does our behavior look like in regards to competitive spirit and competing exceptionally hard and trying to put everything kind of under a spotlight."
In isolation, there are ways to explain away the postseason failures as something less than systemic. Two seasons ago, most of the key players were freshmen and sophomores who might have hit a wall, mentally or physically, by the time BYU and East Carolina came calling in a regional. That's particularly true of Luna, who threw 242.1 innings that season as a freshman.
Last season, Bennett went down with an arm injury that cost her 10 games at the end of the regular season and left her at less than full strength for the postseason. That injury came as Texas hit a stretch of games against Baylor (Whitney Canion), Missouri (Chelsea Thomas) and Oklahoma (Keilani Ricketts), the kind of pitchers who can shake any team's confidence, let alone one deprived of its most consistent hitter, and plant a harvest's worth of doubt in its collective mind.
But put the two together, along with the fact that Texas hasn't gotten out of a regional since Cat Osterman departed, and any skepticism outsiders possess seems well-founded. That leaves it to those on the inside to refute those expectations. Talent is not the question for Texas, which has the power, speed, defense and pitching to get to Oklahoma City.
The question remains what the Longhorns do with it. "We talked about team unity," Clark said. "And just having a better approach as a team and being there for each other a little bit more, and really strengthening our inward circle of Texas softball a little bit. I think we were good in that regard, but we also feel we can be great in that regard, and that may be the difference-maker."