Cardinal look for more offense in 2012
January, 26, 2012
01/26/12
10:41
AM ET
Editor's note: Graham Hays is counting down to the start of the 2012 college softball season with a look at each of the teams in his top 20. Check back daily for updates.

No. 12 Stanford
Last year: 42-17 overall, 10-11 Pac-10 (lost in Tuscaloosa Super Regional)

Who returns: The best player in college softball returns, which is a pretty good place to start. Last season's USA Softball Player of the Year, shortstop Ashley Hansen, returns for her final campaign after hitting .495 with a .797 slugging percentage, .558 on-base percentage and just five strikeouts in 192 at-bats in 2011. A world champion at the senior international level with Team USA in 2010, the only high school player invited to the national team selection camp prior to the 2008 Olympics and now the reigning college player of the year, she lacks only a trip to the Women's College World Series to complete one of the most impressive careers by a position player in recent memory.
[+] Enlarge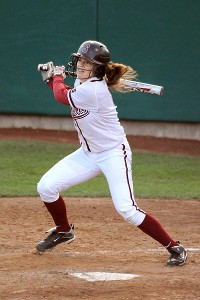 Stanford Athletics CommunicationsStanford will rely once again on shortstop Ashley Hansen's talents this season.
"I remember, when she was a freshman, just telling myself and my staff that we really need to enjoy every day that Ashley Hansen is in our program," Stanford coach John Rittman said. "It's not every year, or every four-year cycle, that you get to coach a kid like Ashley. She's just so consistent with her work ethic, her attitude, her passion for the game and what she brings to the team as far as leadership and those qualities. You've got to appreciate every day you get to spend on the field with a player like that."
And there are quite a few Cardinal players who have been lucky enough to spend a lot of time on the field with her. Stanford returns all nine hitters who totaled at least 100 at-bats last season. In addition to Hansen, that includes second baseman Jenna Rich (.520 slugging, team-leading 10 home runs) and outfielder Sarah Hassman (.496 on-base percentage, team-leading 35 stolen bases). One of those hitters, Teagan Gerhart, doubles as the returning ace in the circle, going 26-13 with a 1.74 ERA and 250 strikeouts in 257.2 innings as a sophomore, a nice recovery from a freshman season shortened by injury.
Who departs: Melisa Koutz and Ashley Chinn weren't stars, but last season's only seniors were valuable regulars. Koutz started 198 games during her Stanford career, mostly as a quality glove at first base, while Chinn went 16-4 with a 2.30 ERA in 134 innings in the circle as a senior, while making at least 15 starts in each of her four seasons.
Who arrives: Usually if the first section of these rundowns is lengthy, this section is short. Not so much with Stanford, which welcomes eight true freshmen and a redshirt freshman. The two most notable names may be Nyree White, daughter of Oregon softball coach Mike White and a pitcher who helped the United States win gold in the Junior World Championship in South Africa over the winter, and Hanna Winter, a likely starter at third base who played high-level travel ball but was also a track superstar in both sprint and jumping disciplines. Leah White, no relation to Nyree, is an ESPN Rise prep All-American out of Arizona with speed and a chance to play soon in left field.
Preseason question: Can the Cardinal score enough runs?

Stanford came within two runs last season of returning to the Women's College World Series for the first time since 2004, losing 1-0 at Alabama in the decisive third game of a super regional, but this team's ability to take the next step this season is going to depend on being able to step on home plate with significantly greater frequency.
The Cardinal hit .300 with a respectable .442 slugging percentage overall in 2011, but their performance in what was then the Pac-10 was more telling for a group that lacked the firepower to consistently put pressure on quality foes. In 21 conference games, they got just 19 extra-base hits from players other than Hansen and scored fewer than three runs per game. Gerhart is a good pitcher, and White could make it a nice tandem, but this isn't an Angela Tincher situation. It has to be a balanced effort.
Amidst all the newcomers and Hansen's considerable shadow, it could be a player like Corey Hanewich who puts this offense over the top. Stanford totaled 130 hits in conference play last season, but it got more than half of those from three players: Hansen, Hassman and Hanewich. A freshman out of Florida, Hanewich hit her stride at a time when freshmen in the nation's toughest conference usually buckle, hitting .333 with two doubles, a triple and a home run in 14 conference games, but a broken wrist late in the campaign knocked her out of the lineup for the postseason.
"Corey's fast, she can hit for power, and she was just kind of coming into her own when she broke her wrist," Rittman said. "We're looking forward to her [return]. She's still working on a few aspects of her game, but if we get her to be more consistent, she's going to be a very special player for us."
Even with all the returnees, Rittman said he fully expects to fill out lineup cards with four or five new starters at times. It's not clear yet if Stanford has the depth behind the game's best player to make a serious championship run, but at least there are a lot of options.
"It's going to be interesting to see," Rittman said. "I can tell you this: Our lineup is going to change quite a bit. And I can tell you we're going to be a lot stronger offensively than we were last year."