Former champs try for one more title
January, 26, 2012
01/26/12
11:30
PM ET
Editor's note: Graham Hays is counting down to the start of the 2012 college softball season with a look at each of the teams in his top 20. Check back daily for updates.

No. 11 Washington
Last year: Last season: 37-16 overall, 9-12 Pac-10 (lost in Columbia super regional)

Who returns: If you need more proof of just how quickly generations pass in college sports, the last remaining links to the 2009 national championship return in seniors Jenna Clifton, Kimi Pohlman, Taylor Smith and Nikia Williams.
Starters during that title run, Pohlman (1.019 OPS, 25 stolen bases in 2011) and Williams (1.224 OPS, 14 HR) are cornerstones for a team looking to improve on last season's regional win. Williams had back surgery after the season, but Washington coach Heather Tarr said the outfielder and team leader is healthy and ready to start the season.
Two players who weren't available when Washington played Missouri in the super regional also return.
Hooch Fagaly missed last season with a torn ACL but as a freshman in 2010 hit .289 in conference play, always a test for Pac-10 rookies, and perhaps made her biggest contribution with her glove at first base.
"She's just such a credible person on our team, as far as how she works, how she approaches the game and what she has the potential to do with her bat," Tarr said.
One of the four seniors, Smith made only 24 starts last season before a back injury sidelined her, but that was enough time to hit 10 home runs and drive in 32 runs while compiling an off-the-charts 1.438 OPS.
"She's kind of always been a wild card for us as far as being an everyday contributor," Tarr said. "She did awesome in our [nonconference games], but she got injured in the second week of the Pac-10. So you don't quite know what she's going to do against the best pitching, but her power is always something other teams are going to have to worry about."
Who departs: The Kingdome, the Alaskan Way Viaduct, the Sonics -- Seattle has seen its share of fixtures disappear in recent years. The left side of the Washington infield is next in line. For 142 games dating back to the middle of the 2009 season, shortstop Jenn Salling and third baseman Morgan Stuart were as good as it gets on defense. And Salling was even better at the plate, posting a 1.147 OPS as a senior, including a .508 on-base percentage.
Who arrives: There are only four freshmen, but the quartet was deemed good enough by ESPN RISE to earn the Huskies a No. 6 ranking among this season's classes. All four newcomers are likely to see significant action immediately, most notably in the infield, where Courtney Gano, Kylee Lahners and Kimberlee Souza could all start. Lahners is perhaps the most heralded of the group, a member of the U.S. junior national team that won gold in the Junior World Championship in December and a prep All-American from Laguna Hills, Calif. All three have already impressed with their poise and energy.
Preseason question: Has Kaitlin Inglesby escaped the shadow?

[+] Enlarge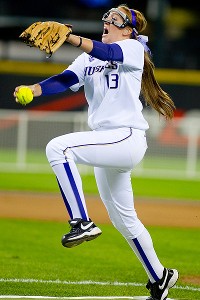 Scott Eklund/Red Box PicturesKaitlin Inglesby is coming into her own after replacing Danielle Lawrie.
Or, to put the question in longer form: When you consider who she followed, what she did at the plate and in the circle and the conference in which she did it all of it, did Inglesby quietly have the most impressive season in the country?
All Inglesby had to do as a freshman was replace Danielle Lawrie, the Canadian Olympian and two-time USA Softball Player of the Year who led the Huskies to the first national title in the program's long and successful softball history, and ranked not only as the nation's best college pitcher but also one of its best sluggers.
Texas hasn't been back to a super regional since Cat Osterman left. Virginia Tech hasn't come close since Angela Tincher left. Even Tennessee took some time to recover after Monica Abbott moved on. But with Inglesby going 25-10 with a 2.38 ERA in 217.2 innings in the circle, 64 percent of the team's total innings, and hitting .422 with 40 RBIs and a 1.244 OPS, Washington survived the Pac-10 grind and had enough left to win a regional. That says something about a freshman who is just getting started.
"She's a talented player," Tarr said. "She's a competitive athlete. But as far as experience went, and learning the game at the level that she needs to pitch at, she was really far away from that last year.
"She's talented enough to not have had the game completely humble her because she throws hard, she developed a pretty good changeup and she's a very good athlete. But I think when she got through postseason and to the end of the super regional, she started to realize what her capacity was. I know she knows there's just so much more to the game than pitching -- thinking the game, thinking strategically about the lineups that she's facing."
Inglesby will have pitching help this season. Part of the talented freshman class, Kasey Stanchek figures to see innings (as well as at-bats), and sophomore Bryana Walker, who was just 17 as a freshman dealing with a leg injury last season, should play a larger role. But there's no doubt who enters the season No. 1. And while every pitcher who takes the ball for Washington for the next decade or four will be measured against Lawrie, Inglesby being Inglesby is what matters this season.