Ace Whitney Canion returns to lead Baylor
January, 30, 2012
01/30/12
12:16
PM ET
Editor's note: Graham Hays is counting down to the start of the 2012 college softball season with a look at each of the teams in his top 20. Check back daily for updates.

No. 10 Baylor
Last year: 47-15 overall, 11-7 Big 12 (lost in Women's College World Series)

Who returns: Baylor won 19 more games last season than it did in 2010. Whitney Canion threw 278.2 innings in 2011 after injuries limited her to 48.2 innings in 2010. You make the connection. Now a redshirt junior, Canion is the star of the show in Waco, a player of the year candidate in softball just as Brittney Griner is in women's basketball and Robert Griffin III was in football. Canion finished last season 31-12 with a 1.28 ERA and 339 strikeouts.
[+] Enlarge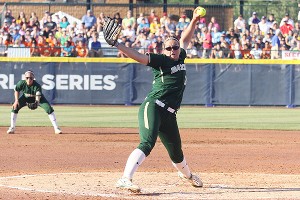 J.P. Wilson/Icon SMIWhitney Canion's lengthy career at Baylor will come to an end in the WCWS.
Plenty of familiar faces surround Canion. Leading hitter Kathy Shelton returns after a breakout sophomore season (.359 average, 33 stolen bases), as do Holly Holl (.356 average, team-best .469 on-base percentage) and Kayce Walker (.401 on-base percentage, 18 stolen bases). The catching tandem of Kelsi Kettler and Clare Hosack gives Baylor two viable starters at a position at which that's especially useful, while Megan Turk, Shelbi Redfearn and Sydney Wilson combined for 135 starts in 2011.
Who departs: Dani Leal was only part of the Baylor lineup for two seasons, but the juco transfer left a lasting impact (she's still around as a student assistant coach). The shortstop led the team with 14 home runs and 38 RBIs last season. Her keystone partner, K.J. Freeland, also departs after more than 160 career starts.
Who arrives: Leal and Freeland will be replaced by Jordan Strickland and Delaney Guy, respectively, part of an eight-person freshman class for the Bears. Coach Glenn Moore went so far as to say Strickland has the best hands of anyone who has played the position for him, comparing her to former LSU All-American Stephanie Hastings.
Preseason question: Can Baylor power its way back to Oklahoma City?

Canion's return means that unlike Baylor's first trip to the Women's College World Series in 2007, it will be able to try for an encore with the same ace in the circle. Lisa Ferguson graduated following the run in 2007, and the Bears never found an answer in the circle the following season en route to a 3.04 team ERA and a 23-22 record.
And yet there is at least one potential stumbling block with which the program is familiar. Leal's graduation means Baylor lost its only double-digit home run hitter and the only player to slug better than .500 last season. In addition to losing Ferguson following the 2007 season, Baylor lost Ashley Monceaux, whose 20 home runs and .871 slugging percentage led the team by wide margins in its march to the World Series. The offense the following season slugged .399 and scored a run less per game.
A repeat of the latter scenario might derail a potential dream season, ace or no ace.
Baylor ranked 16th in the nation in stolen bases per game last season and has ranked in the top 20 in nine of the past 10 seasons. From Harmony Schwethelm to the Wesley twins, Tiffany and Nicole, on through Walker and Shelton, the program has been synonymous with speed and the short game during Moore's tenure. The power game, on the other hand, has been intermittent, gaining steam with players such as Monceaux, Brette Reagan and Leal and then fading away for seasons at a time. But the old-school, small-ball image may not be entirely by design.
"Honestly, we're a believer in the power game, although it's looked like we've been predominantly short game," Moore said. "I may have over-recruited for the short game. I think more so than over-recruiting for the short game, the power that we've recruited … overall has failed to develop, at least to the level of our short game."
Moore said the personnel are there to at least match last season's production, beginning with returnees like Shelton, who had just seven extra-base hits last season. Moore, however, thinks Shelton will have at least that many home runs this season as her offensive game matures. There's also Holl, whose home run in the 13th inning beat Missouri in a World Series classic. He also suggests freshman Linsey Hays could be the best pure hitter he's ever had, though indicating she wasn't guaranteed a starting spot.
But in the end, the team's fate at the plate rests most heavily in the hands of Canion. Canion, who will hit either third or fourth this season (she was a .269 hitter with a healthy .481 slugging percentage last season), has goals that sound a lot like former Washington star Danielle Lawrie.
"She's made some minor adjustments that we felt were necessary for her to be the type of hitter that she is a pitcher in the circle," Moore said of Canion. "One of her goals is to be considered an All-American hitter as well as an All-American pitcher. To me, that potential has always been there; the pressure to develop as a hitter has not been as great as the pressure she had early on in her high school and travel ball seasons as a pitcher. That's something I think we've made progress selling to her."